Focus Asean interviewed Martin Limpert, managing director at Porsche Asia-Pacific to discover his inspiration, drive and advice for those set to follow in his footsteps
Having studied at the University of Düsseldorf in Germany and the University of Alicante in Spain, Limpert has worked with the car brand for more than a decade and manages the importer network in 13 markets
What, in your opinion, makes a great leader?
I think a great leader, first of all, is only as good as the team that he is leading. You have to have a clear vision; you have to have a big picture in mind; and then I think the challenge is to make sure that the team and the people around you share this vision, share this big picture and that you convince them, encourage them and motivate them to follow the same path.
The other point is that vision has to be broken down into clear objectives, you have to organise your activities… Last but not least I think you have to encourage the people around you – so that's
principles of delegation and trust. Try to enable them to explore their maximum potential.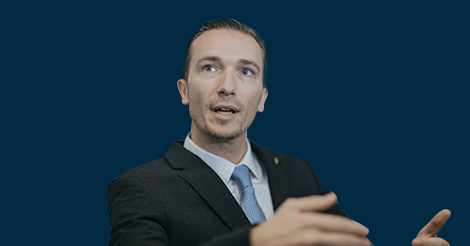 On a personal level, what drives you to succeed?
I think the biggest driver for me is how to solve a problem, or how to manage a challenge. Then of course there are my personal objectives, my business objectives: striving for the best possible targets.
What has been your greatest achievement over the course of your career, and the biggest lesson you have learned?
It's really just those moments where you get the feeling: 'Wow, you managed to solve an issue, or problem or challenge which others would probably have given up already, or when you yourself doubted in the beginning whether you'd be able to manage this or not'… The biggest lesson? Potentially, one of the points is never give up. Always stand up one more time than you fall down, never rest and never stop learning. Be self-confident but also listen. Be ready to learn from your mistakes.
What or who inspires you?
Actually the only answer I can give is Mrs Limpert, which would be my wife.
If you could meet your younger self, what would you say?
Of course, there's all the things you regret having done in life right after they happened. But after some time has passed by, you reflect on them again and say 'yes, actually they formed my character, they formed my way of thinking and they formed [the] way I am now'. I would honestly recommend to go on the same path as I have gone already. The only thing I would recommend is to spend even more time abroad.
Finally, what would be your best piece of advice for youngsters who aim to become the future business leaders of the Asean region?
Trust in yourself, think out of the box, don't just follow the mainstream. Develop your own ideas. Never give up and always consider that the glass is half-full instead of half-empty.
Read more interviews:
Kumi Shimamoto, vice-president of sales, Asia at Getty Images

Christine Wright, managing director of Hays Asia
Mike Rios, chief innovation offIcer at 17 Triggers
Soon Su Long, CEO Indochina at Maybank
Jakob Lykkegaard, CEO & co-founder of Playlab
Mark Turner, senior director at FMI Air
Pumin Yuvacharuskul, co-founder and CEO Thailand at Eatigo Co Ltd
Shivam Tripathi, co-founder of CamboTicket
Thomas Hundt, CEO of Smart Axiata
Aulia Halimatussadiah, co-founder and chief content officer of Zetta Media Network
Shannon Kalayanamitr, group chief marketing offIcer at Orami
Sean Preston, country manager of Vietnam, Cambodia and Laos at Visa