Chiang Mai's Rachamankha Hotel is an embodiment of graceful tradition and complex history

Photography by Andrea Pistolesi
"Chiang Mai is a beautiful place: The people are friendly and relaxed, the weather is great, you're in the cultural centre of Thailand, with the perfect blend of modernity and tradition." So enthuses Joe Cummings, Lonely Planet's man in Thailand and a prophet of Chiang Mai style, consecrated in an elegant coffee-table book titled, funnily enough, Chiang Mai Style. "This is where Asian fusion is devised, picking up the best elements of Western and Asian cultures. It is expressed in fashion, design, architecture and in tourism," he writes.
The Rachamankha Hotel is a model of this fusion. Staying connected to the ancient cosmopolitan identity of this city, it is built between a river and mountains with a mystical layout that represents the fulcrum of the universe. Situated in the heart of the historic old city and surrounded by some of its most significant temples, the hotel reproduces their arrangement – as simple, almost monastic to Western eyes, as it is profound.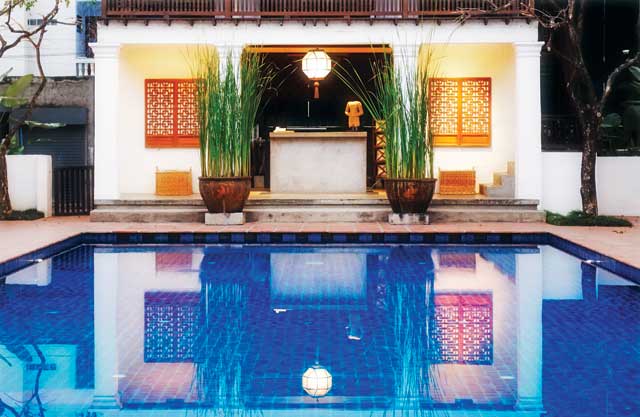 The hotel's aesthetic is inspired by 11th-Century traditional Chinese dwellings, while further examples of Chinese influence can be seen throughout the city. The hotel was designed by Ong-ard Satrabhandhu, the Thai architect who began his career working in a Modernist style before arriving at a philosophy informed by history and centred on natural elements, creating open and closed outdoor spaces that play on the relationship between light and dark.
Once through the unassuming entrance gate and past the white walls of the complex, visitors happen upon a Zen-like pathway that twists and turns through a delightful series of courtyards, nooks and crannies – again, Chinese influence is abundant.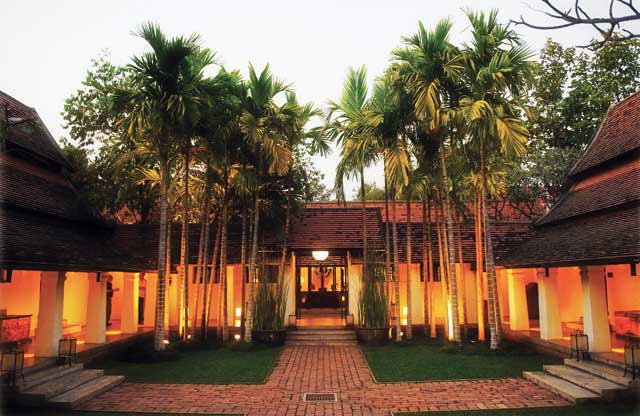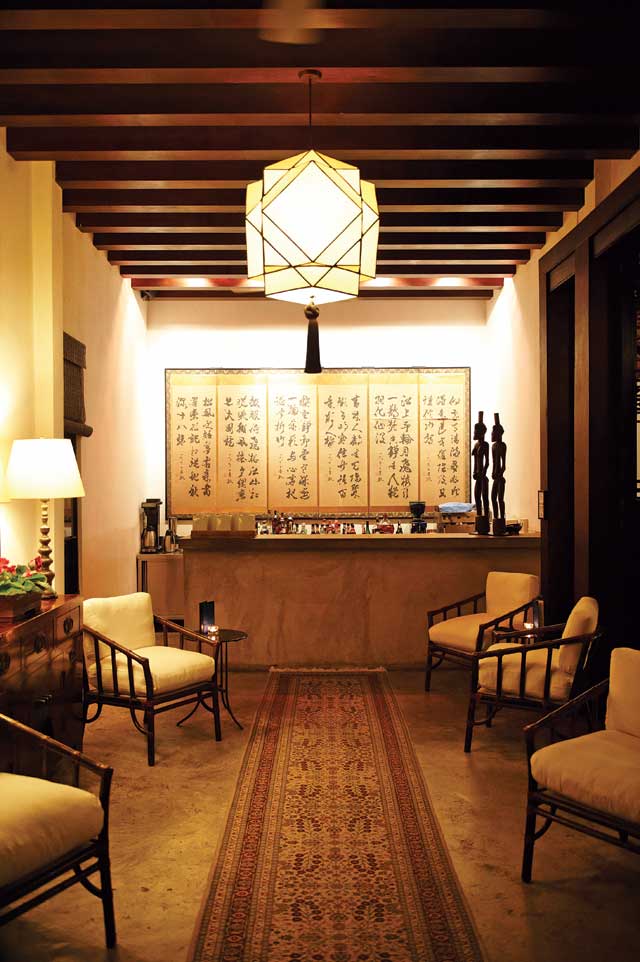 The hotel's 25 rooms and suites are true to the notion of simplicity often seen in Eastern architecture, yet extraordinary details are ready to surprise at every turn. A real draw card is the beautifully combined range of antiques from around the world, including Europe, Africa and Myanmar. The walls are made of traditional lime plaster that has been applied over handmade brick – the very same technique employed in the Lanna architecture of Chiang Mai since the city's founding.
The open-air massage pavilion is a wonderful place to unwind as it overlooks a softly rippling 20-metre pool. Guests can also eat to their hearts' content while dining al fresco on an intimate patio or in the hotel's restaurant, tasting the renowned cuisine of northern Thailand.
***
Spying Buddha
Wat Phra Singh, or the 'Temple of the Lion Buddha', is the most famous temple in the city. Founded in 1345, it houses a venerated image of the Phra Sihing Buddha (the original was stolen in 1922). The most recent restoration, completed in 2006, returned the structure to its former glory.
Lessons in Lanna
Chiang Mai was the capital of the Kingdom of Lanna from 1296 until the annexation by Siam in the early 20th Century. It extended its influence from northern Thailand to the southern provinces of China and became a melting pot of Southeast Asian cultures. The famous Lanna-style temples of Chiang Mai are characterised by steeply pitched, multi-tiered roofs.
Well read
One of the elements that define the charm and character of the Rachamankha is its library. It is home to more than 2,000 tomes, from novels to writings on Thai art, architecture and culture. The library's lounge is a tranquil place to sip on a cold drink.
Rub down
A massage according to the northern tradition is much more intense than the kind given in day spas and is a cultural experience in itself. Give one a whirl at the Old Medicine Hospital (in Soi Siwaka Komarat, opposite the Old Chiang Mai Cultural Centre), which is also one of the most highly rated massage schools in the country.
Essentials
Tel: +66 5390 4111. Website:  rachamankha.com. Rates: from $250 to $620 for a two-bedroom suite per night. Suggested accommodation: the superior double room, from $290 a night.

Keep reading:
"Drenched in elegance" – Personalised service and refinement set the tone at Hanoi's Sofitel Legend Metropole
You old charmer – Few Bangkok hotels can compete with the Mandarin Oriental Bangkok's colourful history
"Seal the deal" – Ho Chi Minh City's Park Hyatt hotel has become the go-to spot for the country's business elite
Just like a dream – The Eugenia's colonial aesthetic ensures it stands out from Bangkok's soaring crowd
"Time after time" – The storied Raffles Hotel continues to dazzle in a nation preoccupied with progress
"Going strait" – Discover the cultural melting pot that is Malacca
"Island paradise" – Jakarta's Ritz-Carlton is a perfect match for a country with big aspirations