The storied Raffles Hotel continues to dazzle in a nation preoccupied with progress

By Massimo Morello
Many people are disappointed because Singapore doesn't match up to the banality of their Asian image," Jennie Chua said. She has been called "Singapore's Grande Dame" and in 2013 she was named one of Forbes Asia's '50 Women in the Mix'. Her work is currently focused on the fast food market, but at the time she was general manager at the Raffles Hotel. Immaculate in her cheongsam, the close-fitting traditional Chinese dress, she was alluding to the negation of orientalism, an entirely Western vision, and the affirmation of 'contemporary Asian style', a fusion of colonial, Western and oriental, which was expressed in the sumptuous refurbishment of Raffles, concluded in 1991.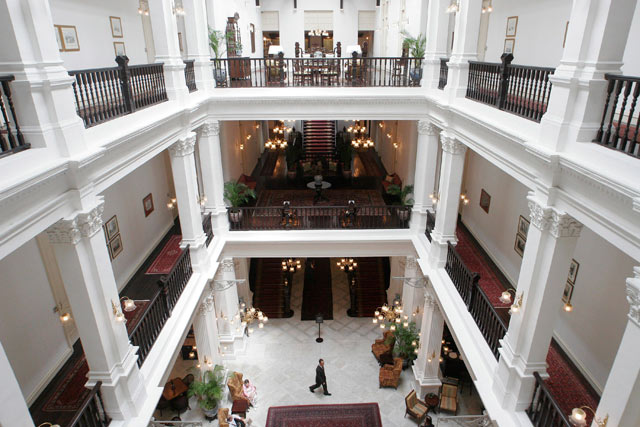 First opened in 1887, the hotel was named in honour of Sir Thomas Raffles, who established Singapore as a trading post. It is said that one of its first guests was Joseph Conrad, then a seaman plying the eastern seas. A few years later, it was the turn of the young Rudyard Kipling who was on a round-the-world trip.
"A place where the food is as excellent as the rooms are bad," he wrote.
That comment probably convinced the owners to alter the rooms, and in 1899 the
 Raffles Hotel's main building was opened. This marked the beginning of Raffles' heyday. The hotel also boasted Singapore's first electric lights and fans and a French chef. Raffles rapidly became a magnet for sophisticated travellers and a transit point for writers travelling through Asia.
"A hotel that stands for all the fables of the exotic East!" said Somerset Maugham in 1921 while writing beneath a red jasmine tree in Palm Court.
The hotel's legend was nourished by both facts and hearsay, like the story of the Bengal tiger that strolled into the hotel one morning in 1902 and was shot under the billiard table.
Such stories help form Raffles' almost unique reputation amongst the world's hotels, according to resident historian Leslie Danker (her Memoirs of a Raffles Original is an interesting read). It also helps explain why, in 1987, the Raffles was declared a national monument.
History should not be a burden, however, as often happens. In order for 'the Asian image' to not appear banal, it must also reflect the reality of contemporary Asia. The Raffles certainly achieves this, with its 103 suites, 15 restaurants and bars, its superb spa and ultra-luxury shopping arcade. Neither Conrad nor Kipling would recognise the place, but they would stay here.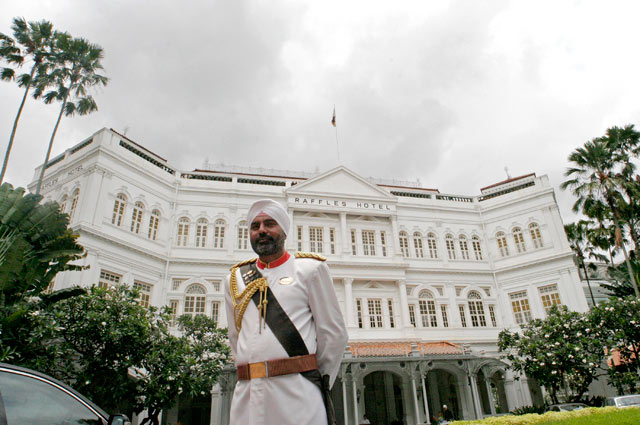 Slinging a sling
Barman Ngiam Tong Boon first created the 'national' cocktail in 1915.  Here is the recipe: Pour grenadine syrup (15ml) into the bottom of a Collins glass (a tumbler which will typically contain about 300ml) and fill with ice.  Add gin (30ml), and almost fill with equal parts of chilled soda and sweet and sour mix (a blend of lemon juice and syrup).  Top with cherry brandy (15ml), and serve unstirred, garnished with a cherry.
The Tiffin tradition
Tiffin is an Anglo-Indian word for a light lunch, predominantly curries. Tiffin has been served at Raffles since 1899 and Sunday tiffin was an essential aspect of colonial life. Since 1976, the hotel's main dining room has been named the Tiffin Room and its curry buffet has become an experience for both residents and tourists alike.
The Wealth Report
The Raffles opened when Singapore was still an economic backwater. Today, according to The World Wealth Report, its annual per capita income of over $56,000 is the highest of any country and is expected to still top the list in 2050.
Bespoke Shopping
The Raffles Hotel Arcade houses luxury boutiques such as Louis Vuitton, Surrender and Tiffany & Co. Particularly noteworthy is CYC The Custom Shop (from the initials of founder Chiang Yick Ching, a humble tailor from China), Singapore's oldest and most established custom shirt maker. Regular clients include Singapore's first prime minister, Lee Kuan Yew, and the third and current prime minister, Lee Hsien Loong.
Essentials
Website: raffles.com/Singapore Tel: +65 633 1886. Reservations tel: +65 6412 1244. Reservations email: roomreservation.singapore@raffles.com. Rates: from $550 per night, with a Personality Suite from $733 a night, and Grand Hotel Suites from $6,145. Suggested accommodation: Courtyard Suite, from $614 a night.




Also view:
"Going strait" – Discover the cultural melting pot that is Malacca
"Island paradise" – Jakarta's Ritz-Carlton is a perfect match for a country with big aspirations