Few Bangkok hotels can compete with the Mandarin Oriental Bangkok's colourful history and trove of illustrious guests
By Massimo Morello   Photography by Andrea Pistolesi
Despite his protestations – "I can't reveal anything" – Kurt Wachtveitl must have plenty to tell. After all, he was general manager of the Mandarin Oriental in Bangkok for 41 years. For someone who lives in Bangkok – in a house with views of the Oriental, on the far bank of the Chao Phraya river – meeting Wachtveitl is a good chance for a "chat about old times", as he puts it.


The years in which he was at the helm of the legendary hotel, between 1967 and 2008, included good times and bad, secrets and intrigue, love and betrayal. Key 20th-Century figures passed through the doors of the Oriental, from Vietnam War correspondents, who filed articles from its lobby, to Robert De Niro, who starred in The Deer Hunter, a movie about the same war. Above all, though, there were the writers for whom the Oriental was their home 'east of Suez'.
Before Wachtveitl arrived at the Oriental, the place was already loaded with the history of the previous century and its equally extraordinary protagonists: from Conrad to Somerset Maugham, Crown Prince Nicholas of Russia to Jim Thompson, the former US agent who became the Thai silk king (as well as co-owner of the hotel).
That's why, even if Wachtveitl cannot "reveal anything", it is as if his very presence were a catalyst for stories.
Bangkok's Mandarin Oriental has an unreservedly out-of-this-world feel about it. But that wouldn't be the case if the hotel had not maintained everything that has made it unique over the years. From the excellence of its restaurants – beginning with Normandie, one of the best French eateries in Asia – to the discreet elegance of the rooms, everything is just as it should be at one of Asia's most storied hotels. That is without even considering the ritual of afternoon tea at the Author's Lounge, with its adjacent library housing books donated by former guests.
In the end, the meeting with Wachtveitl ends with us making an appointment in Bangkok. Perhaps, while sipping a drink on the Oriental's terrace, he will be ready to tell a story or two.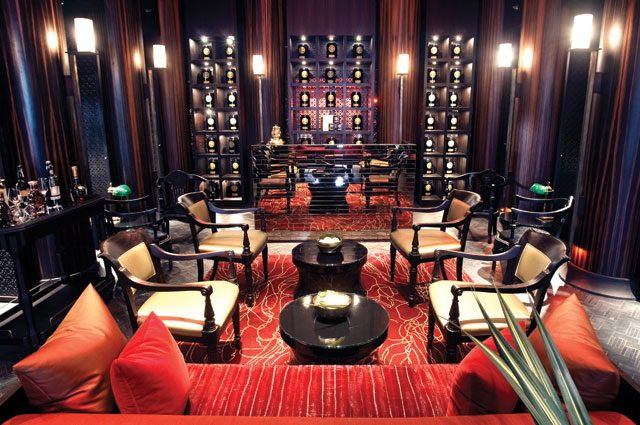 Ciao, Phraya
The latest addition to the Oriental's dining options is Ciao, located on the terrace overlooking the Chao Phraya river and offering fine Italian dining overseen by Luca Casini, one of Italy's most promising chefs. The crabmeat salad with egg mimosa, mixed leaves and herring roe is not to be missed.
Going colonial
The riverside area of the Oriental is where the first Western diplomatic-commercial enclave was established. Next to the hotel stands the East Asiatic Company, built in 1901 by the Dutch enterprise that was among the first to set up a base in Bangkok. Behind it is the Chiesa dell'Assunzione, the centre of Catholicism in Thailand, built in 1910.
Tongue lashing
Providing an alternative to the hotel's in-house restaurants, and just a stone's throw away, is Tongue Thai. A visit is worth it for the surroundings alone, with the restaurant located in an old two-storey shophouse. The food, which is pure traditional Thai (and rather hot), is equally appealing for the quality-to-price ratio. Don't miss the fantastic pineapple fried rice.
In the o.p.
Behind the hotel stands another historic 'Oriental', the Oriental Plaza – a great place to acquire antiques. Built in 1908, the plaza is a historic showpiece in itself.
The complex features three floors of art galleries, each with its own focus or theme, with the top-floor Ashwood Gallery housing the building's most elaborate selection of museum-quality antiques.
Essentials
Website: mandarinoriental.com/Bangkok. Tel: +66 2659 9000. Rates: from $330 a night for a Superior Room to $822 for a State Room. Suites range from $1,150 to $4,600 per night. Suggested accommodation: Riverfront Premier Room, from $428 a night.



Also view:
"Seal the deal" – Ho Chi Minh City's Park Hyatt hotel has become the go-to spot for the country's business elite
Just like a dream – The Eugenia's colonial aesthetic ensures it stands out from Bangkok's soaring crowd
"Time after time" – The storied Raffles Hotel continues to dazzle in a nation preoccupied with progress
"Going strait" – Discover the cultural melting pot that is Malacca
"Island paradise" – Jakarta's Ritz-Carlton is a perfect match for a country with big aspirations