The Eugenia's colonial aesthetic ensures it stands out from Bangkok's soaring crowd

By Massimo Morello
The Eugenia: it would be a good title for an Ang Lee film. It is actually a hotel, but the similarities with the Oscar-winning Taiwanese director are interesting. Its spirit, first of all: that intriguing mix of modern and traditional. Then, its creator: Eugene Yu-Ching Yeh, a Taiwanese designer and art dealer. Apparently, an old lady from Saigon used to call him "Eugene-Nia", hence the name of the hotel. It is certainly an Indochina kind of story.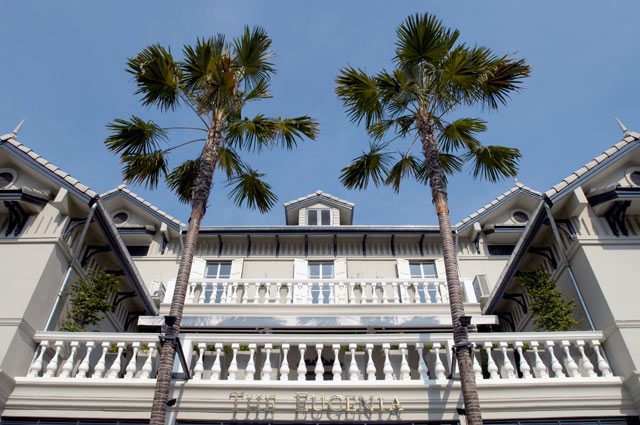 "This is the house of my last life. When I first saw colonial homes like this, I just knew I used to live in one; and now I can, in a dream, with memories of my past life," he said when the hotel opened in March 2006. It is a new-build in the colonial style off Sukhumvit Road, Bangkok's main thoroughfare. "We reused wood from old buildings for the floors, all the furniture is period, much of it purchased on the border of Thailand and Myanmar, where you can still find a few antique pieces. I chose others from furniture collected over the years for the family in the erstwhile British and French colonies of India and Indochina."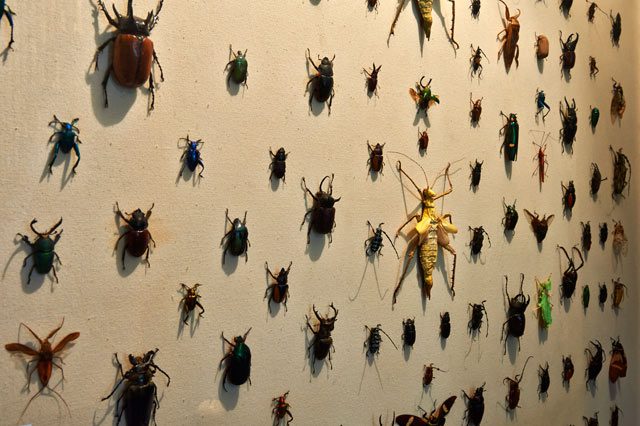 The 300 antiques are now used to furnish the hotel's public and private rooms. Even the shutters and hanging lamps were acquired before the hotel was built. This 12-suite establishment exudes a bygone era of fine buildings, opulence and luxury – an impression heightened by the library, with its decent book collection; by the bar area, with its broad selection of spirits, cigars and teas; and by the small pool surrounded by palm trees in the inner courtyard.
Eugene may have departed for new adventures in the art and business worlds, but the Eugenia has become the model for a new generation of boutique hotels in Bangkok, countering (or compensating for) the city's sky-high aesthetic.
Behind the fascinating Indochinese story that is the Eugenia lies another tale. Its restaurant, D.B. Bradley, is curiously yet fascinatingly named after Dan Beach Bradley, a missionary from the West who settled in Thailand. He is credited with numerous firsts, including bringing the first Thai-script printing press to Siam, publishing the first Thai newspaper and performing the first surgery. The food aims to pay homage to him, with a menu of cross-cultural gourmet delicacies.

Oldie Roller
Feel like an old-time adventurer – or an art dealer – by venturing out for an evening of lounges, restaurants and nightclubs aboard a vintage car. The Eugenia offers rides in a 1953 Benz W170 or a 1965 Jaguar 3.4 S-Type. The Benz was the world's third diesel-fuelled passenger car, while the Jag wraps Old-World style and vintage sporting excitement into one very attractive package.
Chic Mystique
A short walk from the Eugenia stands the Myth of Mahanaga, one of Bangkok's smartest restaurants. The furniture and food blend Thai tradition with a variety of Asian and Middle Eastern influences. Booking a table in the garden is recommended, with dinner served from 5:30pm until 11pm.
Mall magic
The Eugenia is located in one of Bangkok's shopping districts. Terminal 21, a nine-storey mall, houses some 600 shops, a cineplex, a gourmet market and a food court with all kinds of mouth-watering Thai and international fare. Terminal 21 is well worth a visit for trendsetters, who will be thrilled by the plethora of pieces by up-and-coming Thai designers.
Essentials
Website: theeugenia.com. Address: 267, Sukhumvit Soi 31. Tel: +66 (0) 225 990 11. Reservations: enquiry@theeugenia.com. Rates: from $100-190 per night. Suggested accommodation: Wattana Suite, from approx. $150 a night.




Also view:
"Time after time" – The storied Raffles Hotel continues to dazzle in a nation preoccupied with progress
"Going strait" – Discover the cultural melting pot that is Malacca
"Island paradise" – Jakarta's Ritz-Carlton is a perfect match for a country with big aspirations