Southeast Asia Globe met Thai movie mogul Vicha Poolvaraluck to discuss how he built the country's largest cinema chain from the ground up
Flanked by two assistants, Vicha Poolvaraluck strolls into the empty cinema like he owns the place. It's partly because he does – this is one of 135 cinemas he owns in Southeast Asia – and partly because he sees no room for weakness in the world of business.
"I'm always telling my team that doing business is like you're climbing a cliff. You just keep climbing and don't look down," the founder of the Thai cinema chain Major Cineplex tells me half an hour later, while leaning back casually in a black leather chair in a meeting room on the ninth floor of his company's Bangkok headquarters.
"When you look down, you think too much… If you ask me, I don't think too much. I just keep climbing… keep growing. And that's why we have what we have today," he says.
Poolvaraluck is referring to a 70% share of the domestic market, five cinemas in Cambodia and Laos, and a significant role in the Thai film industry through the company's distribution and production arm, M Pictures. Add in ownership of Siam Future Development – the developers behind shopping malls such as Mega Banga and Esplanade – and 250 McDonald's restaurants across Thailand, and it's fair to say that Poolvaraluck, to use his own analogy, has reached the summit.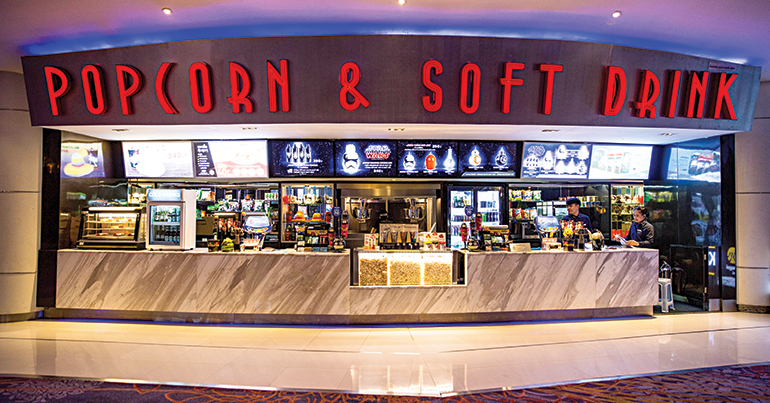 Born in Bangkok to Thai parents with Chinese heritage, the bullish 56-year-old initially pursued a career in real estate after graduating from university. But when his father's cinema began to struggle under the weight of foreign competition in the early 1990s, he decided to switch careers, eager to prove that Thailand could build its own successful chain of cinemas.
"When Australian and US cinemas came to Thailand, it was like a tsunami. They were killing everybody. They took over the Thai market, and the original cinemas, such as the ones run by my dad, shut down. Everybody quit because the [foreign] cinemas were bigger. They had more power and more money," he says.
And so, just months after founding Major Cineplex in December 1995, he opened Major Cineplex Pinklao, a shopping mall that included a cinema and various retail spaces for rent. But Poolvaraluck soon realised that, to compete with the bigger players, he needed more ways to increase traffic to his malls and cinemas.
"We needed all kinds of entertainment to draw traffic to the mall," he says. "Later, I went to Japan, which had a lot of nice bowling… So about 20 years ago, we opened Major Cineplex Ekkamai. It was the first of our venues to include bowling. It helped us increase traffic to the complex, which meant we could earn more revenue from renting units to retail outlets."
For Poolvaraluck, it's proven effective. The cinemas and bowling lanes – which were later supplemented by further entertainment options such as arcade games, karaoke and ice skating – help increase traffic to the shops, and the shops help attract more potential customers for the cinema.
In addition to building his own malls to house Major Cineplexes, Poolvaraluck has placed his one-stop-shop entertainment concept inside prominent malls at home and abroad, such as Siam Paragon in Bangkok and Aeon Mall in Phnom Penh.
"You cannot fail if you go with a big mall," says Poolvaraluck. "They have a lot of shops but only one cinema. When you have so much traffic, you're not going to lose."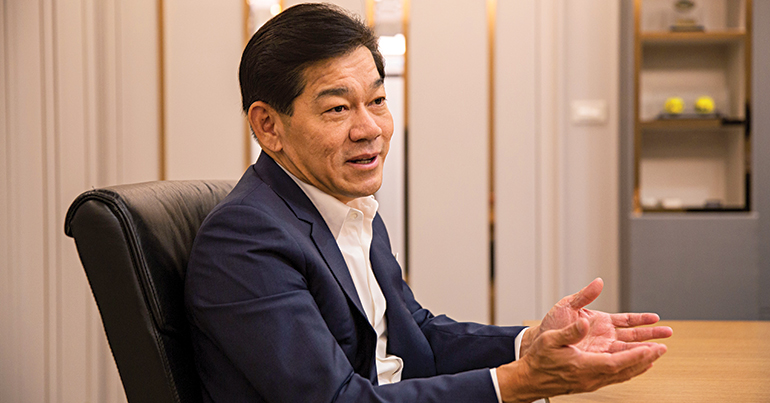 It hasn't all been plain sailing for Poolvaraluck, however. Shortly after he founded Major Cineplex, the Thai baht was sent into freefall after sustained speculative currency attacks forced then-Prime Minister Chavalit Yongchaiyudh to abandon the baht's peg to the dollar. Overnight, the currency's value was cut in half, and millions of Thais lost a generation's worth of savings. But Poolvaraluck soon bounced back. While his competitors licked their wounds, he gambled on a new project. The rewards were great.
"When we opened the second Major Cineplex in Ekkamai, in 1998, there was no competition… There were no new developments, so it was a big success. The Central Group and the Mall Group were very weak at the time, as they hadn't fixed the debt that they carried," he says. "The success gave us the capital to open the third one here, at Ratchayothin. So I actually think, in the long term, we benefited from the crisis. We didn't have any competitors for many years. It was like a honeymoon."
Poolvaraluck's even-handed response to the perils of the financial crisis typifies his approach to business, which, he says, is centred on not allowing himself to get too caught up in the moment.
"I never get too happy or depressed. We bought out the second-largest cinema chain in Thailand, then we went public, then we went international, then we invested in India – we've had a lot of great successes, but I don't celebrate them too much. I think it's better to be happy every day instead," he says. "That's my attitude: don't be weak, or sad, or overly happy. Just be OK, and enjoy it. Have fun. In sport, it's easy to see who wins because you get the final score. But in business and in life, it's different. Nobody ever wins, because it never ends."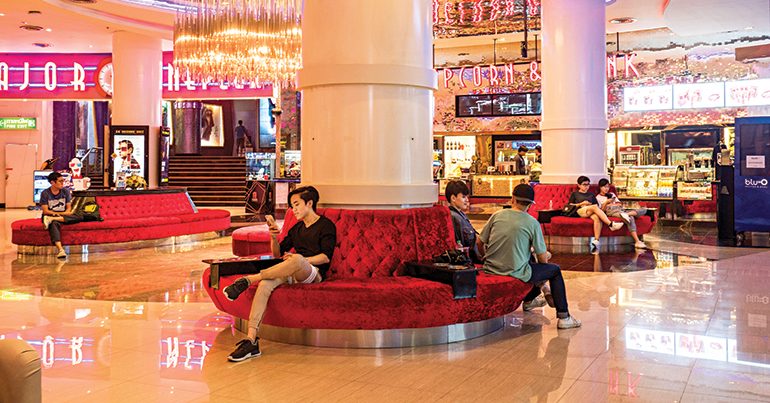 Poolvaraluck attributes his success to this roll-with-the- punches philosophy on life, which he says he combines with a strong work ethic that sees him constantly working, even while socialising.
It's perhaps unsurprising, then, that Poolvaraluck remains fixated on continued expansion. By 2020, he hopes to have upped the total number of screens controlled by Major Cineplex in Thailand from 710 to 1,000, a target he believes he'll meet due to the medium's enduring appeal.
"You cannot find the movies that we show on Netflix or iFlix or HBO because Hollywood has to take care of their 200,000 screens around the world. This is why cinema hasn't died because of digital disruption… It's also one of the [most accessible] and cheapest entertainments for Thai people. Our country doesn't have a lot of sport; we only have concerts – and tickets can run from 500 to 5,000 baht. But movie tickets are only 150 or 200 baht," he says.
"People may spend most of their time reading the news or watching videos on smartphones nowadays…but they still have to go out, enjoy entertainment and socialise with their friends, boyfriends and girlfriends. And cinema gives them magic."
This article was published in the January edition of Southeast Asia Globe magazine. For full access, subscribe here. 
Related Reading: