It's a Thursday afternoon in Ho Chi Minh City, and Hai Ninh Nguyen is fizzing with nervous excitement. Casually dressed in a light blue shirt, jeans and a pair of Nike trainers, the 30-year-old founder of Vietnamese coffee shop chain the Coffee House is retelling the story of his company's exponential expansion.
In just three years, Nguyen has opened 74 stores under the Coffee House brand, having successfully tapped into the growing spending power of a postwar generation in thrall to the trappings of US-style consumerism. A self-proclaimed "globally minded" individual, Nguyen comes from the same demographic as his target market, a group whose expectations, he says, have grown in step with increasing exposure to foreign influences.
"Vietnam is part of the global economy now, so it has to live up to international standards. When young Vietnamese return from trips abroad, they start to ask for the same experiences and standards," he tells me in a boardroom above one of his coffee shops.
"They cannot find those standards in old coffee shops, so they want to go to Starbucks. But Starbucks is too expensive for most Vietnamese citizens… so we founded the Coffee House to introduce the same experience and standards as Starbucks to the Vietnamese people – but at an affordable price."
The inspiration is clear to see in the interior design of the Coffee House's various sites. As with Starbucks, Nguyen's stores award primacy to simplicity. In between potted plants, Ikea-style furniture can be found in arrangements that meet the needs of both laptop-wielding millennials and friends wishing to hang out. Walls are adorned with Instagram-friendly eulogies to the virtues of coffee and photos of smiling farmers.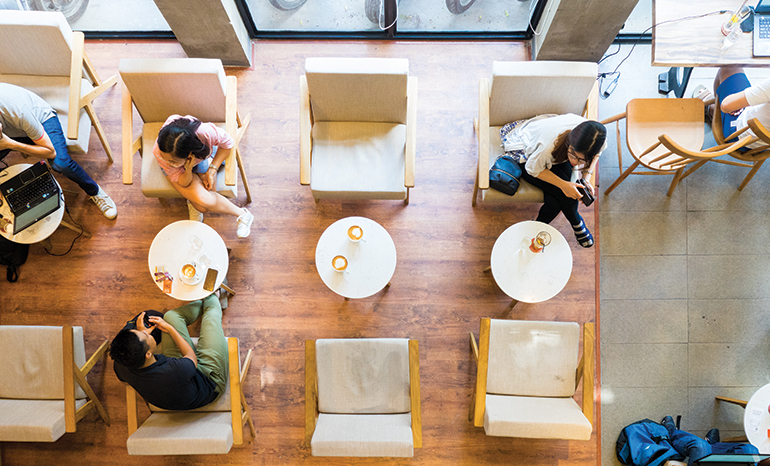 But while the product may have global origins, the clientele is predominantly local. The way Nguyen sees it his primary business is to sell an experience, not coffee. Staff members are encouraged to remember customers' names, favourite drinks and even preferred seats.
The makeup of the local community also impacts the design of each new store. Those with lots of offices nearby include extra greenery to help rejuvenate "nervous and tired" workers who spend most of their days staring at screens, while sites close to universities comprise extra plug sockets for students' laptops.
"In Vietnam, when people think about coffee shops, they don't think about drinking a black liquid. They think about finding a place to enjoy a good atmosphere, some conversation with friends or a place to work on their laptop," he says. "Coffee is only part of the experience that we deliver."
An extension of this is the idea that staff must do more than serve coffee: they must provide "happiness", a philosophy that Nguyen references multiple times and believes helps the company stand out from its competitors.
"We encourage our staff to do the right thing by the customer. For example, if a customer goes to the store in the evening, we encourage our staff to recommend that they order a small coffee, not a big one, because a big one will prevent them from getting to sleep later that night," he says. "I believe that people want to bring happiness to other people. So when we encourage our staff to do something kind, something meaningful, it makes them happy too… the work becomes much more meaningful when their goal is to make customers happy."
Nguyen says his staff are the most important people at the company, and that they can only be expected to go the extra mile for customers if he does the same for them. Consequently, the company pays salaries 20% higher than the market average, and members of staff at store-manager level and above who have been with the Coffee House longer than six months are given company shares.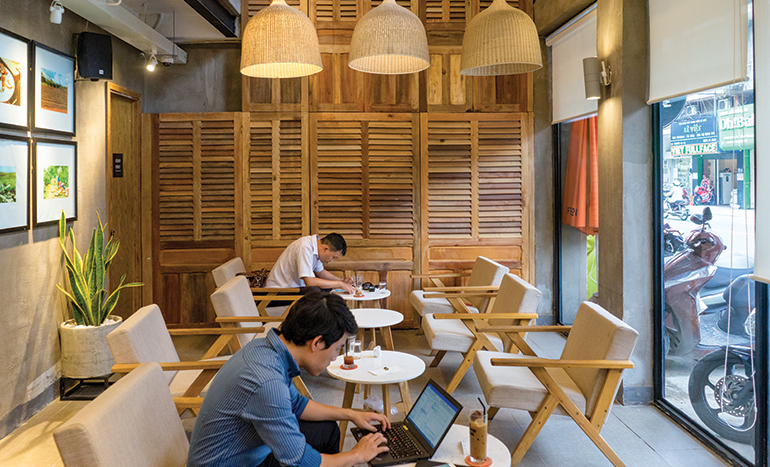 Prioritising people over short-term profits has helped the company grow to a 1,500-strong workforce and a valuation of roughly $30m, according to Nguyen.
"I had no idea about brewing coffee. I had no idea how to manage people. I learnt everything on the job"
However, as with most entrepreneurial career trajectories, Nguyen's journey has had its ups and downs. In 2010, he left behind a promising career with the global soft drink giant PepsiCo to pursue his dream of running his own business. Months later, he founded Urban Station, a predecessor to the Coffee House that taught him how to run a business the hard way.
"I had no idea about brewing coffee. I had no idea how to manage people. I learnt everything on the job," he says. "For six months, it was all loss: all my savings, all the money I saved from Pepsi, it was all gone after six months. I nearly went bankrupt… I thought: 'Wow, was that the right choice? If I stayed with Pepsi, I would have a ton of money now.' At the time, my parents were very angry; they didn't want to talk to me."
Nguyen recovered from his initial stumble and went on to make a success of Urban Station before moving on to his second chain. But more important than his economic recovery, he is at pains to point out, was the soul searching that the early failure forced him to do. It was, he says, a process that paved the way for his future success with the Coffee House.
"The first business, I did without a purpose. But now I see very clearly that my purpose is serving people. It is a very beautiful purpose that wakes me up every morning. It gives me energy," he says. Later, he adds that the business measures its success by "calculating how many people we deliver happiness to every day" – a criterion he doesn't define but says reaches as high as 30,000.
Now armed with a clear vision, Nguyen has ambitious plans for the Coffee House. Next year, he plans to open 50 new stores. His friends call him crazy, he says with a smile.
But Nguyen is well aware that in order for his company to thrive, it must constantly adapt. It is the reason why, on the floor above us, a team of 20 IT staff is developing ways to ensure the company remains relevant in a world increasingly defined by automation.
"Currently, we have to be good at finding new locations and building new stores, but in five years we will have to be good at selling coffee online. So we built the team and the IT system and try to do things differently, try to find the next trend to go to market," he says, before giving a demonstration of the company's mobile app, which allows customers to pre-order food and drinks before arriving at the store or get them delivered to their home address. Since launching six months ago, it has been downloaded by more than 200,000 people, roughly half of whom use it on a regular basis.
I ask Nguyen why he decided to employ an IT staff larger than many of the city's tech startups rather than outsource the work to a third party.
"Because I see the picture very clearly," he replies. "In the future, we compete by delivering a personalised service to our customers. In the future, we compete by knowing our customers' personal lives."