The Singapore-based ride-hailing Grab launched its services in Cambodia on 19 December, a little over two months after the global behemoth Uber first entered the country.
Since its inception five years ago, Grab has grown to become Southeast Asia's largest ride-hailing service, operating in 156 cities across eight countries and employing over 2.1 million drivers. Grab's co-founder, Tan Hooi Ling, attributes the company's success, among other things, to its focus on adapting its business model to each market it finds itself in.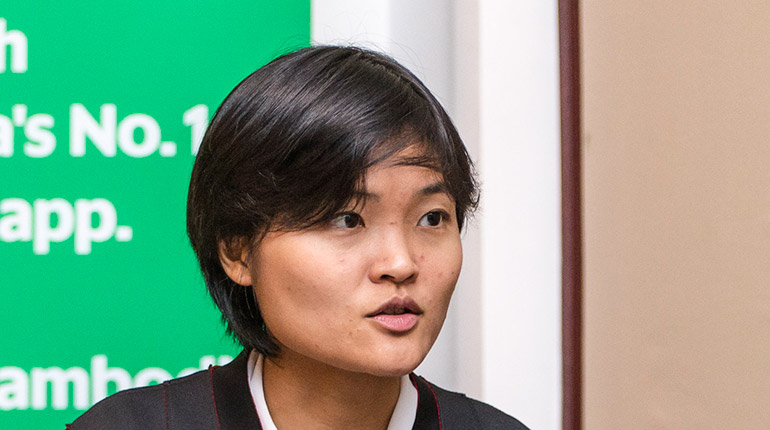 Southeast Asia Globe met with Tan Hooi Ling on the sidelines of the launch to discuss the company's operations in Cambodia, its ongoing battle with Uber, and what the future holds for one of Southeast Asia's most recognisable brands.
---
Every country in Asean is different, so how will you be adapting your business model to Cambodia? Will you be looking to forge more local partnerships, such as your partnership with Wing, and how important will these be?
Let me start with the last question because that's the most important one for me personally: how important are local partnerships to us? Extremely. The only reason why we have been able to successfully scale is because we've always made strong local partnerships. We don't believe in doing things [ourselves] if someone else is [already] doing it better, more efficiently or cheaper.
Back to your first question about how we localise: we do it in many different ways. The best way to understand the local needs is through a team of local staff. Hence, why we're actively looking to grow our own team right now.
You'll also see nuances in the app. We localise the language. We localise the type of e payment services that we provide and the partnerships we make. In terms of the services, we've had a lot of questions about tuk tuks. Of course, we will look into that as well because that is what makes Cambodia Cambodia.
What made you decide that now is the right time to launch in Cambodia?
Growth has gotten to a point where our services will actually be used and actually be needed. In Cambodia, there is a very fast-growing, pent-up demand from technology savvy, young individuals who are now making their way in their own professional careers and need the ability to get door-to-door, on-demand [transport] services. That's one side.
On the drivers side, we've always known that there is an opportunity to help provide more income opportunities to various different individuals out there, whether they are in different phases of their life or going through difficult situations.
And will you launch your e-wallet GrabPay today, too?
So, right now, you can use your credit cards in Cambodia. And then, on the driver side, we have the partnership with [local mobile payments provider] Wing. Every driver actually starts with an account.
A lot of the drivers never thought that they would want or need a bank account because they didn't understand it. Now that we can help them by educating them about financial services, it will have a tremendous impact on not just them, but their families as well.

Do drivers automatically register with Wing when they sign up to Grab?
It's part of the process. We actually require it because we want to make sure that our services are as seamless as possible.
Uber is known to have advised the government during the writing of the country's ride-sharing regulations. Is there anything you see in those regulations that you believe could make it difficult for Grab here?
Ultimately, what matters to us is that we spend a lot of time listening to the needs of his excellency [Sun Chanthol], the different ministries, the local governments, right? We're here to solve problems. That's how we decide where and when to play, and what kind of regulations we need to create to help move things forward.
What's your vision for Grab?
We're thankfully in a position where we're the leading ride-hailing platform in Southeast Asia already. It's taken a lot to get us here, and we never want to lose sight of that because, ultimately, there's still many more people who we could and should be serving with different types of services and business models on the ride-hailing front. We're going to continue investing into that.
But the next [area of focus] is financial services and payments. It's actually a very big area made up of many services. E-wallets are just the start of it, right? Rewards and loyalty is another important part, but it's also just a part of it.
What we want to do is make sure that folks no longer need to carry their wallets around, carry their credit cards around, or have to physically visit a bank. If they can do everything instantaneously from the convenience of their phones, that is true value.
Softbank's lining up a deal to buy a stake in Uber. Softbank is also a big investor in Grab. People are speculating that there's going to be some sort of a deal between Grab and Uber, in which Uber might pull out of Southeast Asia in exchange for a stake in Grab. Can you provide any comments on that at all?
I guess you can tell from my smile that I can't comment on my competitor's activities, which we have no control over. And to be honest, we're super focused on the things that we came here for today because we strongly believe that if we continue to focus on the core principles of what it took us to build this business, and what has enabled us to continue growing it, we will continue to be able to serve people in the best way possible, and that's something that really matters to us.