Myanmar State Counselor Aung San Suu Kyi has arrived in Canberra for bilateral talks as part of her official state visit following the conclusion of the Asean-Australia Special Summit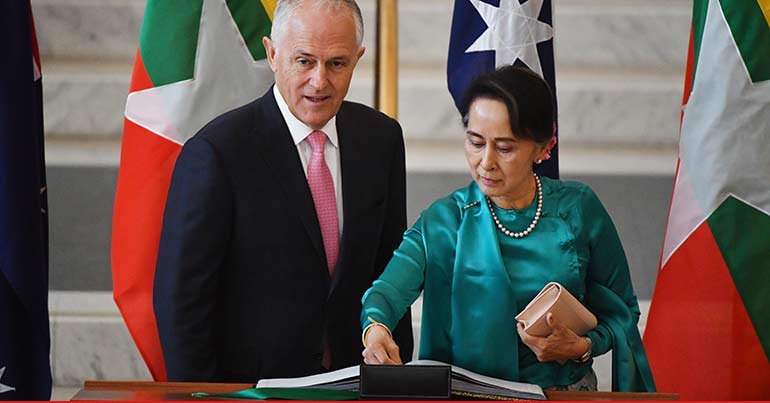 Myanmar State Counselor Aung San Suu Kyi has asked Australia and Asean member states to support the Myanmar government in its efforts to find a resolution to the ongoing humanitarian crisis in Rakhine State, Australia Prime Minister Malcolm Turnbull told reporters on Sunday.
"We discussed the situation in Rakhine state at considerable length today," Turnbull said at a joint press conference with Singapore Prime Minister Lee Hsien Loong that marked the end of the Asean-Australia Special Summit.
"Daw Aung San Suu Kyi addressed the matter comprehensively at some considerable length herself… She seeks support from ASEAN and other nations to provide help from a humanitarian and capacity-building point of view."
According to UN estimates, more than 700,000 Rohingya Muslims have fled Myanmar's northern Rakhine State to Bangladesh after the Myanmar military launched a brutal offensive in response to attacks on police and army posts by a small group of extremists known as the Arakan Rohingya Salvation Army on 25 August 2017.
Suu Kyi has been criticised by large swathes of the international community for failing to protect the Rohingya – who are considered by the majority of Myanmar citizens as illegal 'Bengali' immigrants and denied citizenship by the government – and for  refusing to condemn the military amid mounting evidence that it has indiscriminately killed, raped and tortured innocent civilians, and burnt down entire villages.
Earlier this month, UN independent investigator on human rights in Myanmar Yanghee Lee said that the military's crackdown bore the "hallmarks of genocide".
Despite facing widespread international condemnation, Suu Kyi was welcomed to Parliament House in Canberra today by a 19-gun salute. The former Nobel Peace Prize Winner is in the Australian capital for bilateral talks with Australia's Prime Minister.  
"You have made some sweeping generalisations. We will be discussing issues of every description – economic, strategic, human rights." Prime Minister Turnbull's reply to my question about the human rights record of #ASEAN nations #ASEANinAus pic.twitter.com/B4GWerNXSq

— Brett Mason (@BrettMasonNews) March 16, 2018

In the days leading up to the summit, the Australian government was urged by rights groups to condemn Suu Kyi for her country's persecution of the Rohingya. 
But while Turnbull and Australia Foreign Minister Julie Bishop have maintained that they will discuss human rights concerns with member states behind closed doors, no statements criticising Myanmar's treatment of the Rohingya have been publicly issued.
Meanwhile, hundreds of protesters from Australia's Vietnamese, Cambodian, Laos, Burmese and Filippino communities gathered at Sydney's Town Hall on the first day of the summit to protest a litany of human rights abuses in their respective home countries.
Australian director of Human Rights Watch Elaine Pearson warned the Guardian Australia before the summit that if Australia shied away from publicly raising human rights concerns at the summit, it would "embolden all the region's leaders contemplating major crackdowns, jailing journalists or dismantling democratic institutions".

"Shutting one's eyes and hoping that closer trade and security ties will somehow magically transform abusive governments into rights-respecting ones doesn't work," she said. "The Asean summit shouldn't just be an opportunity to dance with dictators, but a chance to publicly press them over horrific human rights abuses across the region."
Related reading: