Myanmar's state counsellor acknowledges human rights violations in Rakhine State amid growing pressure from the international community but falls short of attributing blame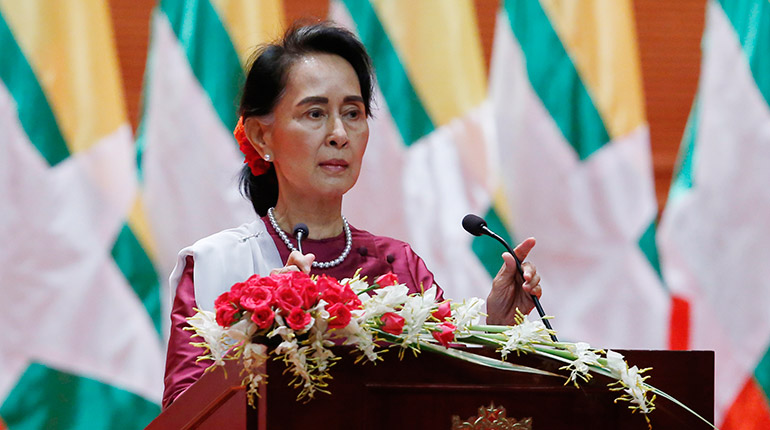 In a much anticipated televised national address on Tuesday morning, the former Nobel Peace Prize winner chose not to 'apportion blame' for the Rohingya crisis, despite mounting evidence that the Myanmar military has carried out ethnic cleansing of Rohingya Muslims in Rakhine State.
"It is not the intention of the Myanmar government to apportion blame or to abdicate responsibility. We condemn all human rights violations and unlawful violence," Aung San Suu Kyi said in a speech delivered in English.
Suu Kyi was keen to point out that her government had only been in power for 18 months, which she said was not long enough to reasonably expect the administration to overcome the myriad challenges facing the country. "Burma is a complex nation," she said, before urging the international community to allow her government more time to solve the crisis.
"We too are concerned. We want to find out what the real problems are. There have been allegations and counter-allegations. We have to listen to all of them," she said. "We have to make sure those allegations are based on solid evidence before we take action."
Suu Kyi also noted that international media outlets failed to report on the parts of Rakhine that had not been caught up in the violence. "More than 50% of villages are still intact," she said. The state counsellor also claimed that the majority of people there had not felt the need to flee.
However, Suu Kyi did acknowledge that an "exodus" was indeed occurring. "We are concerned to hear that numbers of Muslims are fleeing across the border to Bangladesh," she said. "We want to find out why this exodus is happening."
The former Nobel Peace Prize winner has been the subject of growing international scrutiny over her response to a crisis that has forced forced more than 410,000 ethnic Rohingya Muslims to flee to neighbouring Bangladesh. Numerous eyewitness reports, supported by pictures and videos posted to social media, suggest that the Myanmar military has indiscriminately killed, raped and tortured innocent civilians before burning down entire villages.
Hours before her speech, Suu Kyi was urged to condemn the violence by leaders from the US, Canada, France, UK and Australia. Many have also called for Suu Kyi to be stripped of her Nobel Peace Prize for failing to put a stop to what the UN has described as 'ethnic cleansing'.
However, the region's superpowers have not followed suit. In a recent state visit to Myanmar, Indian Prime Minister Narendra Modi offered his support to Suu Kyi, blaming the violence in Rakhine on Rohingya terrorists. On Monday, Chinese Foreign Minister Wang Yi told UN Secretary-General António Guterres that Beijing was supportive of Myanmar's efforts to restore order in Rakhine State and extinguish the "fire of war" there.