Malaysian modernist Latiff Mohidin has been handed a solo show at the Pompidou Centre in Paris, becoming the first Southeast Asian artist to show at the revered museum's In-Focus Gallery. Here, art experts and Latiff himself reflect on a lifetime of masterly work inspired by travels in Europe and Southeast Asia
About a year after Latiff Mohidin arrived in Berlin, the Malaysian artist woke up one morning in 1961 to the division of the German capital by the Berlin Wall – a concrete partition between East and West that remained in place for nearly 30 years.
It wasn't just politics that was in a state of convulsion; societies were changing, too. In new music, art, fashion and performance, Europe's post-war generation was challenging the conventions of the past. Thousands of kilometres away, meanwhile, the world's ideological differences were also playing out in the cities and fields of Southeast Asia, as once-colonised nations struggled to secure their independence.
It was against this backdrop of change and instability that Latiff embarked on a journey from the west of Berlin that was to produce his seminal Pago Pago series. Latiff created the phrase Pago Pago himself, to describe the way of thinking and working that he developed as a result of the physical and emotional journey that followed his return to Southeast Asia after three years in Germany.
In 1964, freshly graduated from Berlin's Hochschule für Bildende Künste (State School of Fine Arts), Latiff's first port of call was Kuala Lumpur, but he soon moved on to Bangkok "to travel or whatever", as he describes it.
It was there, amid the temples and the lush tropical landscapes of Indochina, that Pago Pago began to take shape. "It started with nature, which is God-made, and culture, which is human-made," Latiff, 76, explains over the phone from Penang where he now lives.
The young artist began to take trips around the region – sometimes on foot, sometimes by bicycle – drawing as he went, gradually developing the distinct style and composition that would come to signify Pago Pago, notable for its dynamic forms – curved, jagged and executed in thick and controlled brushstrokes, suggestive of verdant forests and powerful beliefs.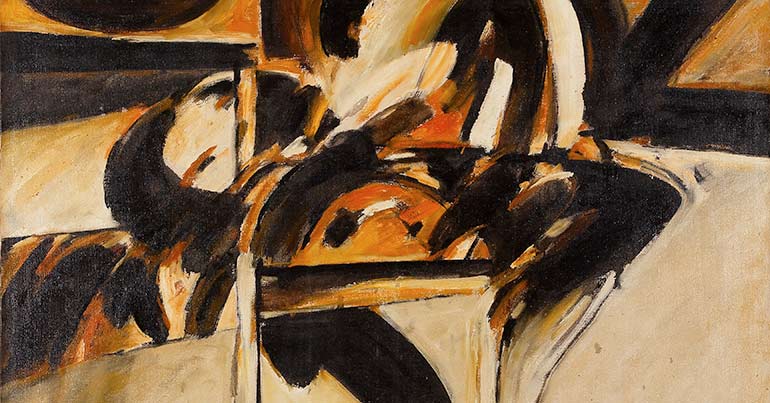 Apart from a trip to Laos – to renew a visa – where he saw refugee camps and displaced people, Latiff seems to have managed to avoid much of the tumult that was shaking the region. Then, as now, his preference was to hold back; to watch and listen. "I was travelling silently; observing, seeing and hearing," the artist tells Southeast Asia Globe. "Making sketches and painting."
The Pago Pago series is the now the subject of a major exhibition at the In-Focus Gallery of the revered Centre Pompidou in Paris. A first for an artist from Southeast Asia, the show opened at the end of February and is not only recognition of Latiff's role in the development of modernism, but also the way in which the Malaysian was able to create a distinctive way of thinking about the region.
Latiff says when he learned the Pompidou wanted to put on the show he was speechless. "It's an honour to be invited [to show] at the most important art centre in Europe," he says. "Sometimes in life we have a great plan, and God has a greater plan for us."
The three-month exhibition is "immensely critical" for understanding the ways that art developed in the 1960s, explained National Gallery Singapore curator Shabbir Hussain Mustafa, who has spent the past 18 months working with the Pompidou's Catherine David and Latiff himself to put it all together. It not only includes artworks sourced from museums and private collectors, but letters, photographs and postcards chosen by Latiff from his own private archive, capturing key moments in his journey around Southeast Asia and helping deepen our understanding of how Pago Pago came to be.
"We end up discovering these entire geographies that Latiff puts together as he moves from place to place," Mustafa says. "This is how and why the exhibition has been put together."
"[The show] signals a kind of shift in our understanding of European art history," says Simon Soon, a senior lecturer in the visual arts programme at the University of Malaya. "It acknowledges that modernism is not just from Europe in which you see all other iterations as being derivative, but seeing [those iterations] as co-participants or co-producers of a wider discourse."
I find his work like poetry. I have always regarded him as the best Malaysia has ever produced
Latiff was born in Seremban, the capital of the central state of Negri Sembilan, in August 1941, in what was then the British colony of Malaya. The world was at war, and before the end of the year the Japanese would land on the Malay peninsular, driving out the British to take control of Malaya. When he was eight years old, the young Latiff and his family moved to Singapore, where he went to school. "It was the first time I came out from the village," he laughs.
The young Latiff had a passion for art – and nature – and a precocious talent. Dubbed 'the Boy Wonder' by one of his teachers, he held his first exhibition at the Kota Raja Malay School at the age of 12 and won a school art competition with his drawing of what he describes as a "green and purple" brinjal (the local name for an aubergine). "A teacher came up and patted me on the shoulder and said: 'You must continue with this,'" he recalls.
Over the next decade, the young Latiff seized every opportunity he could to develop his creative skills, taking art classes and experimenting with pencil, crayons and oil. Even before he won a German government scholarship to study at the Hochschule in Berlin, he'd already been painting for more than a decade.
At the time, most Malaysians who studied overseas went to London. Germany was a novelty. The young Latiff arrived in Berlin to a chilly winter and few people who could speak English. He quickly resolved to improve his German and threw himself into the city's cultural life – trying out flamenco, watching the French mime Marcel Marceau, enjoying the cabaret and reading German literature and philosophy.
"Those years were very exciting," Latiff recalls. "I was hungry for knowledge."
The Pompidou show will include more than 70 artworks and archival materials sourced from Latiff's own collection, as well as those of art collectors from Singapore and Malaysia. Much like Pago Pago itself, the process of researching the exhibition evolved into a journey of discovery. Latiff came across pieces he hadn't seen in decades and was surprised at just how prolific a period of time it had been.
"As a young man, I worked very hard," he recalls. "I thought the Pago Pago paintings were only 40 to 50 pieces, but as I did the research it turned out to be 80 to 90. That's quite a lot."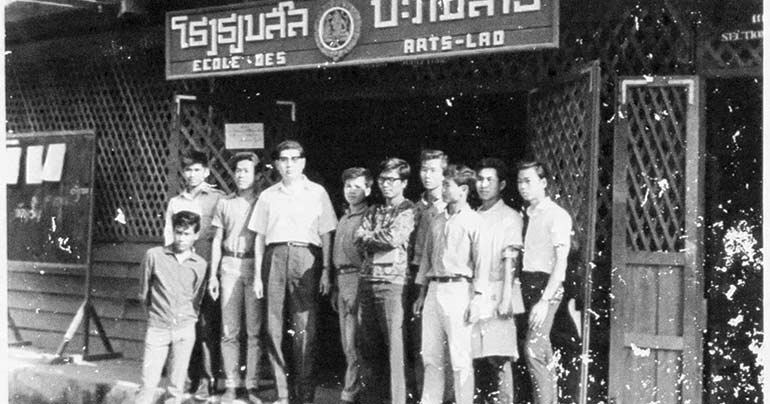 Kuala Lumpur-based Zain Azahari has lent six of his pieces from the Pago Pago series to the Pompidou show. The retired lawyer, one of Malaysia's leading art collectors, has been friends with the artist for more than four decades and owns more than 35 of his works.
"I find his work like poetry," he said. "I have always regarded him as the best this country has ever produced."
Latiff continued to develop and expand the theme of Pago Pago throughout the 1960s, challenging the idea that modernism was a wholly Western concept and discussing thoughts and ideas with other Southeast Asian thinkers including the Indonesian poet and writer Goenawan Mohamad. He too will be appearing at the Pompidou show, speaking as part of a special public programme accompanying the exhibition.
In 1969, Latiff began to sense he had pushed Pago Pago to its limits. The artist was awarded a French government scholarship to study etching at the Lacouriere et Frelaut, a studio in Paris, before going on to complete a residency at the Pratt Institute in New York under the John D. Rockefeller III Grant.
By the time he returned home the following year, Latiff had moved into a new phase of his creative life: Neo Pago Pago. But for much of the decade, he would focus not on painting but the written word, publishing collections of poetry and translations of European writers, including Faust. His 1971 collection of poems, Sungai Mekong, established his reputation as a poet and has since been translated into numerous languages, including a recently released Spanish edition. In 1974, he became a central figure behind an informal Kuala Lumpur-based artistic collective known as Anak Alam (Children of Nature).
"I did a lot of writing and translation of European poets," Latiff recalled of those years. "All the energy went to literature and, of course, the paintings suffered."
Latiff is being modest. Since Pago Pago, he has completed a number of major painting series, including Landscape, Mindscape and Seascape, and continues to entrance with his poetry, enthralling a packed room with his readings at the close of last year's Georgetown Literary Festival in Penang.
Throughout his career, he has sought to push the boundaries of his creativity, experimenting with painting, drawing, print and sculpture, as well as literature and translation. After more than 60 years, Latiff has no plans to slow down.
"At my age, I still have a little more energy," he says with a laugh. "God willing, I can paint one or two more series."
Pago Pago: Latiff Mohidin (1960 – 1969) is on show at the Pompidou Centre in Paris from February 28 – May 28.
This article was published in the March edition of Southeast Asia Globe magazine. For full access, subscribe here.
Related reading: