In the context of its blossoming relationship with Beijing, Thailand's geo-strategic importance is encouraging the West to turn a blind eye to the junta's autocratic tendencies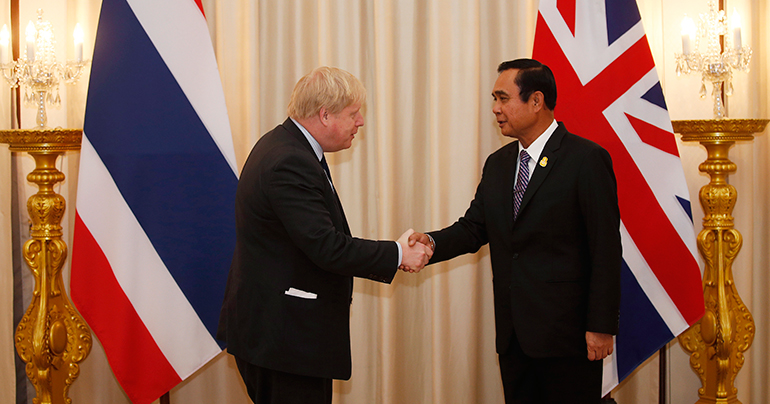 When British Foreign Secretary Boris Johnson met Thai Prime Minister Prayut Chan-ocha in Bangkok on Monday, there was an elephant in the room.
Just weeks before his arrival, the date for the country's much-anticipated general election had been delayed from November 2018 to January or February 2019, after lawmakers appointed by the junta voted to postpone the enforcement of one of four election bills needed to hold a general election.
The latest in a string of broken election promises that stretch back to the military's ousting of the government of Yingluck Shinawatra in a 2014 coup, the announcement provoked hundreds of Thai citizens to take to the streets of Bangkok to protest what they regarded as a cynical ploy by the junta to retain its grip on power.
No protests, however, were heard from Johnson, nor from any other Western dignitaries who have recently visited the country.  
Johnson instead announced on Twitter that he looked "forward to further strengthening the UK's relationship with #Thailand in the future", while his Italian counterpart Angelino Alfano tweeted days earlier that he was "extremely satisfied at the quality discussions held with the political and business leaders in Indonesia, Singapore and Thailand" and "was happy to be the very first EU FM [foreign minister] to visit Bangkok after the decision to restart bilateral contact [with] Thailand".
Paul Chambers, a lecturer at the College of Asean Community Studies at Thailand's Naresuan University, attributed the West's wilful ignorance regarding Thailand's limited democratic prospects to the country's blossoming relationship with Beijing.
"After seeing military dictatorship in Thailand survive for years, most Western countries appear to have made a conscious decision to prioritize geopolitical concerns over human rights concerns. These countries are more concerned with Thailand's tilt to China," he said.
The mainstream account of declining US influence in Thailand begins in 2014 with the suspension of military assistance and downgrading of ties following Prayut's military coup, though some regard the US' draconian macroeconomic response to the 1997 Asian Financial Crisis as the original seed of Thai discontent with Washington.
Previously Thailand's number one trading partner, the US now sits below Japan in third place, a fall from grace thrown into sharp relief by China's ascendancy to pole position, after its foreign direct investment grew from 1% of Thailand's total in 2006 to 15% in 2016.
If the Thai people want elections and some kind of democratic rule, they will have to fight for it themselves
Separating the Strait of Malacca, through which passes one-third of global trade and nearly a third of all oil and liquefied natural gas, from the South China Sea, a resource rich body of water that has fallen prey to rampant Chinese militarisation, Thailand is of major geo-strategic importance to the West.
It's one of the main reasons why the West's hands are now tied when it comes to promoting democracy in Thailand, according to Thitinan Pongsudhirak, an associate professor at Chulalongkorn University's faculty of political science.
"It matters to the West that Thai elections have been delayed yet again, but Western countries no longer have much leverage," he said. "Thailand is geopolitically indispensable in any equation over the future of Southeast Asia. If the Thai people want elections and some kind of democratic rule, they will have to fight for it themselves."
Ironically, the West's decision to sacrifice democratic ideals on the altar of political pragmatism has coincided with a decline in the legitimacy of Thailand's ruling regime, following the completion of the royal transition and cremation of the late King Bhumibol Adulyadej last October.
Since then, a series of corruption scandals that include a suspect public land lease to Thai energy drink company Red Bull and the revelation that deputy prime minister and defence minister Prawit Wongsuwan, whose official annual salary is roughly $75,000, owns a watch collection worth $1.2m, have led to a significant amplification of Thailand's dissenting voices, with some sections of the Thai media even drawing parallels between the current situation and the violent street protests that overturned the government of General Suchinda in 1992.
According to Pongsudhirak, the prevailing sentiment among Thais is that the junta's time is up. The way he sees it, the longer they hold on to power, the stronger the resistance they will face. 
"Tensions will build in the coming months because the junta does not seem to want to leave without a fight even though the generals have got the constitution written the way they want," he said.
"There will be elections in Thailand eventually. But without the strengthening of democratic institutions, elections won't bring back democracy."
Related reading: