Hundreds of protesters take to the streets in Bangkok to demand a general election, which has already been delayed numerous times



Around 400 protesters gathered in Bangkok, Thailand, at the weekend urging the military government not to delay elections that are planned for later this year.
Prime Minister Prayuth Chan-ocha set the election date as November, but due to a change in election law last month, it is now unlikely the election will take place before 2019.
Thai police set up barriers around the Democracy Monument in the capital, but hundreds of protesters still gathered in the vicinity and held up fake ballot boxes and signs that read "disgusted with dictatorship", Reuters reported.
It was one of the biggest protests against the military junta, known formally as the National Council for Peace and Order (NCPO), since it seized power in 2014.
Despite a ban on all political activity, protests have become more frequent recently. Various political parties and activist groups have been demanding for months that the junta allow the process of campaigning and elections to begin. Some have suggested that the military are deliberately delaying in order to hold on to power for longer, Reuters reported.
Prior to the demonstration, the police had issued arrest warrants for four people. One was arrested before the protest, while the other three handed themselves in after the demonstration ended peacefully. All four were later released on bail, the Bangkok Post reported.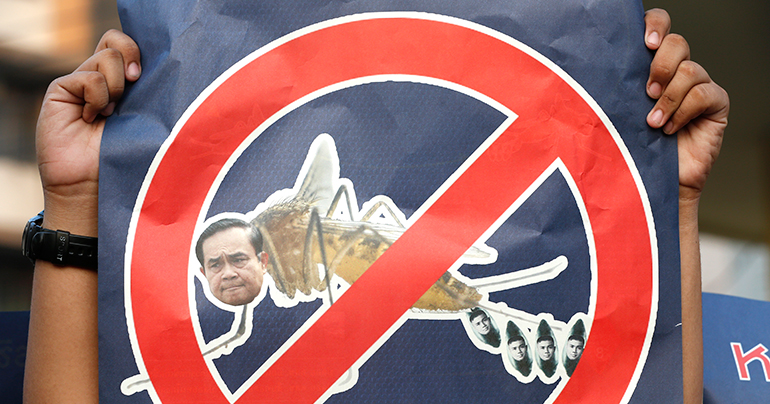 The Puea Thai party, who lost power in the military coup in 2014, defended the demonstrators.
"Peaceful expression is the right of every citizen … I strongly disagree with the actions of the police and those in power to try to impose … charges against the groups," Reuters reported Phumtham Wechayachai, the secretary-general for the Puea Thai party, as writing in an open letter.
The military government, however, said that they were acting in the best interests of the people in the run up to the elections, the Bangkok Post reported.
"The authorities were very careful when dealing with the protesters. Overall, the officials managed the situation in an appropriate manner," NCPO spokesman Piyapong Klinpan said, according to the Bangkok Post..
Last month activists won a legal battle that allowed them to continue a protest march from Bangkok to Khon Kaen, in the northeast of Thailand. The protest, dubbed 'We March', is due to come to an end on Saturday 17 February.
After seizing power in 2014, the military government promised to hold an election by October 2015, but the election has continued to be pushed back since then.
Related reading: