On a scorching Monday in March 2010, an army of protestors in the tens of thousands marched on a military base on the outskirts of Bangkok. Inside, then-Prime Minister Abhisit Vejjajiva sheltered behind the ranks of the royal military that had backed his rise to power two years earlier. Wrapped in the blazing scarlet of the anti-government Redshirt movement, the crowd seemed poised to consume all in its path. All it would have taken was a spark.
Sitting in a café in central Phnom Penh seven years later, exiled Redshirt dissident Jakrapob Penkair thumps his hand on the table in frustration as the afternoon rain beats down on the green tin roof.
"They should have stormed in and showed that we owned that place," he says. "If I was there, I would have convinced people to storm in. The army has to be given back to the people."
A founding member of the United Front for Democracy Against Dictatorship (UDD) and former minister and spokesman for the government of populist Prime Minister Thaksin Shinawatra, Jakrapob was forced to flee Thailand in 2009 after giving an allegedly anti-monarchist talk at Bangkok's Foreign Correspondents Club. Hounded by accusations of slandering the Thai sovereign – a severe offence in the deeply royalist Kingdom – Jakrapob found safe haven in neighbouring Cambodia, though he says he travels frequently across Southeast Asia.
Since the military junta led by Prime Minister Prayuth Chan-ocha seized power in a 2014 coup d'etat, Redshirt leaders both inside and outside Thailand have found themselves scattered, suppressed and struggling to maintain the support of the people who once took to the streets with them to fight for reform.
Once capable of commanding hundreds of thousands of supporters furious with the 2006 armed overthrow of Thaksin's socially progressive government, the movement has been a decisive actor in the past decade of turbulent Thai politics. But despite a bold announcement in the months after the 2014 coup declaring the formation of a Redshirt government-in-exile, there has been little overt sign of such an organisation taking shape.
Pavin Chachavalpongpun, an exiled Thai academic who is an associate professor at Kyoto University's Centre for Southeast Asian Studies, said that the junta had been brutally effective in dismantling the movement's support networks across Thailand.
"In the past, [the pro-democracy movement] was quite successful in setting up something like Redshirt villages in almost every province in Thailand, especially in the north and northeast. Now those Redshirt villages have disappeared – and I doubt that it would be easy for them to just revive this kind of system in a short period," he told Southeast Asia Globe.
"Currently the reds pose no real threat to the junta. But they do pose a big threat for any junta-favoured government once Thailand returns to democracy."

Paul Chambers, historian
Although Jakrapob said he had faith in the continued conviction of the Redshirts' supporters, he admitted that the local leadership was not the political force it once was. "The Redshirt leadership in Thailand has been crippled by the political suppression that has been put upon them, so I don't blame them for being quite inactive, and somewhat compromised, in a way," he said.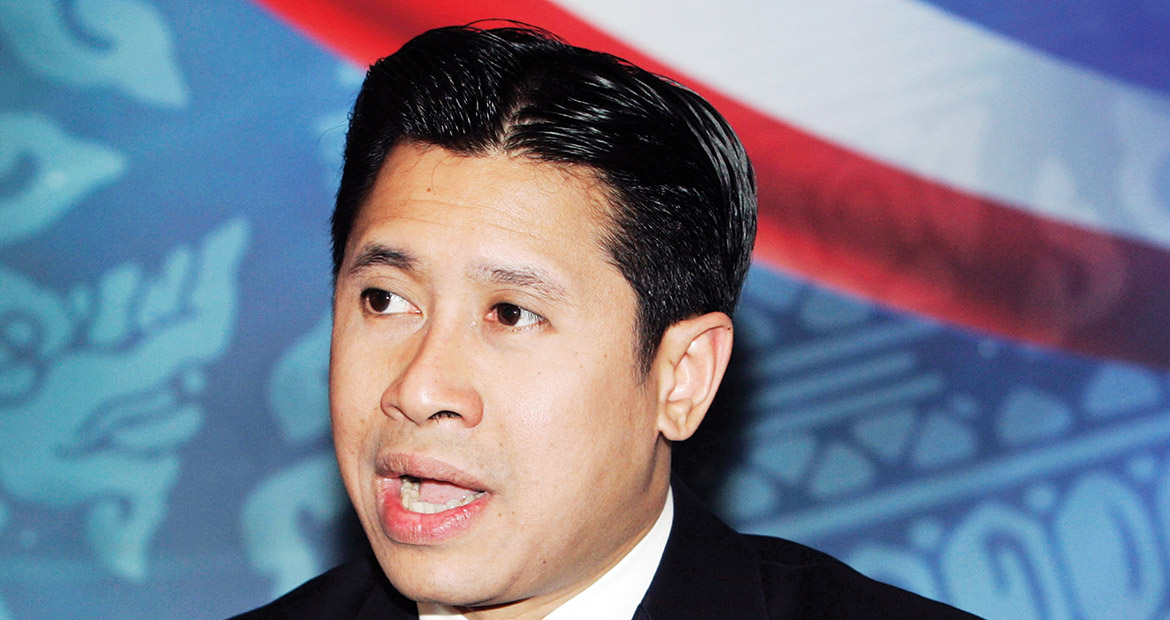 Paul Chambers, a politics lecturer at Naresuan University's College of Asean Community Studies, said that Thailand's Redshirt movement could well re-emerge as a political powerhouse should long-promised elections finally take place.
"The Redshirt movement, following Thaksin, right now is biding its time until Thailand returns to democracy or the junta becomes extremely unpopular," he wrote in an email. "Currently the reds pose no real threat to the junta. But they do pose a big threat for any junta-favoured government once Thailand returns to democracy."
Although Jakrapob was cagey about describing precisely what that threat would look like, he underlined the need for the Redshirt movement to rally around a cohesive political platform founded upon the broadly left-wing, pro-democracy ideals that brought its members together in the first place.
"The existing system has been destroyed," he said. "The military regime, the junta, the royal institution network with armed forces, it cannot be sustained. But in what form it will be dismantled, that's another question that I am not willing to discuss today. But when that happens, we have to be ready to propose our idea on what we would like Thailand to be. We need a conventional forum, a big forum, right now to solidify all these ideas into platform policies. Because ideas and goals have to come before the means to fight for them."
This raises an even more contentious question of what means the Redshirts might mobilise in this fight. Since the coup, the junta has repeatedly accused Redshirt members of stockpiling weapons and plotting assassination attempts against the government, even blaming them for a bomb blast in a Bangkok hospital earlier this year.
And in such a fragmented movement as the Redshirts, claims that individual cells have been preparing for violent resistance to the junta cannot be entirely dismissed: Wuthipong `Kotee' Kochathamakun, an exiled Redshirt activist who was until recently based in Laos, has done little to lessen the junta's paranoia with repeated "calls to arms" broadcast across social media interspersed with claims that he is training up "civilian warriors" to oust the junta. Kotee was reportedly abducted from his home in Vientiane by ten unidentified men in black. The Thai junta has denied any involvement in his disappearance. Kotee has not been seen since.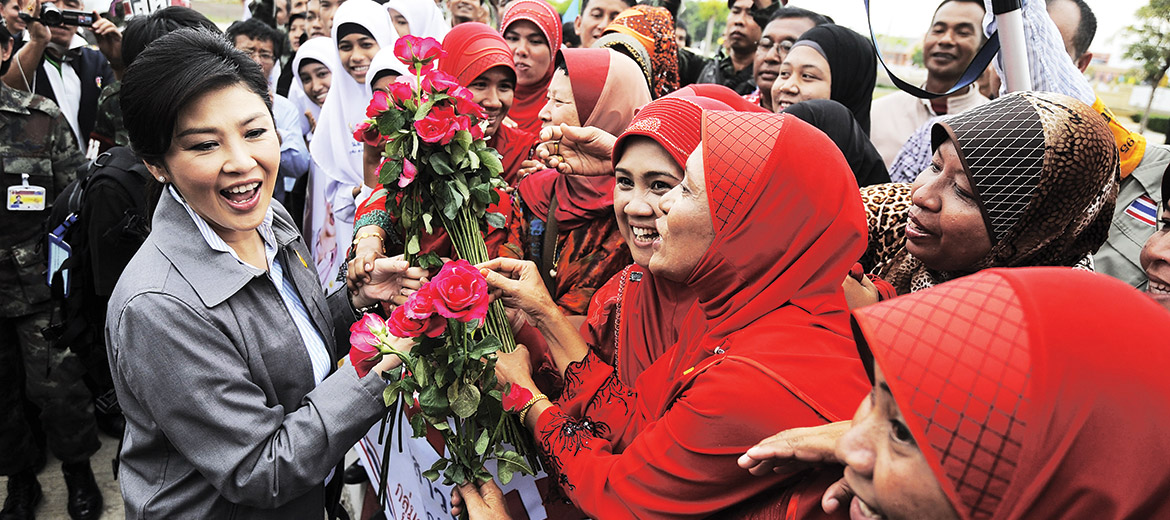 Pavin said that the words and actions of hard-line individuals such as Kotee were playing right into the junta's hands. "For them to come out like that, it allows the government to justify the accusations against certain Redshirt groups."
Jakrapob said there would be little need for a civilian militia when the time came, claiming that the Redshirt leadership was in communication with figures high up in the Thai military and police force who were sympathetic to their cause.
"Right now the armed forces belong to the royal palace and see the people as a nuisance," he said. "But a gun is a gun – it depends on where you point it. In any armed forces, when you are not indoctrinating them properly, with proper ideology for the common good of the people, they turn into mercenaries. And how do you treat mercenaries? You pay them, or you kill them, but you don't use them."
"There are so many shades within the red. The question is whether you can put these factions to work together towards a common goal or not."

Pavin Chachavalpongpun
Just how much support Jakrapob and the UDD enjoy in broader Redshirt circles remains unclear. Pavin stressed that any discussion on the future of the pro-democracy movement in Thailand had to begin by acknowledging just how diverse it had been from its inception.
"The UDD is one thing – but UDD is not a representation of the whole Redshirt movement," he said. "There are so many shades within the red. The question is whether you can put these factions to work together towards a common goal or not, which I find difficult as well."
But Jakrapob claimed that despite past missteps, the widespread desire for reform within Thailand would continue to draw people back to their cause.
"Despite all the mistakes that our leadership made, including myself, all the inaction in the past, all the confusing policies that we imposed in the past, they're still with us," he said. "So what they commit to us is not about us – it's about the goal that we all want."
Chambers argued that for the Redshirts to once again rally the sort of mass movement that once seemed capable of overturning decades of patronage and entrenched power, the junta's grip on Thailand would have to slacken considerably. Moreover, he said, they would have to come to terms with the rival Democrat Party still led by Abhisit.
"Thailand's economy would have to descend further," he said. "More factionalism would have to proliferate across the army, and there would have to be more compromises and beginnings of unity between the Redshirts and Thaksin on one side and Democrat Party leaders on the other."
According to Jakrapob, though, a fire that could sweep away Thailand's ruling elite continues to smoulder in the hearts of the people. "We've never had this kind of political determination before… That's why I believe that, UDD or not, Thaksin or not, the movement will go on," he said. "The dissatisfaction is all around – you just have to light a match."