The three startups will receive between $25,000 and $500,000 in investment, as well as access to Smart's extensive network and advice from experts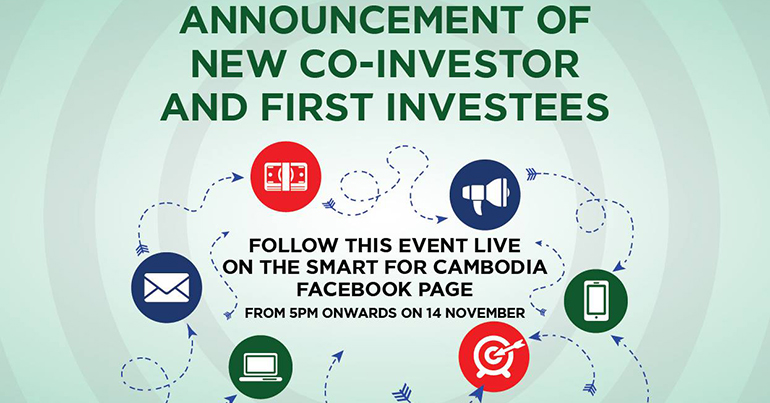 Cambodian telecommunications provider Smart Axiata has unveiled the first three startups to receive investment through its $5m Smart Axiata Digital Innovation Fund (Sadif), investments that Smart CEO Thomas Hundt said demonstrated the company was "at the forefront of digitising Cambodia".
"Cambodia's tech space has the potential to become a very significant contributor to the country's economic development," Hundt said at a glitzy event held at Phnom Penh's Raintree office development.
"That's what we're seeing now and that's why we created Sadif and why we are pumping money into the system."
The three investees selected were Joonak Delivery, a delivery and logistics company, Morakot Technology, a cloud-based financial software company, and Aniwaa, a 3D printer comparison website with plans to develop into a "global digital content platform". Forte Insurance was also named as a new co-investor in the fund and Mervyn Cheo, CEO of Forte Investment Holdings, added to Sadif's investment committee.
The announcement comes just one month after Smart signed an agreement to purchase up to a 30% stake in local media champions Sabay Digital Corporation, a deal that it hopes will help it become Cambodia's first all-encompassing digital lifestyle brand.
Each of the startups will receive between $25,000 and $500,000 in investment, which the founders said would be used to hire more staff and expand operations.
For the long-term development of the investees, perhaps just as important as the injection of cash, will be the opportunity to leverage Smart's extensive network. The telecommunications company currently serves 8 million subscribers and has a range of its own digital service brands, including mobile payment system SmartPay, and music learning software Smart Music. The company has also recently signed a slew of deals with recognised global brands Universal Music, Apple and Facebook.
Morakot's CEO Sophorth Khuon told Southeast Asia Globe on the sidelines of the event that he was excited by the prospect of using Smart's technology to enhance his company's product offerings.
"We can build a bridge between how we work. For example, we could build an integrated system, which allows our clients to let their customers pay for their microfinance loans using SmartLuy [Smart's digital wallet]. Or we could use a Smart API [application programming interface] or Smart SMS to send information to our customers through alerts on their phone."
Sadif was launched in March 2017 and is managed by the local investment and advisory firm Mekong Strategic Partners. The fund hopes to invest in at least 12 more companies over the next five years.