Chy Sila has made it. The CEO of Cambodian media and entertainment giant Sabay Digital Corporation and general director of the food and beverage company responsible for fast-food outlets from Tous les Jours bakery to East Asian burger chain Lotteria, it may be easier to list the everyday pleasures of Phnom Penh's booming youth culture that the 41-year-old does not have a hand in.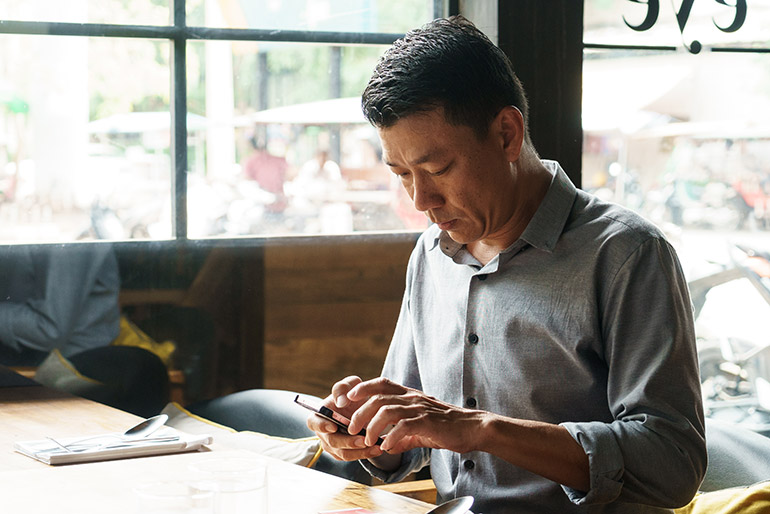 Striding into Phnom Penh's critically acclaimed Tiger's Eye restaurant ten minutes before our interview is set to start, Sila sets his navy backpack on the chair beside him and bends to his smartphone. "Sorry – just give me a few minutes," he says, his fingers sprinting across the face of his phone. After a few moments of silence, he sets it down on the table and smiles.
Conversant in English, Vietnamese, Japanese and several dialects of Chinese – the smattering of Russian forced on him during his early school years has fled from his memory – as well as his native Khmer, Sila speaks with the worldliness of a man who always keeps one eye firmly fixed on the horizon.
"I travel to a lot of countries – this is one of my advantages; I see things that a lot of Cambodians cannot see," he says. "I can see what are the trends coming in the world, and I can really see that, OK, this is what is going to come in Cambodia also. This is how I've expanded from the first shop to the second shop, the first brand to the second brand, and how I've been able to diversify into other industries. Because I can see what is coming."
Having dropped out of architecture school after flunking his second year exams, Sila set up his first business two years before the turn of the millennium, flogging bootlegged CDs and movies from a black-painted store in Cambodia's capital. For the man destined to distribute films in the nation's most extravagant theatres, it seems an inauspicious start.
"I never thought I would become an entrepreneur, a businessman," he confesses. "I'm kind of an artist guy – I liked to draw when I was young. I like to build things up from scratch."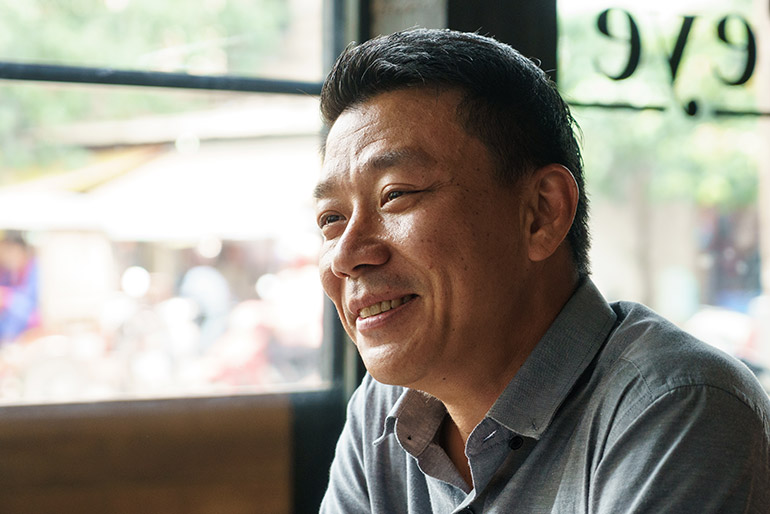 From his initial investment of $500, Sila has done precisely that. More than 18 years later, Sabay Digital Corporation is the Kingdom's leading media and entertainment group, covering online news, television, film distribution, online gaming and even a lifestyle magazine. For Sila, creating international-quality content tailored to a Cambodian audience – the name 'Sabay', is Khmer for 'happiness' – has been a critical component in the conglomerate's success.
"Most of my business, no matter what I've created, I've created for local people first," he says. "Because that's what I know the most, and can control the most. But the way that we build the back end of our system is very broad so we can expand internationally. Some people say 'think global, act local' – that's what I would say myself."
Initially reserved, Sila's face splits into a grin when a waiter brings over a pair of share plates loaded with the restaurant's trademark fusion cuisine. "O.M.G," he intones solemnly. "I come here a lot," he admits. "At least once a week." Snatching up his phone, he snaps a few photos and beams. Served on a slab of grey slate, the first dish of sliced cured duck breast ($8) is so tender the duck almost seems to fall apart in the midday sun that lingers on the restaurant's dark timber interior. Facing onto the bustling Sothearos Boulevard running past Phnom Penh's famous White Building, the Tiger's Eye nevertheless retains a shadowed intimacy even through the chaos of a Cambodian lunch break. In the evening, its minimalist furnishings make anything from an after work glass of red to a romantic tête-à-tête an act of urbane sophistication.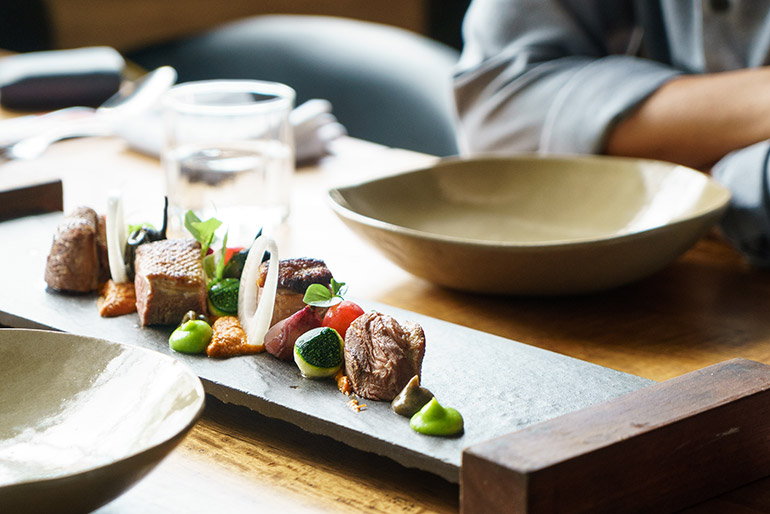 As we eat, Sila rails against what he condemns as a systemic lack of creativity among Cambodia's fledgling entrepreneurs, describing a kind of "copycat culture" he suggests stems from the Khmer Rouge's decimation of the nation's intellectual and artistic class more than 40 years ago.
"The beauty of Cambodia, and something that I think is probably sad also, is that not many people try to create original content here," he says. "A lot of people try to copy paste content from around the world and try and make it look local."
According to Sila, it is only by taking risks and thinking in the longer-term about the sustainability of their business model that beginner business owners can carve out their own position in Cambodia's flourishing economy.
"You have to think that way – then you can compete and sustain [yourself] in the market," he says. "Otherwise, if you think too small, sometimes it can be very hard because when the giant company comes in, you're going to be out of the game."
"Anything related to young people has a chance to have success, because people are going to grow along with your service or product"

Chy Sila
With such a young population – almost 70% of Cambodians are under 30 years of age – Sila is hopeful that the Kingdom's rising middle class can provide a reliable customer base for entrepreneurs eager to make their mark.
"Anything related to young people has a chance to have success, because people are going to grow along with your service or product," he says.
Our next dish, prawn sous vide served with crab mousse and a mixture of cashews, coconut and a traditional Thai nam prik sauce ($9), delivers a light and refreshing tang to offset the richness of the duck breast. By turns creamy and crisp as you move between the crab mousse and its smaller crustacean cousin, the dish is prepared with a deftness of touch that lends itself beautifully to lighter meals.
Sila is frank in his appraisal of the cutthroat world of Cambodian business, punctuating his speech with pinpoint profanity as he skewers an errant prawn with his fork. For him, the key to survival seems simple: innovation or extinction. "If the consumer doesn't consume a product because the product is poor, you have to move on – otherwise people will come in and do a better job and replace you," he says. "That's what I hope to see in the next few years – that copycat culture changing. But I don't think it will be easy, because at the end of the day it's about education, the level that you expose your mind to; that you dare to think further and are crazy enough to do something differently – I don't see that much."
Ultimately, he says, the next generation of Cambodia's business leaders are going to have to make their own mistakes if they want to succeed – and that means showing the initiative that their competitors lack.
"As long as you have a community that follows you, you can go further."