Thai low-cost carrier Nok Air has been flying high since its launch in 2004, with plans for international expansion on the cards. The unconventional businessman behind the airline's success, Patee Sarasin, talks music videos, his guitar collection and his reluctance at becoming a CEO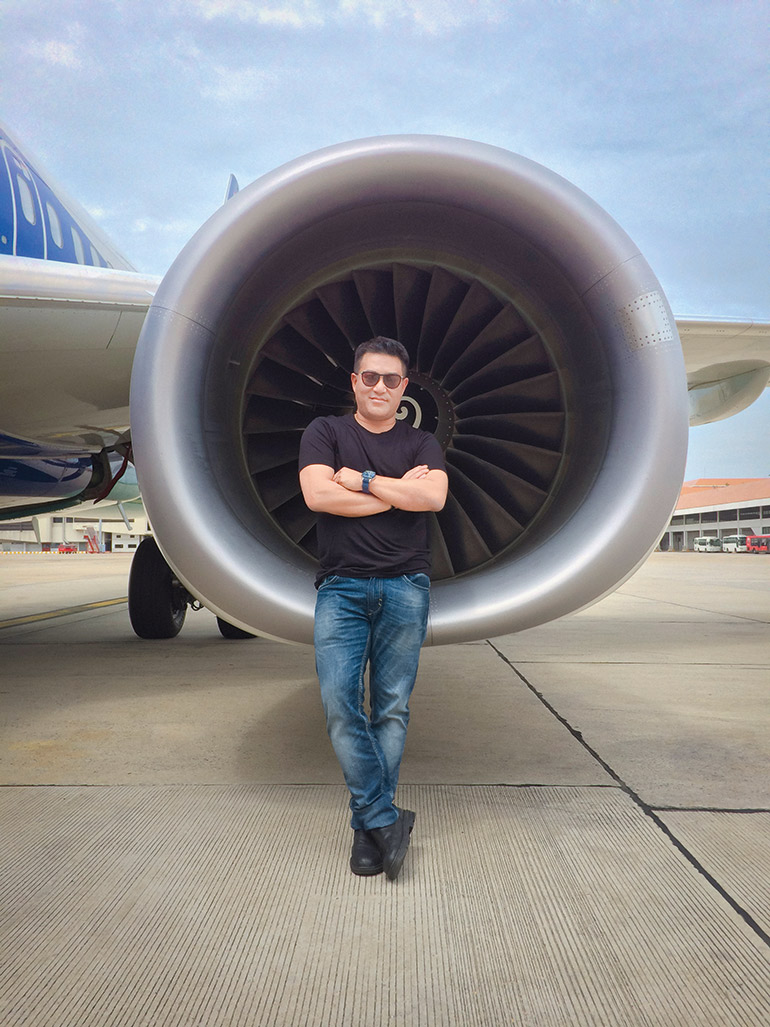 An unorthodox approach to business
Stripped down to black lace lingerie and a pair of gravity-defying high heels, a slender, dark-haired model drifts in and out of focus as she sprawls seductively on a bed. Arom Phoharnrattanakul, the frontman of Thai pop duo Lipta, begins to croon as the scene shifts to a young man behind the wheel of a head-turning Porsche 356 Speedster cruising down an empty road.
While the onscreen couple plays out a tragic romance of heartbreak and betrayal, the star of the show subtly saunters in. Dressed as a waiter at a cocktail party, Nok Air chief executive Patee Sarasin makes a barely noticeable, four-second cameo, but it is clear he is enjoying himself. He is also playing lead guitar on the track with his buddies from the band PP Project.
"I stand out in Thailand because I'm totally different," states Patee in a refined English accent during an interview with Southeast Asia Globe at Nok Air's headquarters in Bangkok.  "I know exactly what I want to be, and I don't give a damn what other people think."
Patee may be the head of Thailand's low-cost carrier Nok Air, but he is not your typical buttoned-down business executive. With more than three decades of advertising and marketing experience under his belt, he understands the value of being on the cultural cutting edge. Over the past 12 years, he has been the architect of Nok Air's unconventional approach to branding, creating music videos and tongue-in-cheek commercials to engage consumers and build an image of a fun, playful airline.
"I've put lots of advertising into the brand to really push it out, and I'm always looking at how we can differentiate Nok Air from everyone else. I'm the only [CEO] who can play music and the only CEO that really seriously plays. We have live concerts with over 10,000 people; it's pretty cool," the 54-year-old says.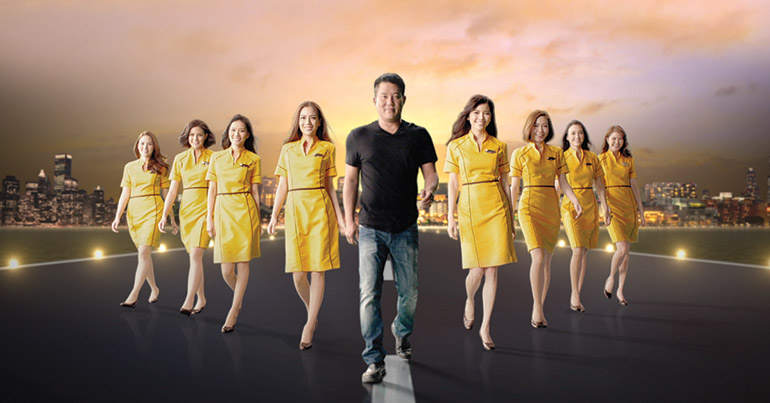 Patee is not only the first airline exec in Asia to rock out on stage; he was also the first to parade a bevy of scantily clad women in front of his wackily painted aircraft.
Sporting his simple signature style – a plain black t-shirt and faded jeans – the father of two smiles when reminded of his attention-grabbing 2013 calendar, featuring Maxim models wearing skimpy swimsuits and little else. "That calendar cost $40,000 to make, but the media attention around the world was worth millions and millions of dollars. Even a guy in Miami saw it," he says of the controversial marketing stunt that drew the ire of the Thai government.
Guitar hero
Ever keen to redirect the conversation to his music credentials, Patee explains that he has a collection of 45 guitars at home, with three more on order. "Three to four years ago, I became really influenced by the English rock band Muse. Matthew Bellamy's guitar is so cool; I really wanted one. So I got my cousin to find out if I can buy this guitar and the company, Manson Guitars, said: 'No, we only make [these] guitars for Matthew Bellamy and no one else.'
"So, when I was on holiday in England I called up Manson myself. I don't know how I talked myself into it, but they said: 'OK, we'll build you a guitar,' and since then I've been very close to the company. I'm about the only person in Thailand that can get this particular guitar, and they build it for me."
The monstrous riffs of Muse are a far cry from the romantic ballads Patee usually sings in videos posted to YouTube, but he says his musical tastes have recently shifted to "a highly heavy sort-of-an-alternative style".
"I wrote a song about civil servants – it's about corruption, and the mood and the tone is very aggressive. The video will be shot and choreographed by the person who made Step Up, and the team of dancers in the movie will be in it. So they asked me to go to LA to be part of it. I have to learn to dance for about a week. Oh my god, I really have to dance. They'll be popping and shit, and I really don't want to do that, but they will train me and shoot it."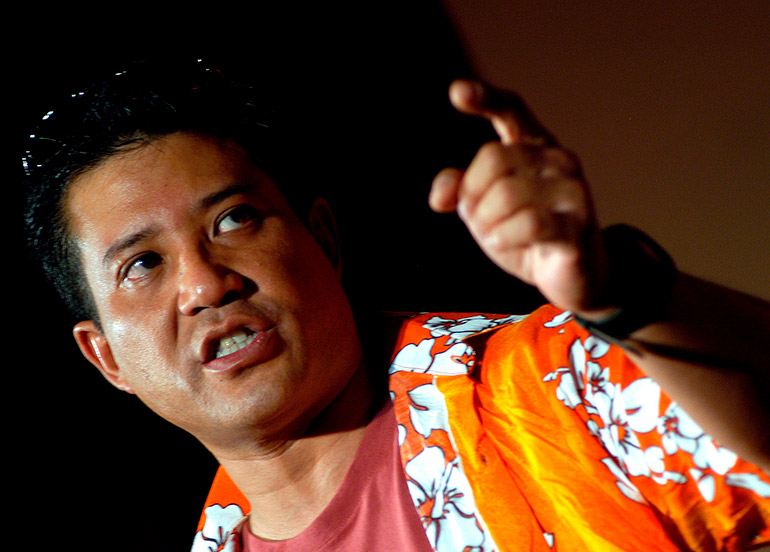 The visual image of Patee popping, locking and dropping it with a group of blinged-up backup dancers is in stark contrast to his surprisingly spartan office. Piles of storage boxes filled to the brim and bursting with papers are stacked outside his door. It is not the type of workspace from which you might expect a hip-hopping airline executive to operate.
Almost on cue, he explains: "I'm not an aviation guy. I never had a dream to become something, because everything is taken by chances. The fact that I became the CEO of Nok Air is not because I wanted it. I never wanted it. I did it because I was asked to and I said: 'Hey, what the hell', and I jumped into it without knowing anything about airlines – zero."
A lack of conventional corporate grooming may explain why Patee marches to a different beat to typical managers. A son of a Thai diplomat, he spent his early years at an English boarding school – "Like Harry Potter without the magic," he jokes – before later moving to the US to complete two bachelor's degrees in business administration and computer science from Clark University in Massachusetts.
Afterwards, he launched his career with advertising agency Lintas as a research manager, followed by a break to complete his master's in mass communication film and video from American University in Washington, DC. Patee later joined the US television network NBC, on both the creative and production sides.
Although he clearly enjoyed a privileged upbringing, Patee insists he did not grow up sucking on a silver spoon. "People have this presumption that you have to be rich to live in England and the US, but the imagery is different from the reality," he says. "My father really restricted the money that was given, so I had to work. I delivered pizzas, was a newspaper boy, I played music in the pubs for money. I drove second-hand cars with radiators that smoked. I couldn't afford to fix it. I did all kinds of stuff in order to survive."
With a BMW i8 currently parked in his garage, it's difficult to picture a young Patee struggling to put food on his table. He returned to Thailand in 1989, where he continued to hone his advertising chops before entering the cutthroat world of aviation in 2004. Thai Airways was looking to launch a low-cost carrier, and one of Patee's friends – who was in charge of the project – approached him to oversee the branding.
"I didn't want the job"
"Then one day I'm in Tower Records and my friend calls up saying that they think they've found their CEO. I said: 'Great, who the hell is it?' And my friend says: 'You.' My first thought was that it wasn't going to work; I didn't want the job. I was with Bates, a public company with the WPP group with Sir Martin Sorrell [one of the UK's most respected businessmen].
"Then the chairman calls me up and I use my father as an excuse – he was completely against it. I put my father on speakerphone and he talks to the chairman. Then I go to the car and my father calls me back. He says: 'I think you should do it.' I say: 'What the hell happened to you?' So he says: 'The chairman said you can help the country.'"
Patee did not have a chance to tell Sorrell before the media did it for him. "I thought of a scheme to be CEO for three months while we found the right person. I didn't know it would be such a high-profile business at the time, but when we launched we had BBC, CNN and every goddamn fucking media in front of me, and I thought: 'Shit'… But it was too late; suddenly I was in it."
Since then, the gregarious, offbeat businessman has built a formidable competitor in Thailand's dynamic airline sector, operating a fleet of 29 aircraft to 24 domestic and three international destinations: Ho Chi Minh City, Hanoi and Yangon. Moreover, the carrier enjoyed a stretch of profitability for five consecutive years, from 2009 to 2013, thanks to its ultra-low-fare model and extensive domestic network. While Nok posted a 2015 net loss of $20.56m, versus a $13.41m loss in 2014 amid intensifying market competition, Patee has eyes on launching scheduled services to China in November and anticipates being back in the black by the fourth quarter of this year.
"I care about Thailand; I care that Thailand has been seen as corrupt, highly politicised, and what I'm trying to do is show the people that you can be a clean, professional company – to establish that type of thinking about Thailand," he says. "I'm not here forever, but while I am here I'm going to try to make sure that we stand out in the crowd, for the Thai people to be proud of."