Trade between Asean and India amounts to around $70 billion per year, although they have set a target of reaching $200 billion by the year 2020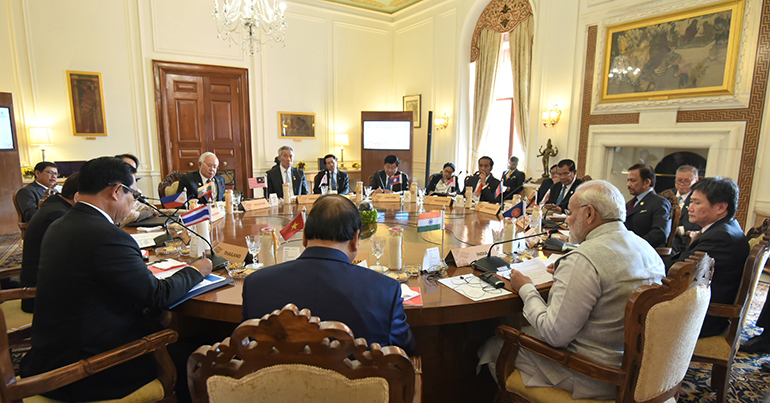 Indian Prime Minister Narendra Modi welcomed leaders hailing from the ten member countries of the Association of Southeast Asian Nations (Asean) this week for the annual commemorative summit held between India and Asean.
This year, India and Asean will be marking a 25-year anniversary of diplomatic talks between the two.
Nine of the Asean leaders touched down on Wednesday in New Delhi ahead of the summit that kicked off on Thursday and continues today.
The last leader to arrive, Indonesian President Joko Widodo, landed in New Delhi on Thursday, the Straits Times reported
Over the course of the next two days, each Asean member country will have a chance to meet with Modi for one-on-one bilateral talks.
On Thursday night, all of the leaders and their host gathered for the commemorative summit where Singapore's Prime Minister Lee Hsien Loong delivered a speech on behalf of the grouping, as his country is currently the Asean Chair for 2018.
The theme of this year's summit is said to be "shared values, common destiny," as both Asean and India are looking to deepen their ties and increase trade opportunities.
"The South-East Asian region is economically very vibrant, we see a lot of potential…this is a vibrant economic and commercial space for us," Livemint reported Preeti Saran, secretary (east) in the Indian Foreign Ministry, as saying earlier this month.
Trade between the grouping and India amounts to around $70 billion per year, although they have set a target of reaching $200 billion by 2020, the Hindustan Times reported.
The summit coincides with India's 69th Republic Day celebrations, an annual event showcasing India's military might and cultural progress.
This will be the first time that India has invited more than one head of state to be chief guest at the celebration.
Relations between India and Southeast Asia have been gradually strengthening over the years. The two first reached summit level interactions 15 years ago, and five years ago they formed a strategic partnership.
And in 2014, India upgraded its "Look East" policy to "Act East".
Singaporean Prime Minister Lee spoke enthusiastically about how the shared history between Southeast Asian countries and India could prove to be beneficial for both going forward, Channel News Asia reported.
"As Asean Chair, Singapore is committed to deepening Asean-India ties. If both sides use our historical and cultural links to tackle today's challenges and build bridges for the future, our youth and next generation stand to gain the most," he said.
Related reading: