Duterte was met with support from his fellow Asean leaders after issuing a warning about the growing threat of terrorism in Southeast Asia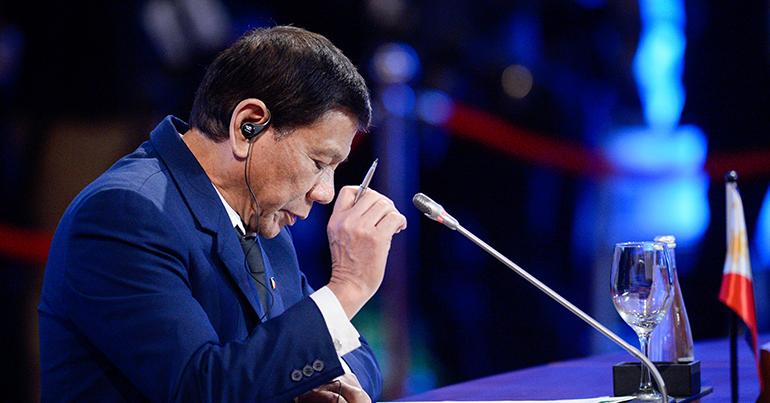 The Association of Southeast Asian Nations (Asean) has outlined that the need for collaboration over the threat of terrorism and other security challenges will be at the top of the leaders' agendas over the next week as the ten nations convene in a series of meetings in Manila.
In the opening remarks, the Asean summit's host, Philippine President Rodrigo Duterte, said that Southeast Asia required greater resolve in combating against terrorism in the region.
"Terrorism and violent extremism endanger the peace, stability and security of our region because these threats know no boundaries," Duterte said, after apologising for the sombre topics that the next two days of meeting would include.
He went on to cite his own country's five-month battle in the city of Marawi against an Isis-inspired terror group as an example of the kind of threat that such extremists pose to the region and thanked his fellow Asean nations for supporting his country during the upheaval.
"Our Asean brothers provided support by sending relief items for the benefit of the internally displaced persons while others provided valuable assistance and bolstered our military campaign," he added.
In a show of solidarity, Singapore Prime Minister Lee Hsien Loong also asked that more attention be directed at the rise of terrorism in Southeast Asia, a concern that has become more important since Isis has increased their call for rebels living outside the Middle East to conduct 'lone-wolf' attacks.
"We must continue to be vigilant and pursue deeper cooperation in counter-terrorism," said Lee.
The Philippines, Indonesia and Malaysia have all also been engaged in ongoing maritime and air patrols of the Sulu sea, a region known for being a centre for multinational terrorist threats.
And on Monday, Thailand's deputy prime minister Prawit Wongsuwan released a statement warning of a potential risk of influence from Isis within the region.
The Bangkok Post reported that Gen Prawit was quoted during an interview saying that his country was attempting to crackdown on transnational criminals, some of whom they suspected to be Isis sympathisers.
The government in Thailand later confirmed that they now fear there are "probably" outposts of terrorist activity within the country.
The Asean leaders will also be discussing the potential security challenges posed by North Korea's recent nuclear threats in addition to piracy and drug trafficking in the region.