Cover portrait by Vincenzo Floramo
"I talk crap," says Gaggan Anand, before embarking on another of his trademark soliloquies. The chef-owner of Asia's number one restaurant is, to put it mildly, astonishingly chatty. We talk in his office for more than 25 minutes before coming anywhere near the first interview question, for Gaggan is keen to canvass my thoughts on topics ranging from the best restaurant in Cambodia to Brexit and the England football team's sorry showing at Euro 2016.
And while it can indeed be difficult to keep this giant of a man on topic, this seems rooted more in his natural exuberance than a proclivity for spouting crap, as he calls it.
When it is his turn to talk, he frequently raises his voice and jabs an accusatory finger at nobody in particular. He makes his points emphatically but is also witheringly self-deprecating at times and begins many sentences with the words "I'll give you an example…" before floating off on all sorts of stories and observations, from receiving rude reservation emails to the woes of print media in an online world.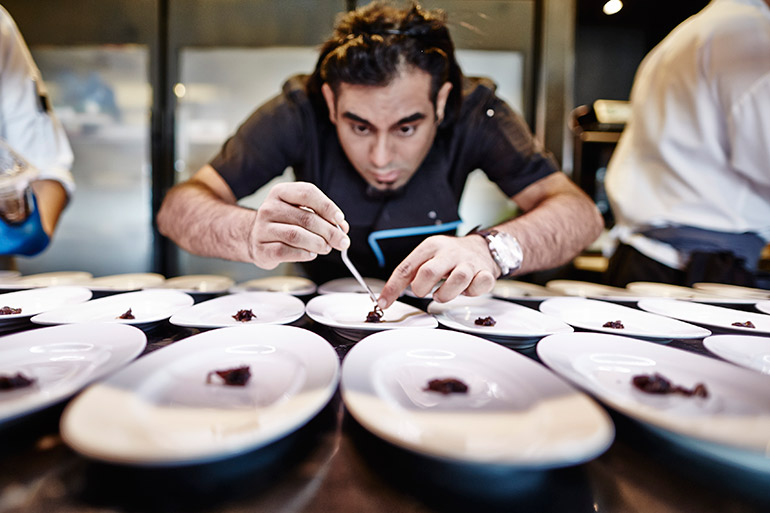 Yet Gaggan's enjoyably scattergun approach to conversation is in no way mirrored in his food, which is intricately crafted and refined. He describes his cuisine as "progressive Indian", a style he implemented for two main reasons: he felt Indian chefs hadn't excelled on the world stage, and someone once told him that Indian food couldn't be fine, which "pissed me off".
His methods are working, with his eponymous Bangkok restaurant named number one on the Asia's 50 Best Restaurants list two years in a row in 2015 and 2016, and at number ten on the even more prestigious World's 50 Best Restaurants list last year. They are not without their faults, but these '50 Best' lists are largely agreed to have superseded Michelin stars as the most influential indicator of the world's finest food experiences. Suffice to say, Gaggan is doing rather well for a kid who grew up penniless in Kolkata, India's third-biggest city.
"I was not a privileged child," he says. "Food was so humble in my life, but important. And being not privileged you have more urge. It's a natural thing. If you get a chocolate every day, you will never treasure a chocolate. But once you can't buy that chocolate you will always treasure it.
"I went through so many things – mental and physical stress, being in a very limited environment where you are insecure all your life… I was a guy who had no confidence to even hold a tray or bring a glass of water – my hand would shake. I had that [level of] confidence issues."
Gaggan says he realised early in life that he was not studious, so he pursued more creative outlets. A fan of rock bands from Pink Floyd to Def Leppard, Gaggan displayed a natural talent for drumming and played in a band, but he also had to become a provider.
"That's the pressure I had. By age 21 I needed to earn for my family. At that time music had no money, and from my poverty I could not make a career out of it because I knew that… I would survive, but my family would not. So the second best thing I knew was food. And, thankfully, I chose to cook."
His time at Kerala's Institute of Hotel Management and Catering Technology, India's most prestigious cooking school, was the making of him. Gaggan matter-of-factly recalls being top of his class from the first day and his peers "literally hating me". Spells at some of India's finest restaurants followed and, as Gaggan's career blossomed, he transformed from the awkward youngster who shook when he carried a tray "to a person who has become overconfident, who blabs too much, that's kind of a pain. That is a journey, and I always think that tough times make you stronger."
One area that is conspicuously lacking on Gaggan's CV is time as a stagiaire, the gruelling gastronomic apprenticeships served by most top chefs. The one exception is a three-month spell at El Bulli, the celebrated Spanish restaurant repeatedly voted the world's finest and the home of 'molecular gastronomy'. Yet this came when Gaggan was 32 years old and searching for inspiration to take his own cooking to the next level, rather than an eager youngster happy to be browbeaten in return for getting a toe on the ladder.
"Being a chef is human exploitation. It's complete human exploitation," Gaggan says, not joking. "You make [young chefs] work for 18 hours a day for free because they want to learn from you. But that's exactly what I don't do in my restaurant… We make them work eight or nine hours. Either from 9am until 5pm, or the other shift comes at 3pm and finishes by 11pm.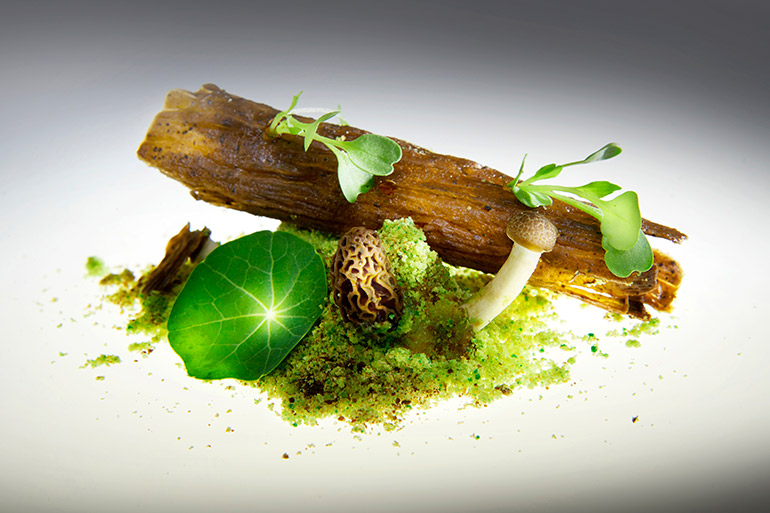 "From a lemon you can only extract so much juice. When you start pressing the lemon too hard it becomes bitter. You press a person and they become bitter, so in that process… 50% of the cooks who come in their young prime of 20, 21, 22 will lose their passion for cooking… That's my personal experience."
Gaggan had been in Bangkok for three years, initially for a consultancy role and then running a contemporary Indian restaurant named Red, when he decided to strike out on his own, opening Gaggan in December 2010. It did not take long for his progressive Indian cuisine to curry favour with reviewers, but there is little doubt that being named number one by Asia's 50 Best Restaurants was the true turning point. Gaggan himself admits as much, and the awards seem to have taught him plenty about the fleeting nature of fame.
"Today, I am what I am because of the list. Today, I'm famous, so every year [people] send me things. If next year I'm not number one, will they still send me things?" he asks.
The highs and lows of the 50 Best lists dominate our conversation for almost ten minutes. Like many chefs, Gaggan seems genuinely conflicted by them, swinging from decrying their "subjective" nature, "political agenda" and ability to make chefs "hate each other", to eulogising the lists' capacity to uncover hidden gems such as Cuisine Wat Damnak in Cambodia.
"I actually don't like 50 Best now, because it's becoming too competitive," he says. "I think they should say world's 50 best – just the best, and not a number… If we are [ranked] one to three, we can hug and take the best photo, but inside we're thinking: 'You're number one this year; next year I'm going to fuck you.' And that I don't like."
Gaggan soon reveals that this is the first in-depth interview he has given since his restaurant dropped 13 places, from 10th to 23rd, in the latest World's 50 Best Restaurants list, which was announced in New York on 13 June.
"This year we've been down in our world rankings," he says. "And I thought this year my food was better… I didn't see it as a failure, but I felt dejected, inside I was very dejected by it… [It was] like I lost the best cricket match ever. Like I lost the finals."
After ruminating further, including a story about one awards attendee who was keen to hug him and pose for photos when he was named number one in Asia but then snubbed him after his drop in the worldwide list, Gaggan insists that returning to his team and his restaurant helped him get over what was, quite clearly, a grave disappointment.
Set in a whitewashed, colonial-style wooden house, the restaurant serves nothing but a 19-course tasting menu of relentlessly creative, occasionally playful Indian cuisine. Highlights include the recently created pork vindaloo, a delicately spiced tomato broth known as red matcha and an idly sambhar that is the most delicate sponge I've ever tasted and moves my dining partner to remark: "It gets better and better and by the end it's so good you want to die."
"Red matcha? It's my favourite too," says Gaggan. "It was the first innovative dish I did in 2001. That's my life in a bowl… My motivation is to challenge myself. How do I challenge my own creativity? My problem is that I'm never satisfied. I want to put a garbage bin on the table with the menu screwed up inside… I'm almost convinced. Some of [my team] are not.
"I started with à la carte and a tasting menu. Then it went to shorter à la carte and a longer tasting. Then it went to no à la carte with three levels of tasting. Then two tasting. Then down to one. Only having one tasting menu was my dream. And that's the confidence you get with success."
The menu explicitly invites diners to eat with their hands, an extraordinarily liberating sensation at one of Asia's finest restaurants and another example of the move away from traditional fine dining. Hushed silver service is giving way to rock'n'roll on the sound system; tattooed guys wearing jeans are replacing liveried waiters whose contempt for your choice of wine is palpable.
"It's died. It's gone, it's gone." Gaggan says of the formal dining experience. "And that's why, in our restaurant, people eat with their hands; we push people… We've got a gay maître d' who will sit on your lap and feed you.
"A food critic from India said: 'I am very annoyed with this guy [the gay maître d']. Why is he doing this? It's so stupid; it's not how you should do things.' I said: 'Then I think you don't fit in my restaurant. Please don't write a review about us.'"
Gaggan is certainly renowned for his no-nonsense approach to reviewers and customer service. He has been known to throw celebrities out of his restaurants and reveals that he refused "one of the world's most famous food critics" who requested flights and accommodation in return for a review. He even voices disagreement with the service industry's most indelible mantra. "The guest is not always right! 100%. Completely. When you're educating people through a cuisine, the guest cannot be right. You have to be confident… For some it will work and for some it will not work. Does everybody understand modern art? Nobody understands modern art. Not everybody understands."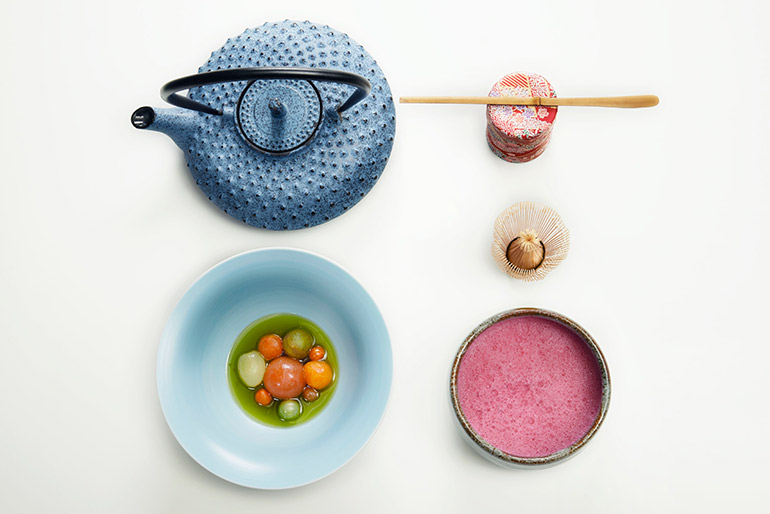 This should not, however, be confused with Gaggan not caring what his customers think. He scrolls through his iPhone, demonstrating how he pathologically checks the restaurant's Facebook page, claiming that "this is the real judge – not an award, not a list, not a documentary".
All of which brings us rather neatly back to the spurious nature of celebrity and culinary success. "People come with this expectation to my restaurant now. How do I meet that expectation?" he asks. "That's why I've started hating my fame – in
a way… It's kind of a curse also, no?"
Shortly after this marathon 90-minute interview ends, it becomes clear exactly what he means.
The moment he enters his natural habitat of the kitchen, Gaggan transforms from the chummy chatterbox of his office to an almost imperial presence, his already loud voice shooting up by several decibels as he bellows instructions and dishes out high fives to his team.
In hindsight, shooting a portrait in the kitchen of Asia's top restaurant at 8:30pm on a Friday night was not the best idea. Barely five seconds passes without a body contortion and a bumbling "sorry" as we obstruct yet another young cook trying to marinade a lamb chop or swirl a naan bread around the tandoor.
With just a few frames captured, we move into the dining room, hoping the surroundings might prove more conducive to a successful photoshoot. Instead, it quickly becomes a mind-boggling insight into the life of a chef who has transcended the kitchen and become famous. Diners glance up from their plates the second he enters. Soon there is a cluster of people floating around him, Gaggan and his foodie farrago seemingly moving as one. Almost every person in the restaurant wants some of his time: time to chat about the menu; time to go outside and take a photo; time to tell him about their travels in India.
Emerging from the eye of the storm after almost an hour, Gaggan finally breaks the increasingly obvious news: "I'm sorry, guys, but I don't think I'm going to have time for more photos. I hope you got what you need."
The taxi arrives and Gaggan swats away an attempted handshake, engulfing me in a hug instead. "Next time you're in Bangkok let me know, and we'll go out drinking," he says. Of course, this could be nothing more than lip service, though Gaggan doesn't seem the type to deal in pretence. Whether this increasingly reluctant celebrity will have the time is another matter entirely.