Chef Wan is comfortably the most famous chef in Malaysia. He is also a government-appointed food ambassador and a practising Muslim. Given these facts, it is somewhat surprising that within 20 minutes of meeting him he has fired off jaw-dropping anecdotes about cooking for people in London who "didn't finish my ossobucco" because they had snorted too much cocaine and how, as a young boy, he witnessed British servicemen masturbating in the showers on a Singaporean airbase. Chef Wan is probably not exaggerating when he says that his mouth has gotten him into trouble "many times".
The chef formerly known as Redzuawan Ismail causes quite a commotion as he toddles through the lobby of Kuala Lumpur's Mandarin Oriental in a characteristically outlandish shirt. Almost everyone wants a moment of his time, but he is gracious, friendly and playful, every inch the national treasure he has become in Malaysia over the course of his 25-year television career.
"Have you ever been to a Malaysian wedding?" he asks, before brazenly walking our photographer and I into a lavish affair in one of the hotel's ballrooms. Again, everyone greets him with smiles. We later find out that the groom whose wedding we gatecrashed was the king's grandson.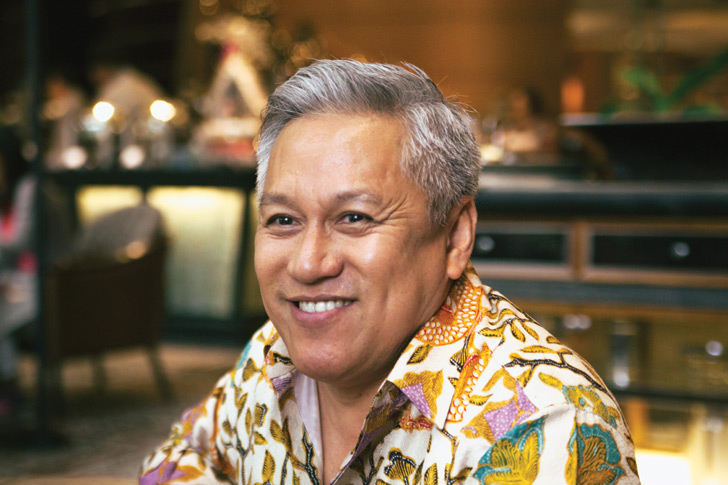 Over lunch at the hotel's Chinese restaurant, 59-year-old Wan proudly flicks through photos of his children and grandchildren before moving on to his own life.
The eldest of seven siblings, and with his father in the Malaysian air force, most of Wan's childhood recollections are centred on a military base in Singapore. He speaks fondly of time spent with his Malaysian mother and other housewives from England and Australia, who would hold cooking classes and exchange recipes. A young Wan learned how to make treats such as shortbread and scones, selling them around the base.
This entrepreneurial spirit, he says, was rooted in his father receiving "a low salary, so we had to make ends meet". Wan also grew his own vegetables to sell and took on odd jobs, including cleaning the servicemen's boots.
This is how he ended up in the aforementioned showers. When he casually remarks that "the boys were soaping away and wanking away", I ask him to stop and confirm what he just said. He treats it as a throwaway story.
"It was like a comedy. They were doing funny things and we were laughing. But they never touched us!" he emphatically points out. "They were very nice, like older brothers. We were kids; they were making fun of each other. They were British – you know how they are. No harm."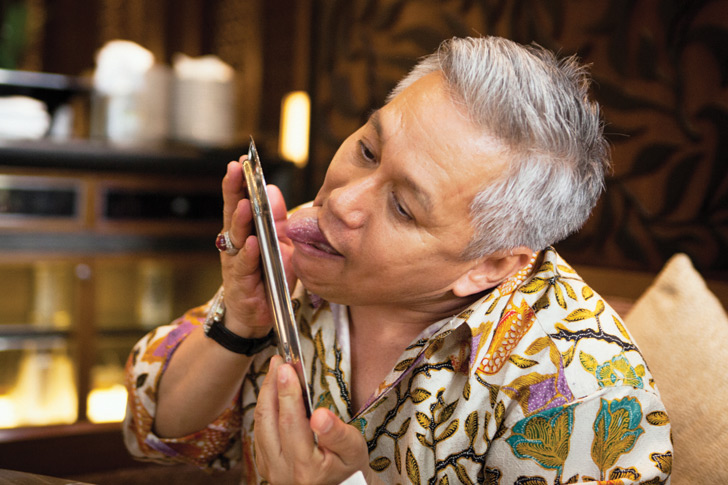 As with all of his stories, this one streams out at a million miles an hour. Sometimes, Wan tries to get out so many words that he careers into a verbal traffic jam and ends up just making a low 'zzzzz' noise. He frequently plays to the camera, affects a high-pitched 'Carry On movie' voice and is very fond of a humorous tangent, at one point interrupting himself to tell me: "Oh, you would make a nice drag queen, once I shave you and everything, with your eyes and your beautiful lips and your nose," before breaking into a giggle.
Incredibly, this ball of energy originally trained as an accountant, an industry not known for its gregarious personalities, and spent seven years working in finance by day and selling Avon cosmetics door-to-door by night.
"I'd do anything to make money. I was crazy," he remembers. "I realised I had this bubbly personality, so I went into sales and it was a huge success because I was a storyteller… Soon I was talking in a room in front of 2,000 people about the art of direct selling."
The money he made during this period paid for the move that would transform his life. At the age of 28, Wan divorced his first wife and moved to the US to enrol at the California Culinary Academy in San Francisco, where one of his tutors was Julia Child, the legendary TV chef largely credited with introducing the US to French food. Stints at the Grand Hyatt in San Francisco and Vancouver's famed Le Crocodile restaurant followed, before he returned home about 25 years ago, where television stardom beckoned.
"First I was interviewed by a friend in the media as a 'chef to the stars' because I'd cooked for Barbara Streisand, for Don Johnson, blah blah blah. They wanted to know what made me switch from accountant to chef. Two days later, a TV company called saying they needed a local chef for their show… Back then, cooking shows were pretty boring. None of the hosts stood out… I started to think I could do that job better than them."
Wan stole the show, wearing a huge sombrero while informing the viewers about Mexican food.
"I was talking about the different chillies, the corn, the beans, about polenta and, in those days, Malaysians had not heard of these things. I took a book and spoke about different parts of Mexico and Aztec history, so I was very comprehensive… Within three weeks of it going on air I was offered the whole 13 programmes of the series… I was the first Malaysian chef to have my own show in this country."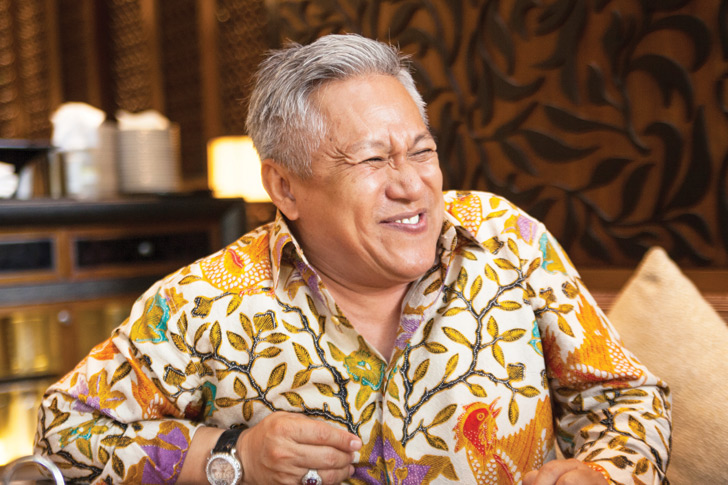 Since then, Wan has authored a dozen cookbooks and hosted numerous TV shows, including the recent East Bites West, which featured him driving around the UK in a flowery food truck educating the British public about Asian cuisine. The show introduced Chef Wan to a global audience, with Fox International Channels buying up the series to be broadcast on Nat Geo and its other channels.
The king bestowed the honorary Malaysian title of 'datuk' on Wan in February 2010, which was followed by his appointment as 'culinary ambassador' by Tourism Malaysia the same year. Then, in 2013, Wan beat six other international chefs, including Jamie Oliver, to bag the award for best English-language television chef at the prestigious Gourmand Awards in Paris.
While Wan's exuberant personality makes for international awards, as well as refreshingly unguarded interviews, it has also resulted in a string of controversies. There was furore over his remarks last year that "the Philippines is known to have the worst food in Asia" after a CNN poll ranked the Philippines as the second-best food destination in the world. In 2014, he created a similar storm when he criticised the nasi lemak – Malaysia's national dish – that he was served on a Malaysia Airlines flight. Some even called for his datuk title to be rescinded. "There's all this money going to corruption and all this shit and I'm being hammered to the wall for speaking the truth about food," he says.
Indeed, there is little doubt that food remains Wan's favourite topic of conversation, and he repeatedly mentions that he sees it as a unifying force for good in a divided and violent world.
"We fight about everything. We build temples, and then we destroy them. We build churches; we destroy. We build mosques; we destroy. I just think: what's wrong with people? We're so fucked up… If there's anything left that connects people, it's food.
"Through food you find friendship and respect to all humankind… For me, working in the kitchen is a place where you give good energy; it's a peaceful place. That's why I can't watch programmes like Gordon Ramsay's, putting people down like that. Who says you have that authority? Says who? Says who? OK,
I might be slow and stupid but you don't know how hard I work, you don't know how poor my family is, you don't know the shit I've had to eat and that's why my skin's bad. Just because you're luckier than me, that means you look down at me? Come on, I don't think so."
It's a good point: why are chefs allowed to abuse people in a manner that would be unacceptable in almost any other profession? The situation becomes even more absurd when one considers the catalyst for such abuse might be an overcooked piece of halibut.
However, this world of international chefs and Michelin stars has not yet really taken hold in Malaysia. Of course, the usual suspects have passed through on their never-ending televisual food tours: Anthony Bourdain; Gordon Ramsay, who Wan says he refused to host; and Rick Stein, who "came to make laksa and put in the wrong ingredients, using macadamia nuts, all the wrong spices, too much turmeric", according to Wan.
This leads into a discussion of how a country so renowned for its food, regarded by many as one of the greatest culinary destinations in the world, can have so little success overseas. Compared to Thai and Vietnamese, Malaysian cuisine has failed spectacularly at taking the world by storm, while the country's restaurants are rarely included in discussions of the region's best – no Malaysia-based restaurant has ever been included in the prestigious Asia's 50 Best Restaurants list, and they were similarly absent from the Daily Meal's 101 Best Restaurants in Asia 2015.
"We're a culture with so many influences I think it's difficult for people to identify what, exactly, Malaysian food is. We had Indian food from the Gujarati merchants; the Arabs bringing delicious things to Johor and Penang; nyonya cuisine, which is a mixture of ethnic Malay and Chinese… So to understand Malaysian food is to understand history. Food travels and evolves, so we can never 100% claim that 'Malaysian food' belongs to us. We're just lucky to have it all."
Turning his attention to the awards, Wan dismisses them as "very chi chi". "They want to see artistic plating, but we just throw it in and cook it. If we don't get Michelin stars then, for me, that's fine. We might not be fancy but we're delicious, and we're affordable for people.
"I've gone to dinner before and said: 'Is that all I'm getting? Is it an appetiser?' You get a centimetre of lobster and three dollops of sauce, and you're like this…" He picks up his plate and licks it frantically, as though desperate for more. "Sometimes it doesn't make sense, does it? I went to El Bulli once and it was, like, $400 for breakfast. Can you imagine? But it's OK because I stole a lot of things, put them in my bag for my crew."
Wan is keen to push this notion that he is a skinflint, delighting in telling the waitress he doesn't want any tea because he has a large collection stolen from hotels and recounting the time he told BBC News that the best food in the world is "when it's free".
This doesn't chime with the photograph of his modernist four-bedroom house he showed us earlier or the giant ruby that adorns a ring on his right hand, of which he says: "It's my crown jewel. When I turned 50 I decided to treat myself to something ostentatious."
Of course, this is all part of the Chef Wan brand that he has openly propagated. "It's a wonderful feeling, being popular, but it's a lot of years of hard work. Building the brand and the making of a star takes more than just a talented cook," he admits.
Yet beyond the clowning for the camera and the outrageously bawdy stories, what shines through is a genuine love of food and, perhaps even more so, of people.
"Every food is special. I believe that when you taste people's food you get closer to the culture, and that's where we connect to one another. Like today, you're here with me, and don't tell me that tomorrow if you see me on the street you won't say hello," he says, before finishing, as always, with a risqué gag. "By the way, what's your room number?"