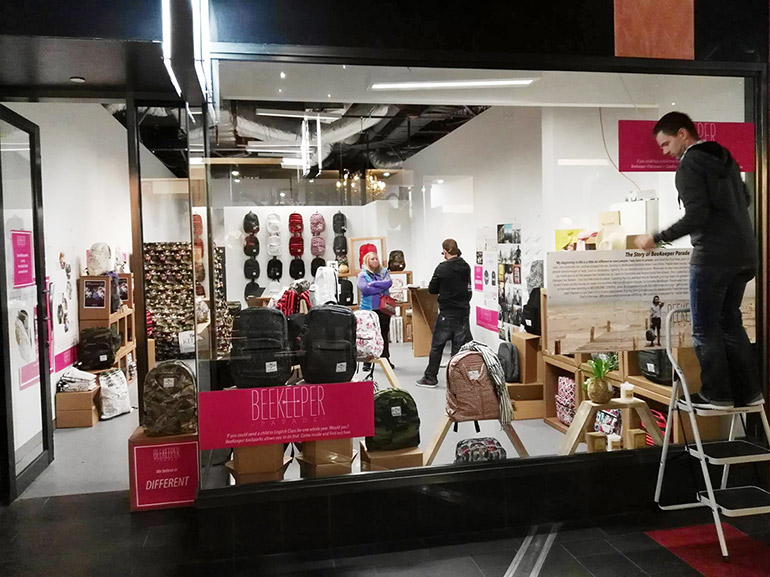 Within a vast inner-city Melbourne shopping centre, Koky Saly is standing inside his pop-up shop, a stylish cube of glass and steel, telling customers his story. Charming and gregarious, his enthusiasm is palpable as he extols the virtues of his merchandise to a couple browsing.
Each backpack sold, he tells them, will help fund an entire year of English classes for children in rural Cambodia. The money from the iPad covers – all his own designs – will go towards providing clean renewable energy sources to light up the children's long nights. "We actually have the ability to buy children time," he says.
Saly was born in a prison during the horrors of the Khmer Rouge, the murderous regime led by Pol Pot that seized power in Cambodia in 1975. During the regime's four-year rule, an estimated two million people – a quarter of the population – died from starvation, exhaustion, execution or lack of medical care. Saly spent the first three years of his life behind bars; his mother was pregnant when the civil war broke out and was imprisoned, tortured and starved.
After the Vietnamese drove the Khmer Rouge from power in 1979, Saly's family fled the chaos of their homeland as refugees to Australia. It was this turbulent upbringing that taught him the importance of education – a gift that, he believes, allowed him to pull himself out of the poverty of his childhood. When the family arrived in Glenroy, a suburb in Melbourne, Saly's parents struggled to make ends meet, and Saly immersed himself in his studies.
"It wasn't very easy, living as a refugee here with parents who couldn't speak English," Saly says. "I saw a lot of myself in the kids in Cambodia right now."
Babytree Projects: a beginning
Saly had always felt compelled to return to his home country and somehow help to rebuild it. When he was in his twenties, his father organised a trip for him to a rural village, which donated to him a parcel of land in return for Saly building them a school. He soon had his sister, Sophia, and some of his friends on board, and in 12 months had raised more than AUD$50,000 ($37,000) and embarked on a two-month trip to Cambodia to build their school. It was during this time that Saly discovered that this was actually the village he was born in.
After the first school was completed, other villages wrote Saly and Sophia letters to ask for their own schools, so in 2007 the siblings and three other founding members set up a non-profit organisation, Babytree Projects, and set about raising funds.
The NGO still operates today and after almost 10 years of exhausting fundraising, Saly and his sister have helped fund five public schools throughout rural Cambodia. It was a crusade that pushed him to his limits – but one that ultimately proved unsustainable.
"There came a point in time when fundraising was disheartening and hard, and something I didn't want to do ever again," he says. "But we had schools to support. And so to do that, my younger sister and I, in 2011, looked out into the world and we saw profitable businesses, businesses that make money, and they were shit," he said. "They didn't do anything for the world – they made plastic-like stuff, and for some reason people were buying them. So my sister and I thought: 'You know what? Why can't we be a profitable business? Why can't we create something and let's send our profits, or a portion of it, to support the schools in Cambodia'."
It was a dream birthed in tragedy. The following year, his sister Sophia passed away after an 18-month struggle with cervical cancer. Her car, left to Saly in her will, gave him the financial seed from which the new business would grow.
Saly was deeply affected by the death of his sister and plunged into debilitating depression, but it was a promise that he made to Sophia – to make sure their social enterprise worked and to inspire change in this world – that pulled him back from the edge. Taking inspiration from a childhood story he shared with his sister – the Boy and the Bee – Saly dubbed the fledgling enterprise BeeKeeper Parade. Dedicating the next three and a half years to building the business, Saly slowly began to heal.
The seeds of social enterprise
The idea itself is simple: for a living wage, workers in Cambodia convert discarded textile materials from the country's bloated garment industry into backpacks, iPad cases and other accessories of Saly's own design. From there, they are sold for between $65 to $79. Each sale funnels money back into the Sophia Saly school – named and built in honour of his sister just two years ago – in Kep, a coastal province in southern Cambodia where it is used to enrol children in English classes, and to put a local teacher through university to ensure the children receive the best possible education. When classes began in June, the money was used to pay the teacher's wages.
*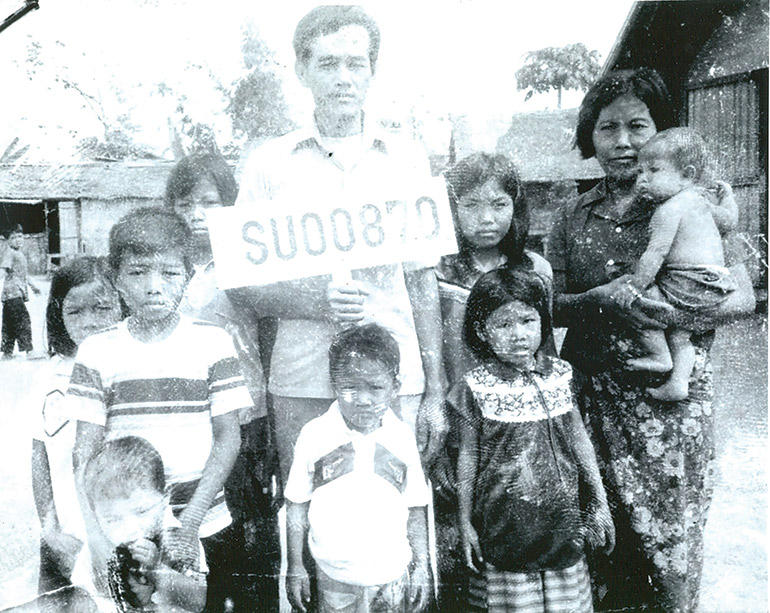 While Saly's still-evolving business model defies easy comparisons, its overarching ideology of philanthropy through consumerism is reminiscent of the Buy One, Give One (BOGO) companies. These trace their roots back to entrepreneur Blake Mycoskie's TOMS Shoes, a company built in 2006 on the belief that charity could best be practised through the purchasing power of its customers – for every pair of shoes sold, another would be donated to impoverished communities around the world. Explosively popular with America's young middle class, TOMS gave ethically-minded consumers a morally defensible alternative in an industry inevitably defined by exploitation and greed – and allowed them to make a visible, concrete statement of their values and identity in the process.
"In order to be identified fully as a valuable individual in the community, a person must take part in the ritual of consumption… BOGO consumerism enables and reflects a new consumer identity found in clothing that appears to bond that personal identity with a communal care for others," wrote Caleb Rollins, of Valparaiso University, in a 2016 article published in the institution's journal, Bridge/Work: Action, Ideas and Meaningful Life.
In her chapter in Innovations in Social Marketing and Public Health Communication, Maria Isabel Sánchez-Hernández, a researcher at the Universidad de Extremadura, wrote that while the rise of new community expectations of ethical responsibility put many established corporations under increased scrutiny, businesses built around an ideology of social consciousness could well have an edge over their larger competitors.
"In this new context, a widespread opinion is that a company's social undertaking combined with profit-oriented behaviours may create added value for the company," she wrote. "The social trend in business consists of reconciling economic and social aspects because the common welfare must not compromise the company's survival and, quite the opposite, could be a source of competitive advantages."
A global movement
For Graham Brewster, managing director of the social enterprise World Housing, businesses with a social mission are increasingly attractive to a generation more connected to the global community than any before.
"I think there's much more global awareness now – the world's a lot smaller place than it used to be, and it's not nearly as easy to turn away from it," he says. "I also think that people of our generation have a legitimate interest and compassion for what's going on around the world, and know that this is going to be the world that we're going to live in for at least the next 50 years. And it's only going to continue to get smaller."
Born out of the global financial crisis of 2008, World Housing was created after a chance encounter between co-founder Pete Dupuis and TOMS' Mycoskie. Inspired by the overwhelming success of Mycoskie's enterprise, Dupuis and his business partner Sid Landolt were eager to apply a similar model to a far more complicated industry: real estate.
In response to the appalling living conditions of families in the slums of developing countries, World Housing uses the social consciences of homeowners in Canada and the US to fund housing communities in Cambodia, the Philippines and, soon, Latin America. As with BeeKeeper, the central story is critical.
"We partner with real estate companies and provide them with the World Housing story and how their purchase can go towards changing a family's life in another part of the world," Brewster explains. "The developer then makes a contribution when that home is sold.
"Once that funding is triggered, World Housing then deploys that funding to one of our local partner organisations on the ground who construct the homes with local labour and gift them to families in need," he adds.
While ideals of philanthropy and charity have deep roots in human history, the idea that 'public good' could be the foundation of a business rather than a separate, personal endeavour is a relatively modern invention. With the growing inequality that was created by the industrial revolution, Victorian England relied on wealthy business owners to fill the holes left by poor government administration. However, this persisted with the widespread opinion that poverty was the result of moral deficiency rather than rapidly changing technology and labour relations.
As with World Housing's work in modern-day Cambodia and the Philippines, housing was a priority in Victorian England. A precursor to modern housing associations, the Metropolitan Association for Improving the Dwellings of the Industrious Classes, formed in 1841, was one of the early pioneers of what came to be called "5% philanthropy" – investors would receive competitive, if still somewhat diminished, returns on their investment in providing housing for the most vulnerable.
*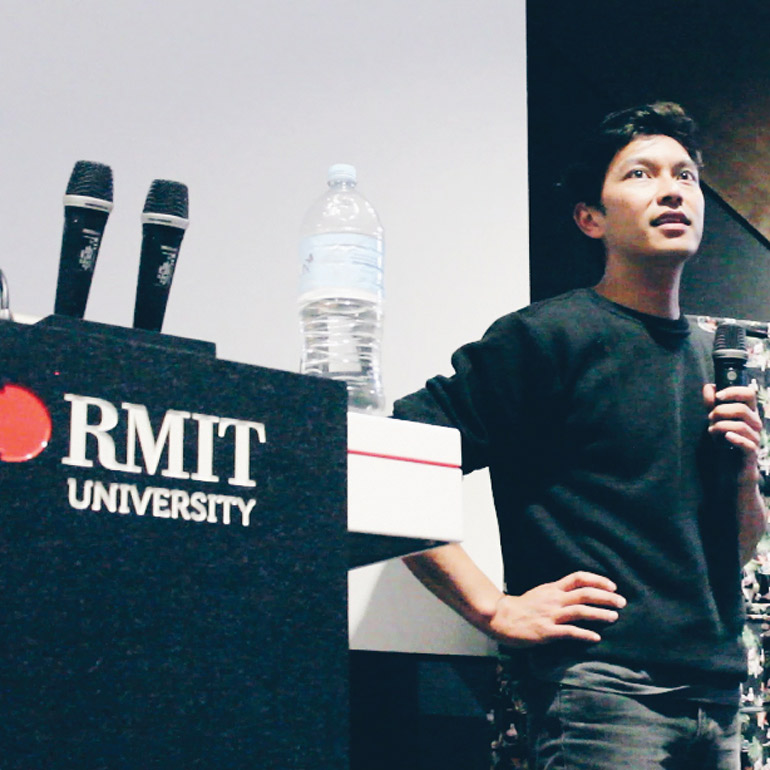 The 21st century has seen an explosion of a new breed of social business. The 2015 State of Social Enterprise Report, published by Social Enterprise UK, found that almost half of all British-based social enterprises – a number given at a staggering 70,000 – were five years old or less. Of these businesses, 73% earned more than three quarters of their income through trade.
Marketing made easy
For these modern entrepreneurs, 'doing good' is seen as no impediment to doing well. Supporters of the social enterprise model cite many advantages of businesses being able to build a strong emotional relationship with their customers. One of the clear advantages of a company built around a strong central mission statement is the ease of marketing. For a man with little practical experience in publicity, Saly has received a level of media attention that larger organisations would kill for.
"I've never once gone to look for publicity," he says. "And people ask me: how did you get onto Australian TV? How did you get into The Age and the Herald Sun [Australian daily newspapers]? The answer is I never went to them. I brought my vision to the world, and my vision was good enough for people to be interested in. And they came to me."
In an article for the Stanford Social Innovation Review, professors Christopher Marquis and Andrew Park wrote that if there was one thing the media could not resist, it was the story of a business striving for good.
"It is not uncommon to find a dozen or more articles or other media appearances highlighted on any given company website," they wrote. "The press is attracted to a story of a company doing good."
Interviewing more than 30 entrepreneurs and business leaders involved in social enterprises, Marquis and Park described the many economic advantages of businesses, such as BeeKeeper. Critically, they singled out a strong central narrative as a key driver in successful socially conscious enterprises.
"In nearly every case, the founders' personal experience or passion was the impetus behind the company's pursuit of shared value," they wrote. "These personal narratives are critical not only because they help create an authentic and compelling brand, but because these stories help get customers personally engaged with the companies."
In choosing to buy a house from a real estate agency partnered with World Housing, homeowners are buying the chance to give shelter to families in need. And in choosing to purchase BeeKeeper backpacks over other brands, Saly's customers are quite literally buying into his story. For Saly, this has been the rock on which he has built his business – and for fledgling entrepreneurs, finding that central message can be critical.
"I speak to so many people here and one of the most common things I get is 'I don't really have a story', and the truth is that they do – they have a really valid, worthwhile story to tell," he says. "And if they can just feel like their story is worthy, they should bring that into the world, and use that as a source of power to fuel their courage and send out kindness. And whatever it looks like in the world, it will come from that point."
Speaking to the popular Facebook community Humans in Melbourne, Saly was ecstatic and clearly moved about just how far his vision had come since its inception almost a decade ago.
"So far we have sent close to 1,000 kids to school," he said. "My sister's dream is still very much alive."