Dave Pynt has just been asked to describe his culinary philosophy and provided the following answer: "Tasty." When prompted and pushed, he adds a veritable bounty of three extra syllables: "Good products."
Of course, any question that includes the phrase "culinary philosophy" probably deserves short shrift but, fortunately, it transpires that those answers are more indicative of Pynt's no-nonsense approach to discussing food than a distaste for journalists and their bombastic questions. In fact, he makes for enjoyably down-to-earth company, and the next hour is filled with laughter, usually rooted in his humorously brusque, expletive-ridden idiolect.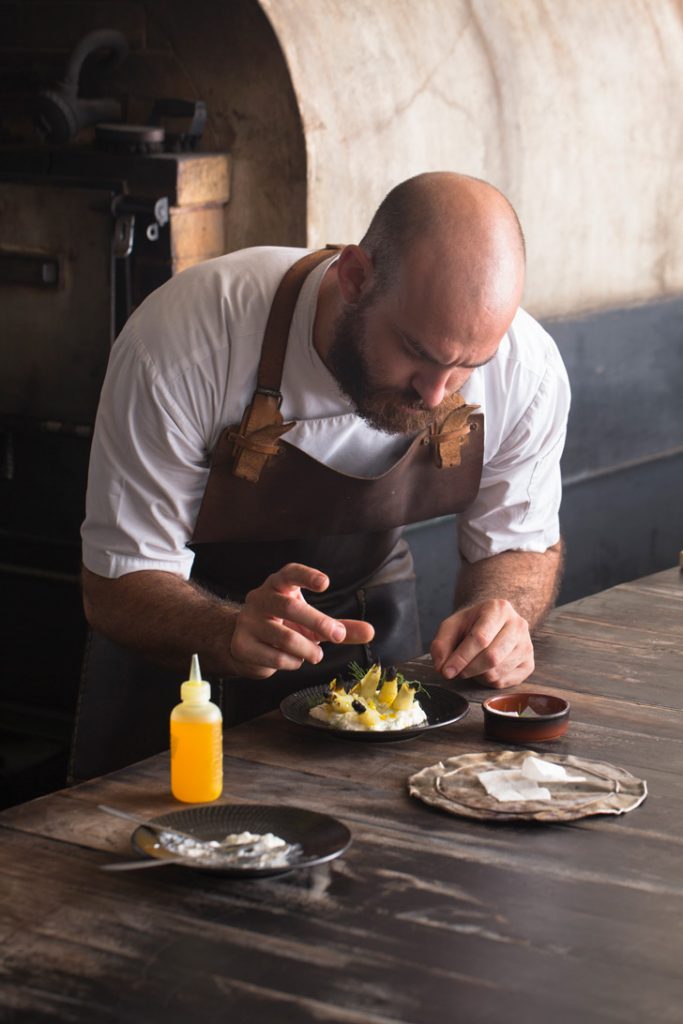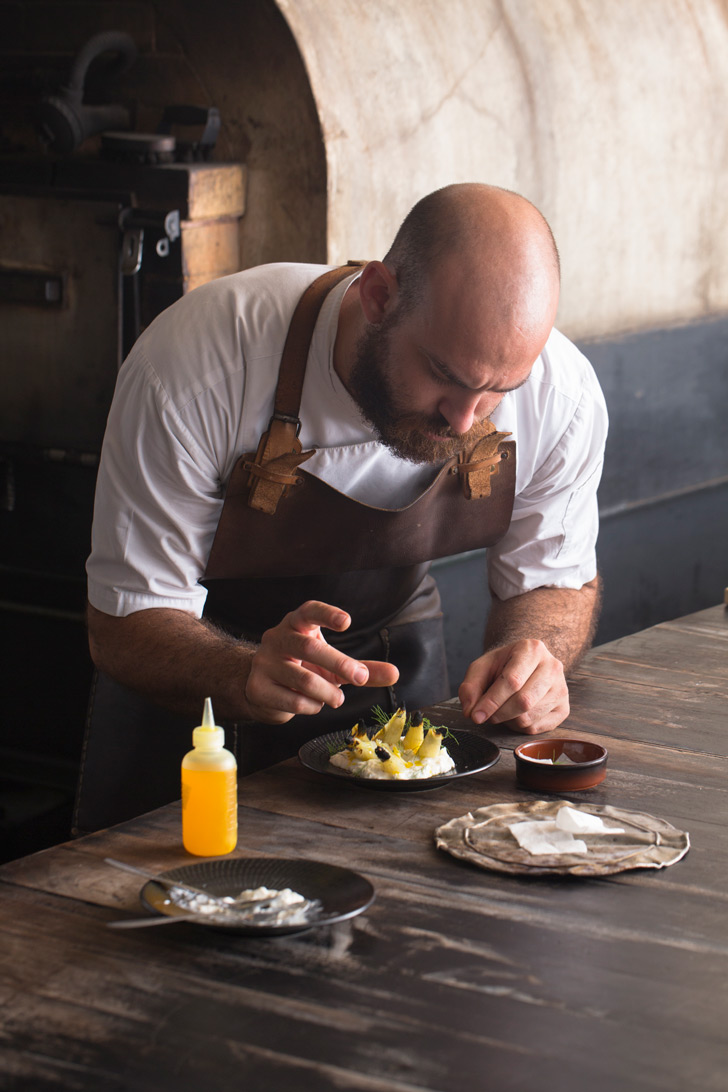 Indeed, in many ways, Pynt is the definition of a man's man. Broad and bearded, he looks very much at home in his restaurant wielding hacksaws and grilling slabs of meat. But behind his gruff everyman exterior lies one of the keenest culinary minds in Asia; he is a chef who has managed to elevate barbecuing to heights previously unimaginable on this continent. Pynt's Singapore restaurant, Burnt Ends, is the only barbecue joint on the highly respected Asia's 50 Best Restaurants list, where it jumped from 30th last year to 14th in the 2016 rankings, released on 29 February.
Growing up in Perth, Western Australia, Pynt was exposed to the country's famed barbecue culture from a young age: "My mum cooked; my dad liked to burn sausages and overcook steaks." He remembers his dad building wood-fired barbecues at every one of their family homes and says the method of cooking resonated with him because "it's a very social way of eating".
He began washing dishes in restaurants at the age of 15, and things escalated quickly via cooking school, placements in renowned Perth eateries such as Restaurant Amusé and a stint at Tetsuya's in Sydney, which was widely considered the best restaurant in Australia at the time.
"But the real step to doing my own thing, my barbecue thing, was that I went and [did an apprenticeship] at Asador Etxebarri in Spain. I went there going: 'Uh, how good can barbecue actually be?' You grow up on burnt sausages and shrimps on the fucking barbie, and you become pretty sceptical about the quality you can produce on a grill. I went out to Etxebarri and was like: 'Holy shit. This place is fucking insane.' It really gave me the confidence to show that you can cook to a high level on wood and serve it to paying customers."
Known as staging, with the young chef called a stagiaire, culinary apprenticeships involve notoriously long hours, usually unpaid. Yet it is also the grounding upon which most of the world's best restaurants are based. And Pynt's staging years were spent under some of the world's finest contemporary chefs, including René Redzepi at Copenhagen's Noma and Fergus Henderson at St John in London. At Noma, Pynt worked for free from 8am until 1am five days a week, while his time at St John was similarly budget-conscious. "I've certainly slept on a lot of sofas and eaten a lot of cheese on toast," he says. "Burnt Ends was pretty much built on couch surfing."
Beginning life as a pop-up restaurant in über-trendy London Fields, close to Hackney in England's capital,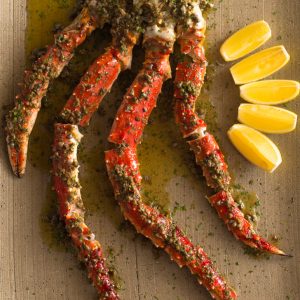 back then the eatery was known as Burnt Enz and generated unconscionable levels of buzz among the city's foodies, serving up to 350 customers a day. While taking a break to elude the British winter that renders outdoor barbecuing a fool's errand, Pynt was approached by Unlisted Collection, a group of investors headed by famed Singaporean hotelier and restaurateur Loh Lik Peng. Six months and a slight tweak to the name later, Pynt was helming his own restaurant in Singapore.
The Burnt Ends menu is more refined than its London half-brother and might even be described as fine-dining barbecue, although Pynt would likely bristle at such a description. The menu changes daily, and on Southeast Asia Globe's visit included the famed smoked quail egg with caviar, an incredible duck heart with peri peri and a smooth and smoky leek with black truffle, which emerges from the oven charred to a crisp before being stripped back to its stem. One welcome vestige from the London days is the pork sanger, an exceptional pulled pork sandwich, served with chipotle aioli and home-shredded coleslaw on a brioche bun.
However, the true anchors of both establishments have been the colossal ovens, designed and partially built by Pynt himself. The Singaporean incarnation, a double-cavity, wood-burning brick kiln, weighs four tonnes and is built on 14mm I-beams – the kind one would use to hold up a house.
"Before Burnt Enz, I'd never laid a brick. I just thought I'd do a bit of research and give it a go. It's just a brick oven, I thought, how hard can it be?" he bursts into knowing laughter. "It's pretty fucking hard."
"This one [in Singapore] was a 21-day process, but we were on a tight schedule, as all restaurants are, so we rushed it just a touch," he continues. "In the restaurant business you can't always spend 30 days building a fucking oven. Typically you just ship it in and plonk it in place. I don't think there are any others around like it. There's no gas, no electricity, no charcoal, just wood."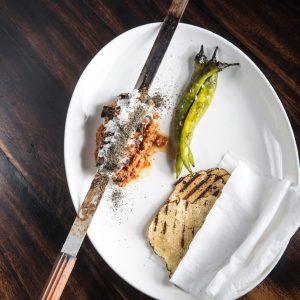 Along with grills controlled by their own pulley systems, the oven's features mean that Pynt and his team can utilise numerous cooking techniques, from smoking, slow roasting and hot roasting, to baking, grilling and cooking directly on coals. To say it has proved popular would be a considerable understatement.
"The reaction was pretty good. The only empty day we had was a Thursday; I think it was the second week we did lunch, and we did zero people. Apart from that, for dinner, we haven't had any empty seats along that counter," Pynt says, gesturing to the 18-seat wooden bench where diners sit, taking in the open kitchen from the uncommonly close range of about one metre.
Watching the team go to work is a mesmerising sight. They are impeccably drilled, creating a machinelike flow where everybody is working constantly but with a minimum of fuss, to the point where it seems like no communication is necessary. Pynt and his sous chef Keirin Buck are remarkably relaxed, displaying none of the histrionics we have been conditioned to expect in a top-level kitchen. At one point, Pynt absentmindedly takes a blowtorch to some marshmallows while checking his phone.
"I think there's a lot of Japanese influence on the counter. We don't try to put on a show, we don't put on pom-poms or fucking lycra suits. I'm obviously not a very manicured chef either," explains Pynt. "So we don't try too hard, but I think people enjoy watching us work."
Not every customer quite 'gets' Burnt Ends, of course. One seated next to me asks for all the fat to be trimmed off his steak, which was likely sourced precisely because of its high fat content. I ask Pynt if they ever receive requests that make him wince.
"We get a few, but the main one we get is can we fillet their fish? So I'm just like: 'Nah, that's you're job, eh?'" he says. "It's not because we don't know how, the point is that I want you to do it. Number one, I think it's part of that process of enjoyment. Second, if you cook a whole fish, in the skin, on the bone, everything attached, it'll actually cook nicer because there are no exposed bits of meat. You'll also get a huge amount more value – you're getting everything, cooked with a bit of protection and extra flavour."
I don't think there are any other ovens around like it. There's no gas, no electricity, no charcoal, just wood
Listening to Pynt talk about meat is an enjoyable way to spend an afternoon, whether he's espousing his affinity with Australian beef or salivating over wild-shot venison from Fox Glacier in New Zealand. There is little doubt, however, that some of the standout creations on his Burnt Ends menu are vegetable dishes.
"I think vegetarians are great," says Pynt. "Why not? Vegetables are delicious. We have vegetarians coming in all the time. But, you know, if people try to pull bullshit ethical reasons on me, I'm pretty happy to have a conversation with them. If it's environmental, we don't cook prawns, full stop. Farmed prawns take 4kg of protein to get 1kg of prawns, and to get that 4kg of protein – usually chicken or pork scraps – it takes 10kg of grain. How fucking inefficient is that? Wild-caught prawns are usually trawled, which means two big anchors, a net in between and they pick up everything on the fucking ocean floor. It takes four million years to grow a coral bed, and you just destroyed it to pick up a few bloody prawns."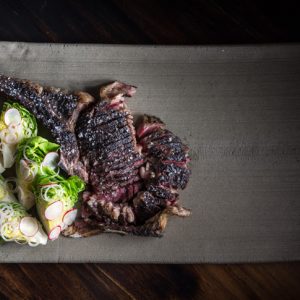 Some might find this disorienting coming from a man who has roasted whole goat heads and describes them as "fucking tasty. You've got lots of little pockets of cheek meat and tongue; you've got the brain as well. Then you've got the eyes." Pynt even admits he would cook a dog "as long as it wasn't my own". But he is adamant that he is an animal lover, repeating the point for emphasis.
"I was invited to do a game dinner in London, so part of that was to go up shooting in Scotland," he says, suddenly becoming serious and quiet, creating the closest we come to a tense atmosphere. "To kill, prepare, cook, serve and eat is a pretty confrontational process. I'm OK with that. I feel it's OK to do that. But a lot of it, for me, is about respect. If you're respecting the animal that you're preparing or that you've killed – fine. If you're just treating it like a cellphone, an inanimate object, fuck off. Have a little bit of respect, because it had a brain and feelings and thoughts. It's how it's treated from day one to day end."
Given Pynt's passion for and knowledge on the topic of sustainability, a discussion about how to tally being an animal lover with being one of Asia's foremost meat experts is one he has seemingly had before. Coming to the finest barbecue restaurant in Asia and discussing ethics while requesting nothing but vegetables is fine – just don't ask Dave Pynt to cook you a prawn or fillet your fucking fish.
---
Q&A: Dave Pynt solves the ultimate barbecue dilemmas
Most people mess up sausages on a barbecue. How do we cook them?
You've got to think a lot more about the heat that you're applying to the sausage. You don't want it too hot so it burns, or too cold that it stews. And you don't want to overcook the fucker, so the best way to do that is to use a thermometer to check the internal temperature. In a restaurant, legally, it should be about 70 degrees [celsius] throughout. Illegally, if you're at home and want to make it tastier and juicier, you could probably get away with anywhere between 50 and 55 degrees [celsius]. How long you leave it on for depends on how thick the sausage is – just use your thermometer to check.
Which woods or charcoal are best for barbecuing?
Well to start, no charcoal, full stop. You lose all the essential oils. And, typically, most charcoal is actually quite dirty – the flavour's dirty, the smoke's dirty. But if you're using big beautiful logs of aged or seasoned wood, [there should be] low moisture content so it's not overly smoky, and nothing too harsh. Particular types would be your oaks, your apple trees, your grapevines; we've used olive wood before. I find the most flavour comes from dried herbs. Just use them in the fire at the last minute, quite controlled. We're using rosemary, basil and fennel at the moment.

Ketchup or brown sauce?
It depends what you're eating. Bacon sandwiches or rolls have to be brown sauce. In a burger, you need ketchup, mayonnaise and mustard. Sausage in a bun – it depends on the sausage. If you're going for, say, a Cumberland, then you go mustard or brown sauce, but if you're having black pudding or a blood sausage, you want mustard and mayo.
And which beer should we be drinking?
Anything and everything.