Five women who have brought a feminine touch to the male-dominated world of movie making in Southeast Asia

One of the few Malaysian directors to have made an impact on the world stage, Yasmin Ahmad was educated in England and worked in advertising before moving into feature films. Her critically acclaimed Orked trilogy challenged racial stereotypes and, like most of her films, delved into Malaysia's culturally diverse society, portraying the problems encountered therein. The first film in the trilogy, Sepet, can be roughly translated as 'slit eyes' and was banned in Malaysia until Ahmad agreed to make cuts. It follows a Chinese boy and Malay girl who fall in love and probed the sensitive issue of mixed-race relationships. The Orked trilogy – including the other two features, Gubra and Mukhsin – was shown in a retrospective tribute at New York's Museum of Modern Art following Ahmad's death from a stroke in 2009. at the age of 51.
Pimpaka Towira
After graduating in film from Thammasat University in Bangkok, Pimpaka Towira worked as a film critic and writer for The Nation newspaper in the Thai capital. After a series of experimental shorts, Towira broke out with her debut feature One Night Husband, the story of a woman whose husband inexplicably vanishes on their wedding night. The film debuted at the prestigious Berlin Film Festival in 2003 and won praise for melding arthouse sensibilities with a populist plot. Towira, who has been described as a female David Lynch, has expressed frustration at the Thai film industry for its prioritisation of profits over creativity. Another of Towira's most notable works, however, came in the field of documentary filmmaking with The Truth Be Told. The film profiles Thai media activist Supinya Klangnarong's fight against defamation lawsuits filed against her by the Shin Corporation, which was owned at the time by Prime Minister Thaksin Shinawatra's family.
Nadine Truong
A German-born Vietnamese filmmaker, Truong received her MFA in directing from the world-renowned American Film Institute Conservatory in 2009. Her short films Shadow Man and Egg Baby won her the George C. Lin Emerging Filmmaker Award from the San Diego Asian Film Festival in 2010. Truong's first feature, Someone
I Used To Know, was released last year. Starring Brian Yang (Hawaii 5-0) and Rex Lee (Entourage), the film joins three old high school friends as they reunite for a big night on the town in Los Angeles, and has been described as "a new-millennium remix of such 1980s classics as The Breakfast Club and St. Elmo's Fire". Truong currently lives in LA and has been marked by many critics as a future directorial star.
Nia Dinata
Since graduating from Elizabethtown College in Pennsylvania, US, and completing a year-long film course at New York University, Nia Dinata has become one of Indonesia's most sought after directors. Her 2003 movie Arisan! was a commercial and critical success, winning numerous awards in Indonesia and Best Film at the Cinemasia Festival in Amsterdam. However, it was with 2006's Love For Share (known locally as Berbagi Suami) that Dinata announced her presence on the world stage. The film explores the secret anguish caused by polygamous marriages, which are on the rise in Indonesia as more conservative Islamic strands come to the fore. Dinata based the film on personal experience – her father called her home unexpectedly at the age of 18 to announce he was taking a second wife – and it played to packed houses and rave reviews at both the Tribeca and Cannes film festivals.
Marilou Diaz-Abaya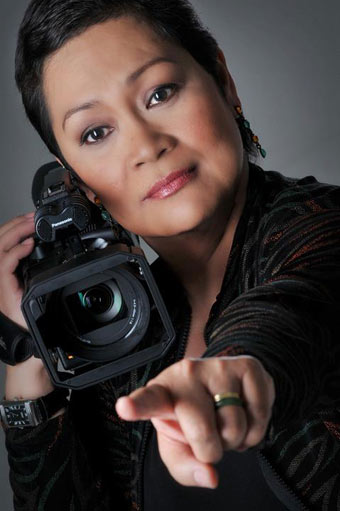 Commonly regarded as one of the all-time great Filipino film directors, Marilou Diaz-Abaya directed her first feature in 1980 and became one of the country's most active moviemakers thereafter. Her earlier works viciously condemned the conditions faced by most Filipinos during the oppressive regime of former Prime Minister Ferdinand Marcos, but the 1998 film José Rizal is considered her true masterpiece. Starring actor and 2007 Philippine senatorial candidate Cesar Montano, the film is a biopic of the titular Rizal, a Philippine national hero and reformist of the 19th century. Diaz-Abaya stockpiled awards during her career and, in 2005, was the Women for Peace co-nominee for the Nobel Peace Prize, which consides bodies of work that seek to promote democracy and raise ethnic awareness. Diaz-Abaya's career was cut short when she passed away in 2012, at the age of 57, following a five-year battle with cancer.


Also view
"Their livelihood is reliant on my ability as the CEO to ensure the company stays healthy" – Aireen Omar, AirAsia's CEO of Malaysian Operations, discusses why and how businesswomen in Asean are holding their own among female executives worldwide.
"Cambodia: Women in business"
"Forbes' top 12 Southeast Asian Power Businesswomen 2012″
"The female factor" – Women are increasingly taking their seats in Southeast Asia's boardrooms – a vital development if impressive economic expansion is to continue
"Top 5: refugee success stories"
"Top 5: Southeast Asian Games controversies"
"Top 5: unusual medical treatments"