Philippines president, Rodrigo Duterte, orders the destruction of rows of luxury cars that were smuggled into the country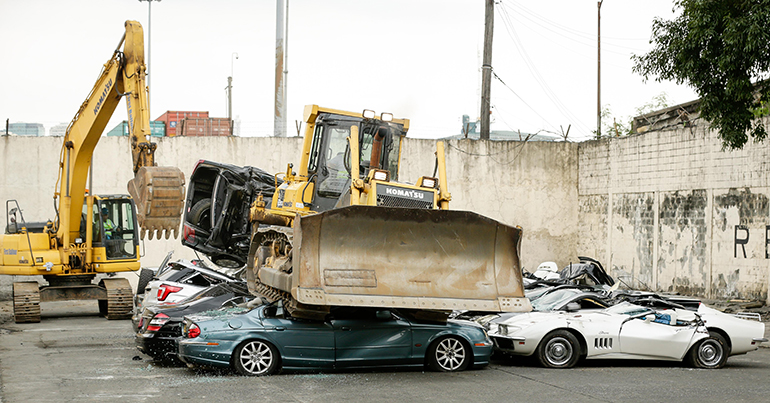 Philippines President Rodrigo Duterte oversaw the destruction of 20 luxury cars in Manila on Tuesday in a crackdown against illegal imports.
The president looked on as a tractor ploughed over Porches, Mercedes, Corvettes and other expensive cars amounting to around $1.2m, in a move intended to rein in tax evaders, ABC News reported.
"But this smuggling…has been going on again and again and again, over a period of centuries. Well, it has to stop," Duterte said when speaking about the event.
The cars were seized by the Bureau of Customs, which confiscated $2.93m worth of illegally imported vehicles last year, Reuters reported.
Normally the cars are auctioned off with the proceeds going to the government. However, this generally results in the wealthy people, who had originally imported the cars, buying them back at the auction, though now with the correct documents and at a reduced price.
"This Tuesday, watch what will happen to your money, because all the luxury imported cars, I will run them down with a tractor," the president can be seen saying in a video posted to the government Facebook page Presidential Communications.


After the destruction he told officials to give the metal to the steel merchants.
"They cannot have cars like that. But they can get something, make toys out of it," Reuters reported the president as saying.
Duterte has taken a strong stance on crime and corruption during his time as president. Since coming to power in 2016, the 72-year-old has run a brutal war on drugs, which has led to the deaths of over 12,000 Filipinos, according to Human Rights Watch.
During a speech to over 300,000 people on the day before his election victory, Duterte said, "If I make it to the presidential palace, I will do just what I did as mayor. You drug pushers, holdup men, and do-nothings, you better get out because I'll kill you," Humans Rights Watch reported.
A further ten cars were destroyed in the cities of Davao and Cebu. The destruction took place on the 116th anniversary of the founding of the Bureau of Customs.
Related reading: