Duterte's extension of martial law is the second for the region and would come into effect on 1 January 2018 for a period of one year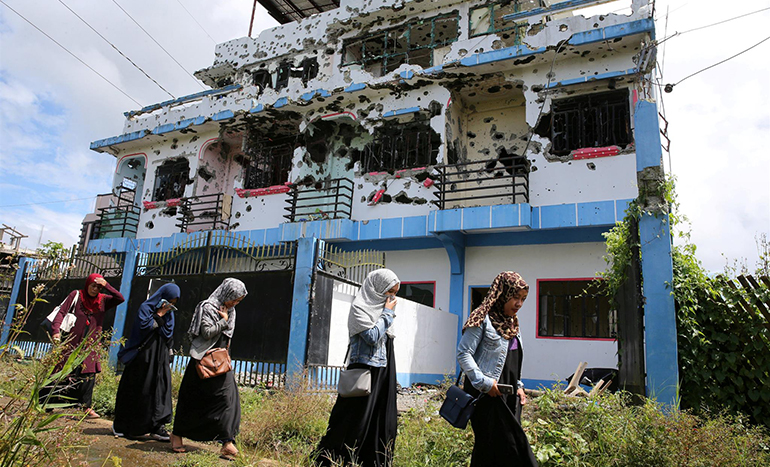 Philippine President Rodrigo Duterte asked Congress on Monday to extend martial law across the southern region of Mindanao by one year in order to guarantee the "total eradication" of Isis and communist fighters, warning that remaining militants have been regrouping since their unsuccessful siege of Marawi City ended in October.
In a letter to the Philippine Senate and the House of Representatives, which was later released to the media, Duterte said how a one-year extension was necessary to allow for government forces to combat uprisings by Bangsamoro Islamic Freedom Fighters (BIFF) and to also stall radical groups from establishing the next regional emir.
"[Current] activities are geared towards the conduct of intensified atrocities and armed public uprisings in support of their objective of establishing the foundation of a global Islamic caliphate and of a Wilayat not only in the Philippines but also in the whole of Southeast Asia," Duterte was quoted as saying in the letter.
BIFF fighter Abu Turaifie and Furuji Indama, a high-ranking cell leader in the Abu Sayyaf terror group, have both had their names put forward as possible contenders to become the region's next emir. The former leader, Isnilon Hapilon, was gunned down by armed Philippine forces in October.
The martial law extension would mean for a continued presence of army surveillance in the region, which also includes giving the authority to arrest suspected terrorists or people colluding with extremists without a warrant.
In the Philippines, martial law must first receive approval from Congress to go past the original 60-day limit, but there is no cap on how many times it can be extended.
Duterte's request for an extension has been widely met with criticism from pro-democracy groups, who claim the move is a human rights violation and highlights the president's growing inclination towards authoritarian practices.
Karapatan, a human rights group, released a statement that questioned why martial law is even being considered for extension, particularly since it's been nearly two months since the military won the battle against extremist groups in Marawi City.
The group went on to explain that this recent request provides clear evidence of a "dangerous precedent that inches the entire country closer to a nationwide declaration of martial rule."
Human rights lawyer and House politician Rep. Edcel Lagman also argued that Congress should reject Duterte's request, as his arguments were constitutionally weak, ABC reported.
Lagman went on to explain in a statement that since Duterte had already declared Marawi to be free from terrorist influence on 17 October, he had no legal ground to continue to suggest that there was a threat of invasion or rebellion within Mindanao.
As quoted to the ABC, Lagman said it would be a "patent violation of the safeguards which the 1987 constitution imposes for the limited grounds and duration of martial law and its extension."
Lawmakers will vote on the request for a one-year extension at a joint session on Wednesday, with a final decision expected by Friday.
Related reading: