Duterte's record-high satisfaction rating is the highest net rating any administration has received since data collection began in 1989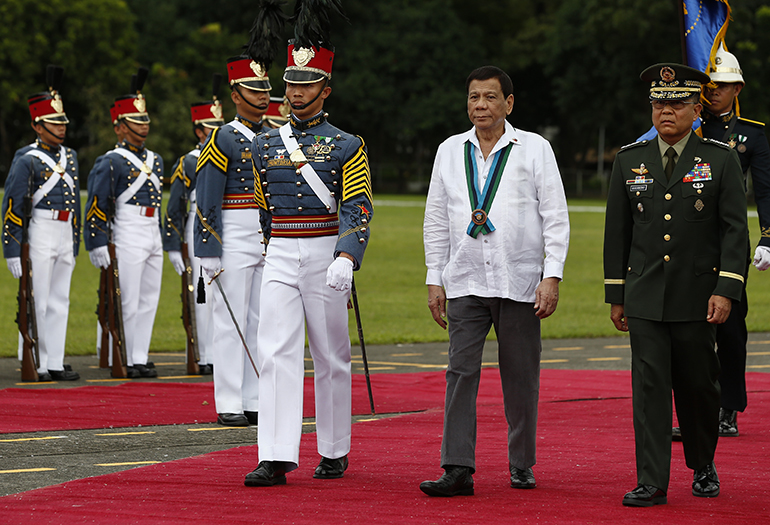 Philippine President Rodrigo Duterte's administration received a record-high net satisfaction rating of 'excellent' over the last quarter, based on a survey conducted by national polling agency Social Weather Stations (SWS).
The results from the poll revealed on Wednesday evening that Duterte's administration had bested the previous record holder, President Benigno Aquino III, who previously gained the title with a net satisfaction rating of 66% in June 2013.
Of the people surveyed between 8 to 16 December by SWS, the results showed that the current administration has a net satisfaction rating of 70%.
"This is a 12-point rise, and up by one grade, from the very good +58 (71% satisfied, 13% dissatisfied) in September 2017," the media release from the SWS said.
This is also the highest net rating that any administration has received since the polling agency began collecting data back in 1989, Rappler reported.
Net ratings from the SWS are calculated by taking the percentage of people who are dissatisfied with the administration, 9% in this case, and subtracting that from the percentage of people polled who are satisfied with the administration, which was 79% in this round of polling.
The remaining 12% of the people polled said they were undecided, meaning their votes were not considered in the net satisfaction rating.
Of the specific topics that people were asked about, the findings indicated that people were most satisfied with the administration's fight against terrorism, and least satisfied with its handling of inflation and traffic.

The main gains for the president's administration, the Inquirer noted, came from within the following regions: Mindanao, Metro Manila and Luzon.
In the president's hometown of Mindanao, he received a net rating of 87%, which is a new high for his administration in this region. It was also a 13-point increase from just a few months back, as in September 2017 he had a net satisfaction rating of just 74%.
The SWS surveyed 1,200 adults, age 18 or older, nationwide and gathered the information through face-to-face interviews.
There was a margin of error of ±3% nationwide for this survey.
Related reading: