Getting to grips with some of Cambodia's rarest culinary creations
By Dene Mullen
Fried spiders. Snake soup. Chicken embryo eggs. Those who lick their lips at the prospect of such dishes shudder with excitement at the prospect of a trip to Cambodia, a nation that has a reputation for its laissez-faire attitude towards selecting animals for ingestion.
In April, the Kingdom's extraordinary culinary diversity was celebrated at the Cambodian Cuisine Festival. Organised by Pour un Sourire d'Enfant (PSE), a local NGO, the festival brought together chefs from all over the country – more than 20 provinces were represented – to share their rare local specialities. The results provided an occasional shock for Western tastebuds but were never boring, as the Southeast Asia Globe embarked on a journey to explore Cambodia's forgotten delicacies.

Braised pork with palm sugar and peppercorn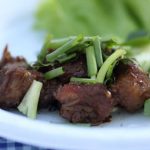 Province: Kandal
Main Ingredients: Pork, garlic, palm sugar, pepper, fish sauce, chicken powder.
Chef's name: Van Doreth
Chef says: "This is especially good for women who have just given birth, because it has lots of pepper."
Looks like: Char siew pork.
Tastes like: A meaty uppercut followed by a rich, sweet and spicy combo.
Rating: 5/5

Khmer noodle with peanut dressing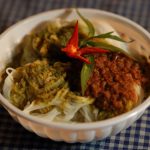 Province: Siem Reap
Main ingredients: Rice, peanut, ginger, garlic, saffron, coconut milk, palm sugar, fish.
Chef's name: Phat Salaov
Chef says: "Siem Reap is very famous for its Khmer noodles. This is one of our traditional foods, so I want it to be around forever."
Looks like: Erm… noodles with sauce.
Tastes like: A Wednesday afternoon spent listening to Phil Collins – bland.
Rating: 3/5
Stuffed frog with spices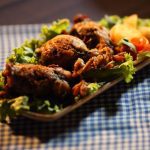 Province: Takeo
Main ingredients: Bacon, lemongrass, sweet basil, galangal, peanuts (stuffing). Whole frogs.
Chef's name: Sophon Sovannaroth
Chef says: "We need to use big frogs to make this dish. Some of them are farmed and some are caught in the field. To get the frogs from the field, we use a metre-long spear to poke and catch them."
Looks like: Miniature weightlifters.
Tastes like: A roasted chicken-pork hybrid pumped full of nutty, meaty goodness.
Rating: 4/5
Porridge with snails and taro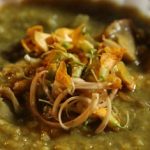 Province: Pursat
Main ingredients: Taro shoots, winter melon, lemongrass leaf, fish sauce, prahok, salt, sugar, snails, fish, rice.
Chef's name: Simh Seng
Chef says: "Many people from Pursat can make this dish, but those from the other provinces struggle, because it is a recipe that is passed down among families."
Looks like: Grey frogspawn.
Tastes like: Worse than grey frogspawn.
Rating: 1/5
Spicy fried poultry hunter style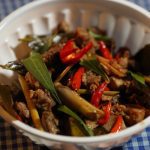 Province: Battambang
Main ingredients: Chicken, lemongrass, galangal, chilli, oyster sauce.
Chef's name: Oum Phy
Chef says: "This can be made with either chicken or duck. I came up with the name myself because it has a strong taste, so it needs a strong name.
Looks like: Danger.
Tastes like: A rumble in the chilli-infused jungle – a super-spicy challenge that only seasoned hunters will complete.
Rating: 4/5
Braised baby fish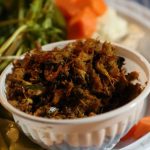 Province: Svay Rieng
Main ingredients: Fish, shrimp, lemongrass, galangal, saffron, salt.
Chef's name: Aum Sokunmeardey
Chef says: "In Svay Rieng, we have many small fish, which is why I make this dish. It takes a lot of time and effort to make it so I am only able to eat it once a week."
Looks like: Mashed brown prawns.
Tastes like: Nature's own dental floss – super-fine bones that search out every cavity. With a brutal fishy aftertaste.
Rating: 4/5
Sour beef sausage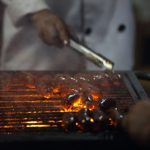 Province: Kampong Cham
Main ingredients: Beef, chicken claws, chicken powder, galangal, ginger, oyster sauce, palm sugar.
Chef's name: Khim Saline
Chef says: "I make the best sausages in all of Cambodia!"
Looks like: A delicious barbecued sausage.
Tastes like: A Cadbury's meat product with extra gristle – like chewing through a sweet and sticky severed finger.
Rating: 2/5
Sweet and sour red tilapia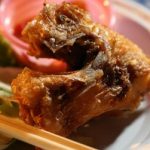 Province: Pailin
Main ingredients: Chilli sauce, lime juice, tomato, onion, green pepper (for sauce). Tilapia fish.
Chef's name: Oum Phy
Chef says: "This is a very delicious fish, which goes well with the sauce. I love to show off our Cambodian food to people, especially foreigners."
Looks like: An outtake from Piranha 3D.
Tastes like: Deliciously reminiscent of rock eel on a Friday night from a British fish and chip shop.
Rating: 5/5


Also view
"Bug Business" – With insect intake on the rise, the industry is having to move with the times
"A guest wanted ketchup to go with his foie gras" – Eric Costille, executive chef at Spiral, the Sofitel Philippine Plaza's flagship restaurant
"Currying flavour" – A handful of Yangon restaurateurs are bringing local tastes out of the home and onto your plate
"The black stuff" – A fresh brew is a way of life all over the region, but in Yogyakarta, locals take their coffee with a kick of coal