For many years, wide-eyed travellers in Thailand have steeled their stomachs and hoped for the best before ingesting all manner of insects in the name of a cheap thrill or cultural exploration. Bugs have long been on the menu in Thailand for locals and tourists alike, but only recently have they migrated from the forests to commercial farms and factories.
"The crickets you see on sale in Thailand are mostly from farms," said Yupa Hanboonsong, associate professor in entomology at Khon Kaen University in the northeast of Thailand. "We have about 20,000 cricket farmers in the northeast."
Yupa and fellow entomologist Tasanee Jamjanya began introducing cricket-raising techniques as an alternative source of income and protein for farmers in northeastern Thailand about 15 years ago. For some, the tiny insects have turned into a substantial source of revenue.
"If we are running at full capacity, we can make a profit of 200,000 baht ($6,450) in one month," said Pranee Hackl, a cricket entrepreneur in Khon Kaen province's Nonthon district, 330 kilometres northeast of Bangkok.Pranee, 47, and her Austrian husband, Oswald, 61, qualify as large-scale farmers in Thailand's cricket industry.
Her farm boasts 150 concrete cricket pens, where the insects are hatched, fed and raised for about six weeks until they are big enough to be sold, although the venture has not been without challenges. Like other commercially raised animals, crickets are vulnerable to disease and weather changes, but unlike chickens and cattle, little is known about crickets.
"There are no real experts on cricket raising," Pranee said. "This is a new profession, so you have to learn by experimenting."
Pranee, for instance, went from raising the insects for 12 months to six months a year because she found they were too vulnerable to funghi and viruses during Thailand's rainy season.
Cricket farmers also find themselves operating in an unpredictable market. In the last seven years, the price of crickets has fallen from 180 baht ($5.75) to 100 baht ($3.20) per kilogram, evidence of growing competition.
Thailand's bug business is relatively well-established, with impressive market logistics in place nationwide. There are three wholesale hubs for insects, including Long Klua in Sa Keow province on the Thai-Cambodian border, Kalasin town in northeast Thailand and Talad Thai in Pathum Thani, just north of Bangkok.
Some Thai bugs are even jetsetting across the globe, as far afield as the Middle East. "We have a customer who is sending insects to Israel to sell to Thais working there," said Keowjai Danook, 36, an insect wholesaler in Talad Thai.
Most of Thailand's overseas labourers hail from the northeastern region of Isaan, the country's most impoverished, where insects have always been part of the daily diet. Isaan natives living in Bangkok comprise the capital's largest market for insects, but they have also become popular snacks at tourist spots such as Khao San Road.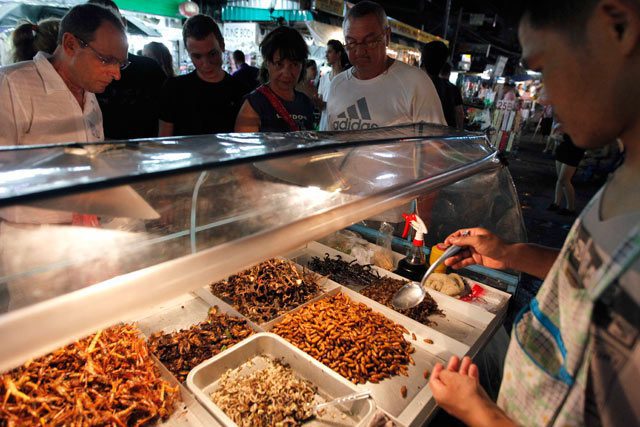 While demand for edible insects persists in the north of the country, the growing market in Bangkok has been driven by middle men and the fact that supplies have become steady since the bugs started coming from farms rather than forests.
"You get a good profit on insects," said Jarunee Rodpai, 59, owner of the Pha Da insect shop at Talad Thai. "We never have problems with supply, and insects are small and inexpensive to keep in a refrigerator."
Even in such rapidly changing times, the insect industry seems determined not to be left behind. Two years ago in Bangkok, Kuntamala Frozen Foods Co set up a factory to produce frozen meals of bamboo caterpillars, silk worm pupa and crickets, with supplies coming from from the northern city of Chiang Mai.
Thailand is not unique in its tradition of entomophagy, but it is a leader in the region in terms of farming insects and processing them, said Yupa, who is helping the Food and Agriculture Organisation (FAO) with a project to introduce insect farming to neighbouring Laos.
The UN agency has been promoting insects as an alternative source of food for both people and livestock for the past decade, with experts predicting their greatest commercial potential in the feed-meal sector.
"The feed sector is the most imminent, particularly for providing protein in fish and chicken rations," said Paul Vantomme, senior forestry officer for the FAO in Rome. "We raise a huge amount of cattle, chicken, fish, so where are we going to get the protein to feed them?" There isn't much forest left to deforest, and there is not much fish left in the ocean, so we need to look at all alternatives, including insects."