A fresh brew is a way of life all over the region, but in Yogyakarta, locals take their coffee with a kick of coal

By Samantha Michaels
As the sun sets in Yogyakarta, in central Java, groups of men gather outside at wooden tables just north of the main train station, puffing on kretek (clove) cigarettes and stirring cups of coffee or tea. Students have come by for refreshments and a chance to unwind after class. Two young women in headscarves munch on fried tempe, while boys across the street pass around a ukulele.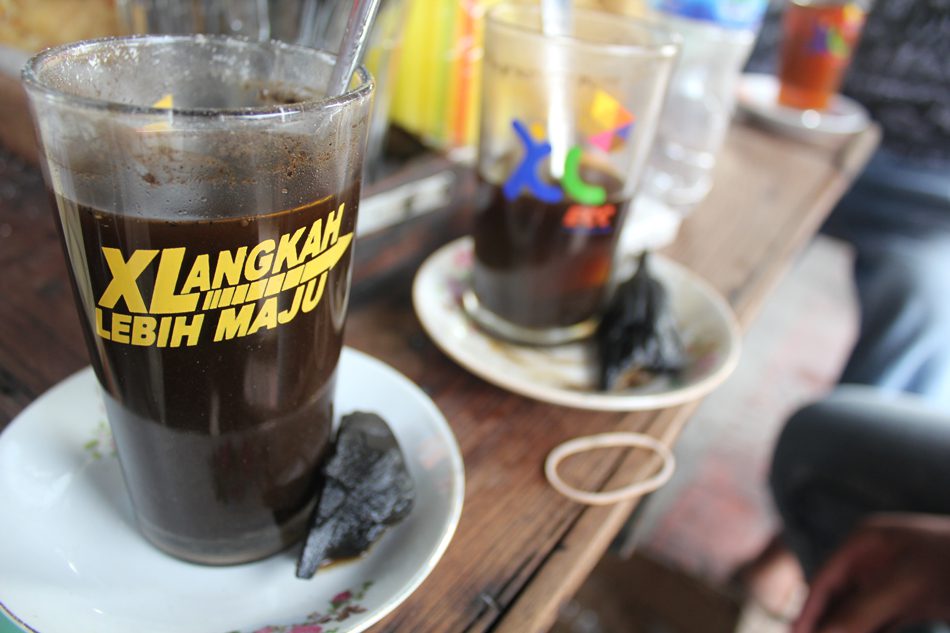 In the centre of it all sits a middle-aged, moustachioed man named Kobar, the esteemed keeper of the kettles at this roadside cafe. Working quickly in an orange T-shirt and green flip flops, Kobar, who like many Indonesians goes by only one name, scoops three spoonfuls of sugar from a recycled cookie tin into a clear glass cup and adds coffee. After preparing the brew, he takes a pair of tongs, turns to a portable stove and reaches for the final, key ingredient, which is somewhat less traditional: a chunk of red hot charcoal.
"It's good for your health," he says after dropping the coal into the drink, flashing a smile and exposing a missing tooth.
In many parts of the world, charcoal has long been used as a remedy for upset stomachs, bloating and gas. A naturally absorptive substance that can neutralise and soak up acid, toxins and gas in the stomach, it is often sold over the counter at pharmacies in the form of oral tablets. In Yogyakarta, locals take it with sweetened coffee.
Known as kopi joss, the drink is named after the Indonesian word for coffee and the hissing sound – 'jossss' – produced from the addition of hot charcoal. Kobar's recipe calls for two spoonfuls of powdered coffee, three spoonfuls of sugar, piping hot water and one lump of charcoal. "Or two lumps if they're small," he says.
Although other roadside vendors in Yogyakarta also sell kopi joss, Kobar's cafe, Angkringan Lek Man, is particularly famous because Kobar's grandfather and father are said to have invented the drink together in the 1960s.
"They were just experimenting; they didn't realise the coffee would become so popular," said 40-year-old Kobar, who started working at the cafe more than a decade ago and now runs the family business with his uncle, a cousin and a neighbour.
Just north of Tugu Railway Station on Jalan Wongsodirjan, Angkringan Lek Man serves drinks and snacks from the early afternoon until as late as 2am. The venue is simple: a line of tables and benches beneath a plastic tarp. When seats fill up, as they often do, customers sip their drinks while sitting on mats lining the sidewalk.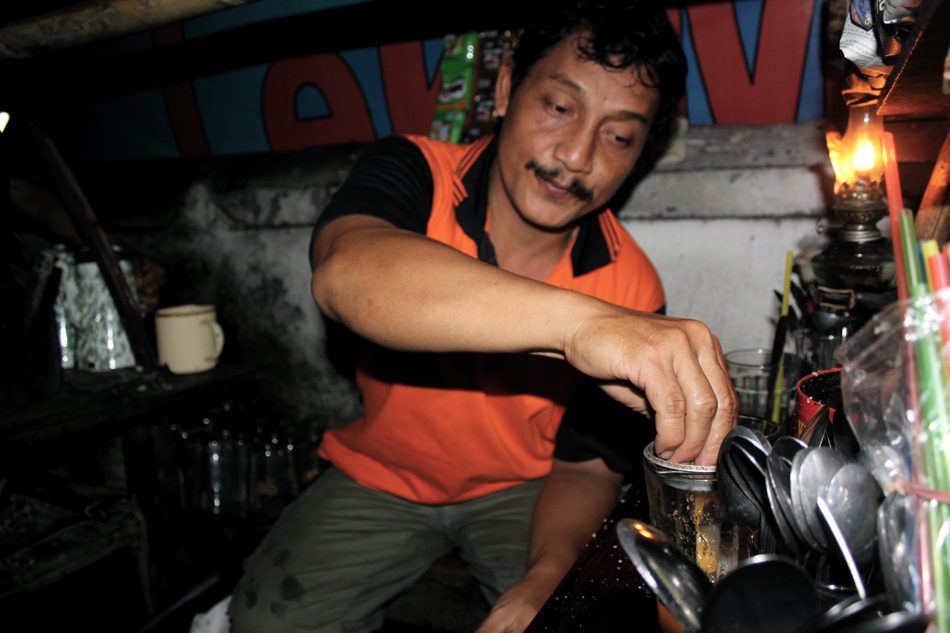 Among Kobar's other offerings are regular coffee, ginger tea and a fermented cassava drink known as tape. Customers can also choose from traditional snacks such as nasi kucing, a small portion of rice wrapped in newspaper, and sate, grilled meat that has been seasoned and skewered.
Kobar says kopi joss is the most popular drink, selling for Rp3,000 (30 cents) a cup. Its popularity is evident
from the emergence of local competition. According to Kobar, other vendors began selling the drink several years ago, with about five similar venues along the same road today.
This Yogyakarta charcoal rush doesn't faze the kopi king, however, thanks in part to loyal customers such as 67-year-old Agus, who says he has been stopping by Angkringan Lek Man for about three decades. "I drink kopi joss every day," explained the pedicab driver. "I'm a smoker, so I drink it as a tonic, to help cleanse the toxins."
Competitors may serve similar drinks, but Kobar has never entertained the thought of changing his menu, or the recipe for kopi joss. "I can't," he said. "It's been passed down for generations."


Also view
"Sumatra coffee hustle" – Poor coffee farmers are churning out a product consumers love in Indonesia – is there a payoff?
"A right mouthful" – Getting to grips with some of Cambodia's rarest culinary creations