"The brain is such a delicate organ…once damaged [it] can never go back…" A renowned neurosurgeon from Indonesia describes the ins and outs of working in the most challenging surgical field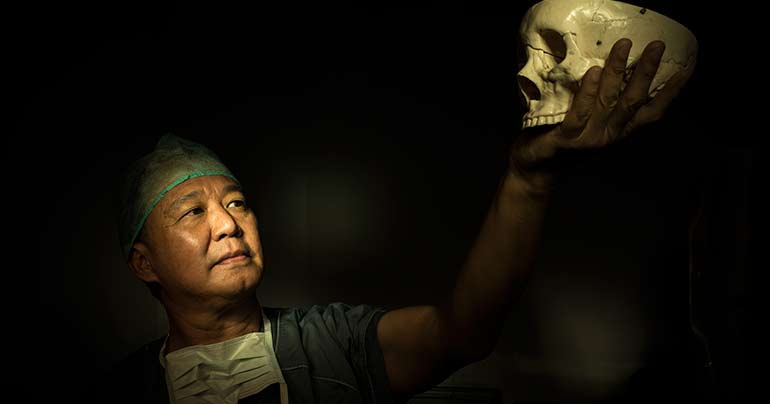 Eka Julianta Wahjoepramono is the first Southeast Asian neurosurgeon to successfully perform surgery on the brainstem, the central region of the brain, which is crucial for survival. The Indonesian doctor at Jakarta's Siloam Hospitals Lippo Village discusses the pressures of his job and relives the incredibly rare, high-stakes surgery
***
When did you realise you wanted to become a neurosurgeon?
After I finished medical school – I don't know why – I wanted to enter the most challenging part of surgery, which is neurosurgery. At that time, we had only a few neurosurgeons in Indonesia… I wanted to explore more about brain surgery and what we could do for patients in Indonesia.
What is your day-to-day job like?
I have two jobs. One is as a neurosurgeon… And my other job is [being] a dean of the medical school… I want to participate in educating medical students to be the best – better than me in the future.
I work in my clinic from 7am. At 5pm we have to start surgery, and I finish normally around midnight. Every day is about three or four cases… I have 21 neurosurgeons working exclusively in our team, meaning we are working in a system. This is quite unique… Many times, we, as senior neurosurgeons, have to fly and help our junior residents in rural areas.
Tell us about performing brainstem surgery for the first time…
In 2001, a young guy came to me with his brother, [who was] paralysed… He was almost dead. When we did an MRI, I could see that there was a ruptured tumour in the brainstem… I had to tell the family honestly that I had no experience, but the patient was in a critical condition and we had to do something, because I did not know where to refer him to, and it was also a poor patient of mine… Fortunately, after total removal of the tumour, the patient became well and until now still lives in an almost normal condition.
It was the most horrible [time] in my life, probably. I had never even seen the brainstem in a live patient before. The brainstem is known as a 'no man's land'… Any damage will cause something serious… [So] it was one of the happiest times for me to see the patient wake up after surgery.
What is the state of neurosurgery in Indonesia?
Before, many patients had to go abroad if they were seeking difficult neurosurgery services, but now I feel that many patients in the rural parts of Indonesia or even from regional countries come to see us here. They trust us… We cannot catch up with every new tool in developed countries [as they] are very expensive, but [with] our commitment, we [can resolve] every neurosurgical case in Indonesia with equal quality to a developed country.
What advice would you give to aspiring neurosurgeons?
The brain is such a delicate organ… once damaged [it] can never go back, so we need to have the skills and a really good strategy before doing surgery on the brain of a human being. My message to the young generation: this is the most challenging surgical field [but], if they are interested, this is a very good field to enter.
This article was published in the March edition of Southeast Asia Globe magazine. For full access, subscribe here.
Related reading: