State-of-the-art Sunrise Hospital hopes to restore trust in Cambodia's healthcare system
Since opening in late 2016, Sunrise Japan Hospital has made waves as Cambodia's first Japanese-run hospital. Here, Dr Hayashi Yoshifumi, a neurosurgeon at Sunrise as well as the hospital's management and clinical director, describes their unique approach to medicine and customer care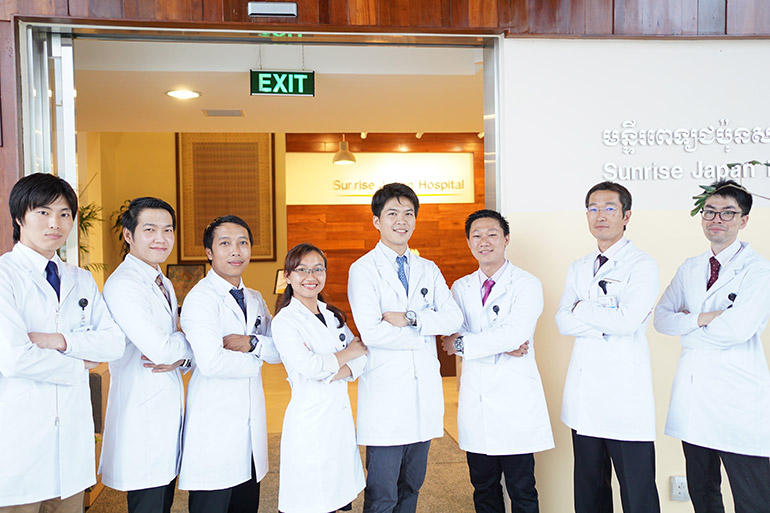 What approach does Sunrise Japan Hospital bring to Cambodia?
We understand that many Cambodians choose to go abroad for medical treatment and check-ups. So, we wanted to bring international-standard treatments to Cambodia from Japan. We not only brought high-tech medical devices and a Japanese approach to medicine, but we brought our medical staff as well. With Japanese doctors, nurses and technicians, we provide top medical care to the Cambodian people, as well as expats, seeing patients and giving them the knowledge they need to live a healthy life.
The Japanese approach to medicine is to cover a broad spectrum of medical practices. For example, a neurosurgeon doesn't only do surgery, but also conducts outpatient management of medicine, as well as health check-ups and other things. The Japanese way covers a broad spectrum for each doctor or profession, and that's why we can do teamwork very well.
Can you explain the layout of the hospital?
We have four centres: the first is the emergency centre; the second is stroke and neurosurgery; the third is general medicine and surgery; and the final is the health check-up centre. For us, preventive medicine is very important. Therefore, we put a lot of emphasis on health check-ups. Then we can detect conditions and begin treatments early.
Do you have any tips or advice for living a healthy life in Cambodia?
Generally speaking, the amount of exercise is not enough in Cambodia. This applies not only to Cambodians, but to expats as well. Places to exercise are limited, and many people use cars instead of walking. From our health check-up data, we see many cases of high cholesterol and diabetes. I recommend 30 minutes of walking per day for optimal health.
---
Read more articles