Kuala Lumpur will be awash with colour during the seventh annual Art Expo Malaysia. Polenn Sim is a member of the family behind the event, which takes place from September 19-22

Interview by Charlie Lancaster

The Art Expo Malaysia is being billed as 'perhaps the most public-friendly art fair in the world'. Why?
Because we don't charge an entrance fee, which is impressive considering our line-up. We have 60 exhibitors (art galleries/institutions) from 26 countries, exhibiting some 2,000 pieces of art under one roof. We wish to promote art to the wider community.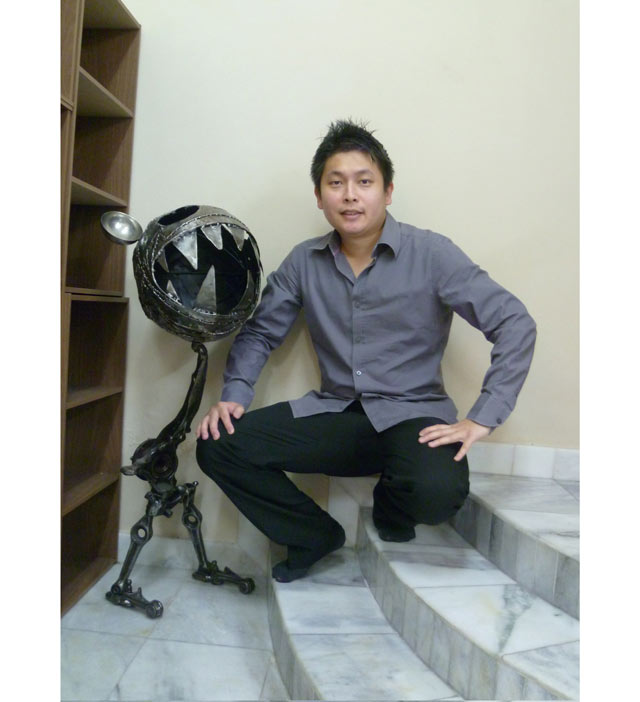 Since your father founded AEM in 2007, you and your brother have come on board. Is art a family affair for you?
My father Vincent Sim is an avid art collector, dealer and gallery owner. He started the art fair quite simply because he felt Malaysia should have one. It was extremely tough for the first three years when our family bore a deficit of $600,000. To help my father realise his dream, my brother Pojinn Sim and I quit our jobs to help him out. We do have a strong passion for arts too, since we were brought up in an 'arty' environment, with paintings covering all the walls of our house. As a team, we work doggedly, diligently and persistently so that the fair meets international standards.
Last year, the AEM sold nearly $5.5m-worth of art.
Yes, thankfully, our painstaking efforts are finally paying off; most importantly, the exhibitors and visitors are happy. We are constantly improving. People are recognising that by appreciating art, art appreciates.
What role has Malaysia's first professional art auction house, Henry Butcher Art Auctioneers, played in promoting art in the country?
Auction houses play an important role in providing a benchmark and reference point for art prices. Henry Butcher opened in 2009, and in the April 2013 auction, it recorded $1.1m in sales, with 99% of the lots sold. More than 70% of the pieces were sold at higher than the estimated prices, in just three-and-a-half hours. Such rapid growth of the local art market has birthed three more auction houses, which are recording impressive records as well. Additionally, in the past two years, about 20 galleries have opened. Everyone is rushing to cater to the strong demand for art in the country.
What key elements must a domestic art industry have to reach full bloom?
For an art market to reach a mature stage, the industry must have: an art museum or national art gallery; an art expo; an auction house; art institutions or schools; art media; an art biennale; galleries representing artists; government support; and collectors. Of course, each element must play its role really well for the industry to blossom and attract international art collectors and lovers.
What role does art play in the economy, and vice versa?
Economy and culture must go together. Just imagine as you walk, your left leg represents economy and the right leg is culture. Walking with one leg will not take the country far. Instead, both legs must work together to reach the finish line. The art industry is able to generate good income for the country, while lifting the country's cultural image.



Also view:
"Appreciating art" – The annual Art Expo Malaysia represents more than just an exciting cultural occasion. Such events are boosting the region's economies and attracting more investors than ever
"Affairs of the art" – The Bangkok billionaire following in the footsteps of the Medici family
"Freedom in a can" – Hip-hop culture is booming in Vietnam. A circle of graffiti artists is taking to the streets and saying it with spray
"Interview: Pham Huy Thong" – "I like to create multi layers of meaning in my paintings. it's fun to play hide and seek"
"Painting over tradition" – Armed with creativity, the country's young female artists are battling a repressive society
"Art attack" – Pattaya's interactive art museum puts visitors in the picture
"We have a need/ fear relationship with nature" – In his book, An Inordinate Fondness for Beetles, Paul Sochaczewski explores the life and travels of Alfred Russel Wallace, the self-taught British naturalist who is recognised as co-discoverer of the theory of natural selection. Wallace also spent eight years travelling in Southeast Asia, discovering over 1,000 new species of birds, ants and beetles.