Hip-hop culture is booming in Vietnam. A circle of graffiti artists is taking to the streets and saying it with spray
Text & photos by Susanne Lenz
Wearing baggy jeans and oversize t-shirts, the young men congregate as darkness falls over Hanoi. It is the large open space under the statue of Lenin that attracts them. Soon there is music, hip-hop to be precise. It is 7pm and on Dien Bien Phu Boulevard the first jagged movements of breakdance steps are beginning to flow.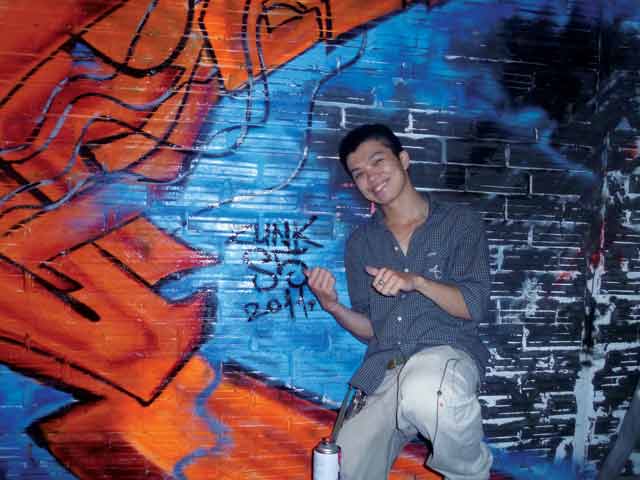 If Lenin represents the communist past of the country, the growing cultural phenomenon taking place under his carefully sculpted nose exemplifies the future. Hip-hop is big news in a nation where nearly two-thirds of the population is aged under 30. The children of a growing middle class have access to the internet, to YouTube, and although the government blocks Facebook, they have no such problem with urban culture. The music and the breakdancing are considered harmless – the policemen at Lenin Square let the youngsters be.
'Zunk' is 22 years old. His real name is Tran Tien Dung. For him, the music also came first. After trying his hand as a breakdancer and a rapper he eventually settled on another aspect of hip-hop culture: graffiti. As a teenager he drew inspiration from Japanese manga comics. "I used to draw with chalk on the pavement in front of our house in Haiphong," he says.
He discovered the Viethiphop page online and realised he was not alone. The graffiti scene in Vietnam is not big, Zunk says. He estimates there are five crews in Hanoi with a total of about 50 members, as many again in Ho Chi Minh City, and a few more in other cities.
Like their American counterparts, Vietnamese graffiti artists call themselves 'writers'. But unlike some of the best-known contemporary street artists, Zunk does not aim to convey a political message through his work. He simply wants to make art. "Hip hop gives me freedom," he says.
Zunk wears jeans, a black and white plaid shirt, and short hair. His introduction to graffiti came when he sprayed his name on a wall at school. "They painted over it immediately," he remembers. Hardly anyone knows what he does in his spare time. His father, who works as a security guard, is especially clueless.
Zunk joined a graffiti crew called S5 shortly after moving to Hanoi at the age of 18 with his mother and younger sister. His parents wanted him to study economics and he obeyed. He would rather have done something involving art.
The crew set off on their painting sprees whenever an opportunity arose. He remembers spraying every available inch of space on walls at a building site. Their work in a neighbourhood behind the Army Museum is still there. The owners gave their consent, which is Zunk's preferred situation. "If you spray illegally, you have to hurry and cannot do your best," he says. On the other hand, he sees illegal street art as a seizure of public space: "It's like saying: 'I was here'."
It was through an illegal piece that the crew reached what they view as their peak. Ten of them painted a 30-metre wall in the centre of Hanoi in broad daylight. "There were so many of us, what could they do?" asks Zunk. That was two years ago and the graffiti was painted over, the wall returning to its previous dull grey. But the authorities overlooked Zunk's name on the curb, which is still there, in red letters.
Zunk has never been caught, although a few crew members have. They had to paint over their graffiti and bribe the policemen with 200,000 dong ($10). "Graffiti is considered dirty," says Zunk. "The city, like most homeowners, wants to have clean walls."
It is a Saturday afternoon and the hip-hop club named Rock City, in a well-to-do area of Hanoi, is closed. Zunk arrives with a backpack full of spray cans. He is soon joined by other members of the crew. All are in their early- to mid-20s. 'Crazone' studied art before abandoning his course to operate a tattoo studio with fellow artist 'Zui'. They are joined by 'Taurus' and 'Shadow'. All are middle-class kids. Graffiti in Vietnam is not for poor people – a can of paint costs $3.
They whirl into action, the smell of thinner filling the air. Crazone sprays a bear wearing a school uniform and holding a tattoo gun. Zunk sprays the word 'Hanoi' in the shape of a guitar. Later, a DJ fills the room next door with beats, members of the crowd occasionally pausing to take in the the art being created in the next room.
Since finishing his studies a few months ago, Zunk works in the marketing department of a Vietnamese jeans company. He says he is happy, although his job has nothing to do with his passion for paint.
The next step is to legitimise graffiti. "I want people to see it as an art form," says Zunk, but his efforts have so far foundered. Zunk recalls his attempt to organise an exhibition at the German Cultural Centre, which failed after no Vietnamese partner could be found. They did the show in a friend's cafe.
The German artist Veronika Radulovic once gave a presentation on graffiti at the University of Fine Arts in Hanoi. She said that everybody was horrified. "I'm afraid that my students will do that," the director told her. That was 15 years ago. The times have not really changed.