The Bangkok billionaire following in the footsteps of the Medici family
By Peter Janssen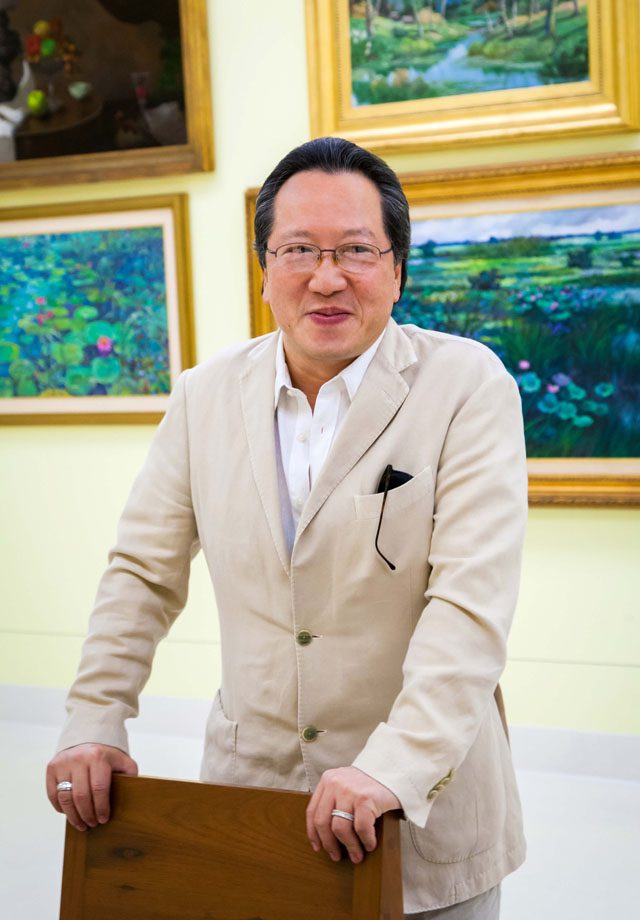 After finishing high school, Boonchai Bancharongkul wanted to study art but his father insisted that as the first-born son, he had to take over the family business.
"He said to me, 'Being an artist you will starve to death,'" Boonchai, 58, recalled. As a businessman, Boonchai has done OK. Upon his father's death 31 years ago, he assumed the helm of the clan's diverse investments and over the years built them into one of Thailand's largest private telecommunication operators – DTAC, a mobile phone service.
Boonchai, however, never forgot his first love. Twenty years ago, as Thailand's middle class took off and the money started pouring in from the mobile phone service, Boonchai began buying up the works of Thailand's most famous modern artists such as Thawan Duchanee, Prateep Kochabua, Chalermchai Kositpipat and Thongchai Srisukprasert. "When you get money, you have to get taste," he joked. "I went on a rampage… buy, buy, buy."
Having amassed one of Thailand's largest private collections, Boonchai decided to open a museum to put them on public display. In March, following an investment of $64.5m in artworks and the building, he fulfilled his dream with the opening of the Museum of Contemporary Art (Moca), a massive structure near his business headquarters on Vibhavadi Rangsit highway in Bangkok, en route to the old Don Mueang Airport.
The museum boasts 600 paintings and sculptures by more than 200 Thai artists, making it Thailand's largest, most diverse modern art collection on display. Boonchai claims to have another 1,000 paintings in storage.
Fearful that Western visitors might be underwhelmed by a collection of contemporary Thai artists, largely unknown outside of Thailand, and ask for their $5.80 entrance fee back, Boonchai visited the Uffizi Gallery in Florence in search of inspiration. There, in an imaginary conversation with the Medici family – the Florentine bankers who became the patrons of famed artists such as Leonardo Da Vinci, Michelangelo and Sandro Botticelli – Boonchai gained the confidence he needed to proceed with his project.
"After the trip, I imagined 500 years down the road, all the paintings here will be priced the same as those at the Uffizi, because by then they will only have one price – priceless," he said. "If someone asks for their money back, I will tell them, 'Keep your ticket and please come back in 500 years.'" The Moca collection includes the work of a wide variety of Thai artists, from old masters such as Fua Haripitak, to newcomers such as Lumpoo Kansanau, a young female artist whose hallmark style of depicting Thai characters with oversized heads and bad teeth is becoming increasingly popular in Bangkok galleries.
Given Boonchai's personal preference for surrealism, the museum boasts a good selection of Thailand's best-known masters of "Buddhist art", such as Chalermchai and Thongchai whose paintings often depict Buddhist themes and settings, along side the more animistic, sexually-charged works of Thawan and Prateep.
Boonchai deliberately chose paintings that might shed light, for foreigners anyway, on Thailand's diverse cultural influences while providing a solid introduction to the country's modern artists. He has, however, avoided controversial subject matter. "This is Thai art that makes everybody happy. It doesn't offend anybody," said Manit Sriwanichpoom, a well-known Thai photographer who runs the Kathmandu Photo Gallery in Bangkok.
"I don't think Boonchai is really ready for abstract Thai art; he acknowledges that his perspective is narrow," Manit said. "But he has done a lot to support the local artists. We need more Boonchais: more billionaires investing in art and museums. That way we'd have more variety."
At present, there are few museums in Bangkok, let alone art museums, worthy of a visit. Thailand's Ministry of Culture is looking into setting up a modern art museum some time in the future to rival Moca, but they are at something of a disadvantage. "They have no paintings," Boonchai said. "That's their drawback."
To date there have been few Thai billionaires, other than Boonchai, willing to spend 2 billion baht on art. Would his father be angry with him for the investment? "Probably," said Boonchai. "But I would tell him that we have become aristocrats, and in only two generations, unlike the Medici – they took four."