The low-cost airline believes it can use its huge stockpile of customer data as a springboard for fintech success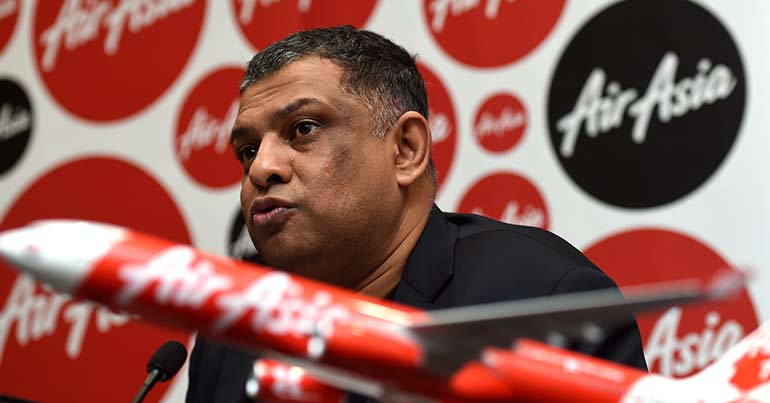 AirAsia Group CEO Tony Fernandes has announced that he plans to develop BigPay, the debit card and digital payments app he soft launched in Malaysia earlier this year, into a regional fintech powerhouse that offers cross-border remittance and lending services.
"Wallet is the first step and finally we will disrupt the remittance market and money lending business…this will be in Asean, not in India, not in China," Fernandes told fintech leaders yesterday at the Money 20/20 conference in Singapore, during a speech that doubled up as the company's official launch.
Fernandes said that AirAsia's move into digital payments made a lot of sense given the large amount of "high resolution data" the company had on its customers, and was part of a wider strategy to turn the low-cost airline into a digital-focused company.
The development of an in-house fintech application will help AirAsia achieve its aim of creating "cashless cabins," where in-built wifi connectivity will enable all purchases to be made using the BigPay app, Fernandes added.
The launch of a great company BIGPAY. Part of AIRASIA Digital strategy. One day this product will be worth more than @AirAsia . Many features being rolled out. Soon no more cash on AIRASIA. Analysts don't even know about our digital strategy. pic.twitter.com/peW5r9RwJ7

— Tony Fernandes (@tonyfernandes) January 15, 2018

The BigPay card is a prepaid debit card that works like any regular credit or debit card except that it is not linked to a bank account. Customers can use the card to make payments and ATM withdrawals worldwide, while the accompanying app also allows users to send money to friends' BigPay accounts free of charge.
Fernandes' speech came just two days after Singapore-based ride-hailing app Grab, which announced in February that it plans to use self-driving cars before 2022, launched its financial services company Grab Financial, a development that Grab co founder Anthony Tan also announced during the Money 20/20 conference.
Last year, the company rolled out its digital payments service company GrabPay, enabling third-party merchants to accept QR code payments in hawker centres and restaurants across Singapore.
The launch of Grab Financial sees the company expand its business interests beyond digital payments into the realm of traditional financial services.
In partnership with Japanese credit card company Credit Saison, Grab will begin offering lending services and micro-financing products in a region where as few as 27% of citizens have their own bank account. The Singapore-based app will also partner with global property and casualty insurer Chubb to offer insurance policies to its 2.6 million drivers.
As Bloomberg columnist Adam Minter quipped last August: "in Southeast Asia, mobile banking is taking on a whole new meaning'".
"Taxi companies going to war with banks for the chance to offer e-payments would've sounded implausible just a few years ago. Today, it's great news for consumers, particularly those left out of the traditional financial-services market," Minter wrote.  

"Competition should reduce the cost of joining the digital economy, make tasks like paying bills easier, force banks to pay attention to lower-income customers, and put pressure on credit card companies to lower fees and penalties. In Singapore and elsewhere, banks are rallying to set up their own e-payments standards. They may be in for a wild ride."
Related reading: