A third international flight has been scheduled for Cambodia's coastal tourism hub as passenger arrivals to the Kingdom continue to soar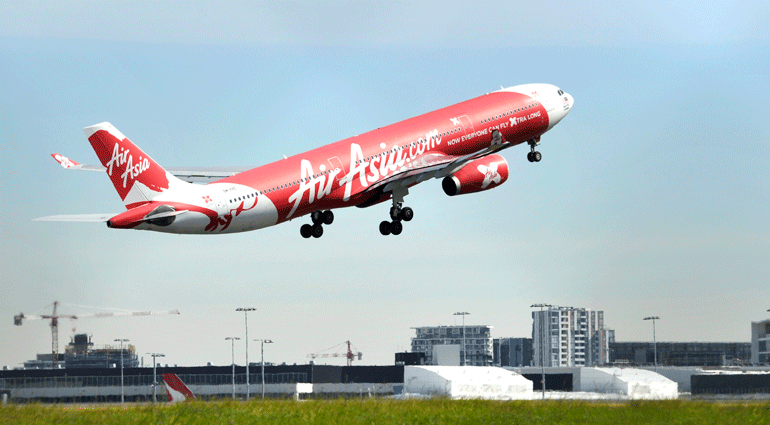 Budget carrier AirAsia delivered its first load of visitors from Kuala Lumpur to Sihanoukville on Wednesday, making Malaysia the third country with a direct flight to Cambodia's most popular beach destination.
Initially set for four flights a week, the route is expected to help Sihanoukville continue to increase its visitor numbers as part of a government strategy to diversify the tourism industry beyond the world-famous Angkorian temples in Siem Reap province and the capital and commercial hub of Phnom Penh.
"This coastal city in Cambodia presents great potential and dynamic opportunities in terms of tourism, trade and economy which we are happy to be a part of this journey to develop Sihanoukville further," said Spencer Lee, head of commercial for Malaysia-based AirAsia.
The latest direct flight to Sihanoukville comes about a year after the first international route was launched from Ho Chi Minh City by Cambodia Angkor Air, which has since opened a charter service connecting Sihanoukville and Macau.
While Sihanoukville has long claimed to have an "international" airport, it has only recently started to have the flights and passenger numbers to support the name. The second quarter of 2017 saw a 270% year-on-year increase in tourist arrivals via air, according to government data.
The overall number of visitors to the coast is also steadily rising, though at a much slower clip. The government reported 1.2 million total visitors to Sihanoukville in the first half of 2017, including domestic tourists, a 15 percent increase on last year, according to the Phnom Penh Post.
About 60% of 2.6 million foreign tourists who visited in the first half of 2017 arrived by air, and some 400,000 visited Sihanoukville, making it the Kingdom's third most popular destination behind Phnom Penh (1.4 million) and Siem Reap (1.2 million), according to the Post.
In December 2016, VINCI Airports, the parent company of Cambodia Airports, started a project to extend the current terminal in Sihanoukville by 80%, from 2,700 square meters to 4,800 square meters, to cater to 500,000 passengers per year.
Éric Delobel, CEO of Cambodia Airports, the company that operates the country's three international airports in those destinations, said the growth of visitors to Sihanoukville was making it necessary to continue expanding facilities.
"Further improving the airport's facilities and passenger experience is key, that is why we will inaugurate early 2018 a new terminal in addition of overhauling the runway capacity for bigger aircraft," he said in a press release on Wednesday.