"A lot of Khmer Rouge were artists, singers, musicians, dancers, filmmakers and photographers, too"
Executive director of the Documentation Centre of Cambodia and executive producer of the documentary film Don't Think I've Forgotten – Cambodia's Lost Rock & Roll, which had its global premiere in Phnom Penh last month, Youk Chhang reminisces about an emotive time in the Kingdom's history
Executive director of the Documentation Centre of Cambodia and executive producer of the documentary film Don't Think I've Forgotten – Cambodia's Lost Rock & Roll, which had its global premiere in Phnom Penh last month, Youk Chhang reminisces about an emotive time in the Kingdom's history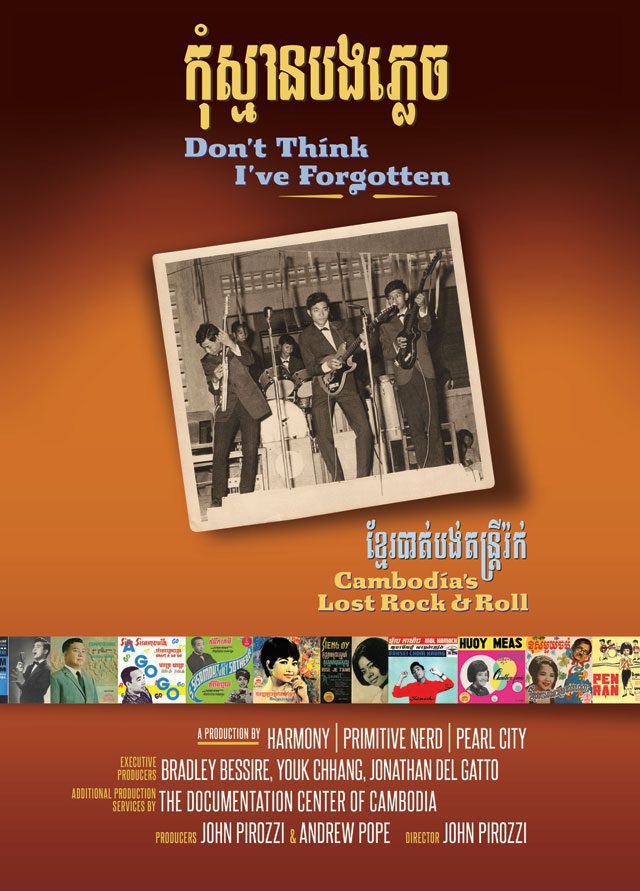 How did you get started on the film project?
It was ten years ago, in 2004. We interview a lot of former Khmer Rouge and our aim is to get both sides of the story. When we spoke to them, some were artists themselves and others had met artists who they then killed. It was a recurring theme.
Soon after the Khmer Rouge collapsed and people were returning home, a song was written called "Oh, Phnom Penh". I love it and I hear it all the time – at weddings, karaoke, in nightclubs. People still play it and they don't realise what it's about. I asked my staff to go to the market to look for that song. I wanted the original but instead of finding the song, they found all these old albums – a whole box of them from the 1960s and 1970s. We met John (director John Pirozzi), and he fell in love with the music. It was a huge project and we didn't have much funding at the start but now, ten years later, we have our film.
How did it feel to work on something so uplifting?
Genocide isn't just about the killing. A lot of Khmer Rouge were artists, singers, musicians, dancers, filmmakers and photographers, too. They had their own vocabulary, their own textbooks, they had their own way of thinking – it was just different and it made me want to know more. It's research that many people overlook because of the overwhelming crimes committed by the Khmer Rouge. People forget the other side of it. But for me it was also personal; I had these records in my house when I was growing up and I memorised the songs. As a little boy I remember looking at all these musicians and artists and thinking: 'Wow, they are somebody.' And now, 40 years later, I feel it's an honour to discover them again.
Do you have a favourite song?
Yes, a song I memorised as a child called "Ruomdoul Kratie" (or "The Flower of Kratie"). It is about a tree dancing down the Mekong River. Growing up, I always imagined that I would go to Paris, I would be well-educated, I would travel around Cambodia, I would go to Kratie province and find a girl and I would marry her. In my mind it was beautiful. But I only visited Kratie in 1994 because of the war and I was disappointed. It wasn't so beautiful anymore like it was in the song, because during the Khmer Rouge era it was devastated. The river was dry and it was a poor province. We had the genocide and I didn't go to Paris. I didn't become the most handsome, educated traveller and find a girl. The song really captured my heart.
Of all the stories you heard from survivors, do you have a personal favourite?
I loved all of the stories, but there was one in particular from a man called Sos Math. He was an Islamic singer who was married to the singer Ros Serey Sothea. It broke my heart because she had the courage to divorce him after he brutally attacked her.
We lived in a society where women were expected to endure all the pain and all the suffering of domestic violence in silence – but she divorced him and went with her sister to Battambang province. She quit her career and she left. They both died during the genocide but I can't help imagining what would have happened if he had been nice to her and they hadn't divorced. Would she have had children? Would she still be on the stage today? That story really touched me.
Keep reading:
"Tropfest winners: Sothea Ines" – After grabbing the top slot at Tropfest South East Asia with her short film "Rice", Cambodian film maker Sothea Ines talks exclusively about her desire to tell stories
Tropfest winners: Polen Ly – After coming second at the recent Tropfest South East Asia with his short film "Duetto", Cambodian Polen Ly talks exclusively about his motivations and inspirations
Tropfest winners: Ezequiel Paolinelli – After coming third at the recent Tropfest South East Asia with his short film "The Last Flight" and bagging himself an all-expenses paid trip to Abu Dhabi, Ezequiel Paolinelli talks exclusively about his life, inspirations and being alone.
Action man – With his new picture, renowned film director Chhay Bora discusses his commitment to Cambodia
Top 5: Iconic movie cars – Casting an eye over the purring engines and techno-gadgetry that get film buffs and petrolheads salivating in equal measure
Top 5: female film directors – Five women who have brought a feminine touch to the male-dominated world of movie making in Southeast Asia
Dream debut – A new film that charts the difficult relationship between progress and tradition in Cambodia is ready to wow audiences at the prestigious Sundance Film Festival
---
Be a Part of the Story
---
Southeast Asia Globe is powered by members.

Membership programs will be available soon. Until then, sign up for our weekly summary of stories from the region.
Donate and support independent journalism.

Donations help us keep our journalism free and independent. Support stories from Southeast Asia that matter.
---
---
Read more articles