After coming second at the recent Tropfest South East Asia with his short film "Duetto", Cambodian Polen Ly talks exclusively about his motivations and inspirations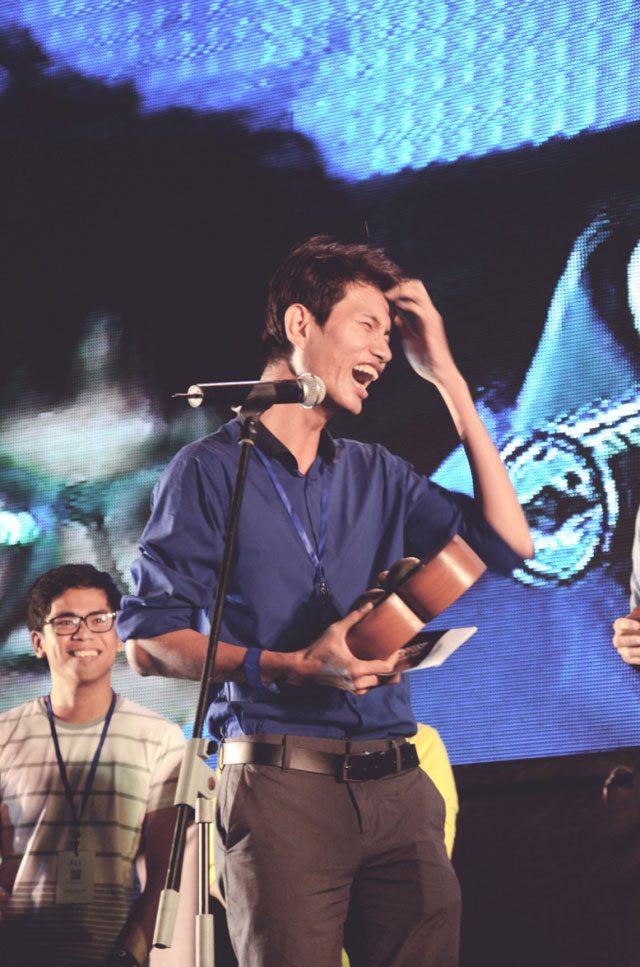 What's your background?
I was born in 1989 in southern Cambodia. I am an only childy. I find that being an only child has given me a lot of independent time to explore my creative space, mostly in writing. I have been writing since I was 13-14. In 2007 after I graduated high school, I moved to Phnom Penh to enroll in the faculty of Medicine. In the meantime, I started to discover my new life in the city. I started to lean new languages, English and French, which gave me an opportunity to work as a volunteer in a few NGOs as a French-Khmer translator. In 2011, I started to make video clips as a hobby. In 2012, I made my first short film "Day 360" in a competition in Phnom Penh. Later on in the same year, I decided to take some years off from the medical school to pursue my dream in filmmaking. I have made four short films and three documentaries. Some of them won awards and were selected in several international film festivals in Asia, Europe, and America. Now, I'm here, a filmmaker.
Why did you choose to present the film in black and white?
Actualy, Duetto is my second black and white silent film after my short film "Iva" made in 2012. I chose to make it in black and white because it is my favourite cinematographic method as it shows the beauty of humbleness and simplicity. It doesn't distract the audience's eyes with multiple colours. It keeps the audience focusing more on the acting. Its silence was made to refer to the early history of cinema where we didn't have much high technology. "Duetto" was made with a really low budget which was less than $200. It was actually inspired by Charlie Chaplin's films and "The Artist".
How did you feel when you won the prize?
I remember I was looking up at the sky, seeing the stars, and tried to cope with my nervous feeling because the other 11 short films screening that night were all amazing and inspiring. Then I heard "Duetto" was called for the first runner-up! I felt like I woke up from the dream because it was the moment when I realised that my dream came true. To hold the award in my hands, I felt very proud that I was there to represent my country Cambodia!
How do you think winning the prize will help you?
Winning the prize is a life-changing experience. It helps me to look at life more positively and it gave me hope to hold on to for the long journey ahead in filmmaking. I started my journey with nothing, only my motivation and passion. And now I'm here to believe that in life, anything is possible. On the other hand, this achievement doesn't only help me to grow, but also to inspire other young filmmakers in Cambodia to believe more in their work of filmmaking.
Do you have any upcoming projects?
At the moment, I am working on two projects. One is a new short film that will be shot soon in February. It is about child-sex abuse. Another one is an upcoming feature documentary, which I've been working for six months  to finish early in the first half of this year. It focuses on the Cambodian tradition of girls virginity. After these, for the rest of the year, I will start to write a script for my first feature film that I plan to make probably in 2015-16.
 Was it difficult to get everything in to a seven-minute film?
I believe that anything you do in life is challenging, but it depends on how you handle it. For "Duetto", I already planned the time of the story when I had the story in my head. Then when I wrote the script, I just kept focusing on the important scenes of the story that I wanted to tell. So, the story wouldn't take long to be told. In my opinion, the beauty of a story is not about time, it is about the way to tell it.
Disability is something of a taboo subject in Cambodia. Why did you choose the subject of disability?
I choose to portray the film about disability, because in my country I've been surrounded by many disabled people, which is a sad issue in Cambodian modern society. I imagined how it felt to lose the part of the body. So, I started to think of making a story to inspire them and to give them hope. Then I came up with "Duetto" that could reflect my key messages.Firstly, Whichever part of yours has lost, your life is still complete as long as your whole heart beats. And secondly, Life is like a duet. You need the right half to make a performance beautiful: this is special! The story is to tell people (any kind) about the meaning of being together: To be able to work out things together is to understand and to have patience towards each other.
How did you find the actors?
The actors are my friends that I used to work with. But before I chose them, I also observed their characteristics to see if it could fit in the story's characters because I wanted them to act the way they act in their real lives. So, it would come out naturally.
Was it difficult to shoot the film on the streets of Phnom Penh?
I have to laugh in this part. The answer would be a big yes! It was so difficult and challenging. In the opening scene of the film where the girl tries to pick the money off the middle of the street, we spent like an hour to capture that scene because the traffic was crazy. It was hard for us to get in the middle of the road to shoot only one minute of footage.
Has your medical training had any influence on your filmmaking?
Yes, the medical training had some influence on my filmmaking. I always wanted to be a psychiatrist, which explains my interest in people's stories. So, I can say that it also inspired me to tell a story by making films.
What do you think about the film industry in Cambodia?
Based on my own observation, I think that after Khmer Rouge, Cambodia has lost a lot of sense of art, especially in cinema. The film industry still lacks creativity and innovation in telling stories. Meanwhile, Cambodia doesn't have a state cinema school, only some private film or media schools that most of the students cannot afford. Film is not supported much from our government. The funds that filmmakers get is mostly from international organisations. However, there are a few private film companies in Cambodia who support filmmakers to produce feature films, but they only support mainstream and commercial films. In my opinion, the government should support to enlarge the film industry, including documentary, in the country because films play a really important role for a society. Film is freedom of expression and it can give a positive influence to society with its message both educationally and insightfully.
What I want say also is that I would really love to encourage other young filmmakers and film amateurs to make their films and submit them to Tropfest. It gives us an opportunity to have the platform to show our creativity and talent. Based on my experience, Tropfest doesn't need much from you, only your motivation and passion. It's time to rise and shine!
Also view:
Tropfest winners: Ezequiel Paolinelli – After coming third at the recent Tropfest South East Asia with his short film "The Last Flight" and bagging himself an all-expenses paid trip to Abu Dhabi, Ezequiel Paolinelli talks exclusively about his life, inspirations and being alone.
Action man – With his new picture, renowned film director Chhay Bora discusses his commitment to Cambodia
Top 5: Iconic movie cars – Casting an eye over the purring engines and techno-gadgetry that get film buffs and petrolheads salivating in equal measure
Top 5: female film directors – Five women who have brought a feminine touch to the male-dominated world of movie making in Southeast Asia
Dream debut – A new film that charts the difficult relationship between progress and tradition in Cambodia is ready to wow audiences at the prestigious Sundance Film Festival