The British government has confirmed that it is in talks with Indonesian authorities over the disappearance of six British and Dutch warships sunk in 1942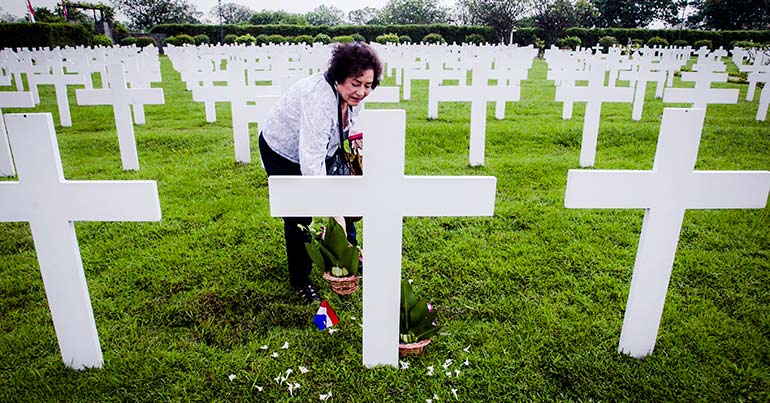 British diplomats met with Indonesia's maritime ministry in Jakarta last week to discuss the illegal salvaging of half a dozen allied warships sunk by the Japanese during the Battle of East Java in 1942, and are coordinating a joint investigation with Indonesian authorities into the disturbance of allied war graves, according to the Guardian.
The news of the investigation comes just over a month after reports emerged that salvagers were indiscriminately dumping the bodies of allied soldiers found while looting shipwrecks in a mass grave near to Brondong port.
Authorities in Indonesia have since excavated three sites, where the human remains are believed to be located.
Bones from a mass grave in Suko cemetery close to Brondong are thought to have been taken for forensic testing, the Guardian reported. In the past, DNA testing of bones matched with the DNA of survivors has proved effective in identifying remains.
A group of international divers were the first to flag the disappearance of the six allied warships in November 2016, during an expedition to lay a commemorative plaque next to one of the sunken Dutch warships ahead of the 75th anniversary of its sinking.
The British, Dutch and US governments issued public statements of condemnation soon after news broke of the vessels' disappearance.
As the final resting place of hundreds of allied soldiers, the wrecks are protected under international law, which recognises them as war graves and property of the flagged nation.
Beginning in February 27 1942, the Battle of East Java was one of the worst naval defeats of the Second World War for the allies. Led by Dutch Admiral Karel Doorman, a coalition fleet of American, Dutch, British and Australian warships was destroyed by Japanese torpedoes as it attempted to protect what was then the Dutch colony of East Indies from Japanese invasion. More than 900 Dutch soldiers and 170 British soldiers lost their lives during the crushing defeat.
Quite apart from their historical and sentimental significance, the wrecks are sources of valuable scrap metal, which local salvagers have been illegally looting for years. According to the Guardian, roughly $1.3m worth of steel can be recovered from each ship.
Recent years have seen as many as 40 Second World War vessels vanish from Southeast Asian waters.
Related reading: