Singapore and the US are conducting joint search and rescue operations for ten missing sailors after an American warship collided with a merchant ship east of Singapore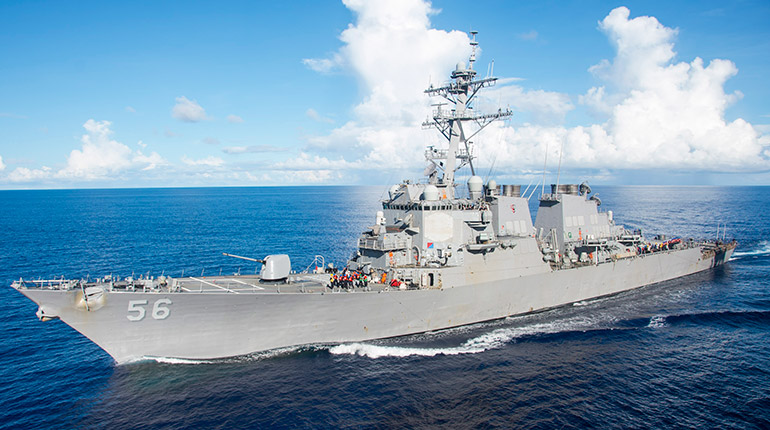 Ten sailors have been reported missing and an additional five injured following the collision of the guided-missile destroyer the USS John S. McCain and a merchant ship, according to the US Navy.
The US Navy released a statement saying that the USS John McCain, a member of the Navy's 7th Fleet, collided with the Alnic MC oil tanker at 5:24am local time. The collision occurred while the warship was making its way to a port in Singapore, east of the straits of Malacca.
The 30,040-tonne Liberian flagged Alnix MC was travelling to Singapore from Pyeongtaek in South Korea. According to Vesselsvalue, a shipping and maritime data organisation, the Alnix MC is reported to be worth $17.36 million.
The destroyer is believed to have "sustained damage to her port side aft", but was still able to power itself to port after the collision, according to the Navy's statement.
When initially asked to comment on the incident by White House reporters, US President Donald Trump said "that's too bad", though the pugnacious leader later revised his stance, tweeting that his "thoughts & prayers" were with the US sailors.
The US Navy Commander of the 7th Fleet announced that the US military was conducting the search from the skies with seahawk helicopters and multi-purpose aircrafts, working in conjunction with the Police Coast Guard and Singapore Navy, which had deployed two ships and a group of helicopters. Malaysia also provided naval assistance in the search.
The event marks the second time this year that the US Navy 7th Fleet has been involved in a collision. In June, the USS Fitzgerald collided with a Philippine flagged Merchant Vessel, the ACX Crystal, an accident that resulted in the death of seven sailors and caused up to half a billion dollars in damages.
Both the Fitzgerald and John S McCain are ballistic missile defence ships that are part of the US Navy's destroyer squadron based in Japan.