One person was killed and 30 injured last night when two bombs were detonated at the Southern View Hotel in the Thai coastal town of Pattani, Reuters reported. The attacks come less than two weeks after four were killed and dozens injured in a wave of bombings that hit southern Thailand.
While no group has claimed responsibility for this month's attacks, many have pointed fingers at a Muslim insurgency in southern Thailand that has been active since 2004 and left more than 6,500 dead.
In reference to the attacks earlier this month, police lieutenant general Suchart Theerasawat told the Bangkok Post, "The bombs used in the Phuket, Phang Nga and Surat Thani attacks were related and similar to those found in insurgent attacks in the deep south."
However, defence minister Prawit Wongsuwan said that last night's attack was not connected to the bombings earlier this month. "I am sure that the incident in Pattani last night has nothing to do with the seven provinces attacks," Prawit told reporters at Bangkok's Government House, according to Reuters.
Vikram Rajakumar, a senior analyst at the S. Rajaratnam School of International Studies, said that while bombings are not uncommon in Thailand's restive south, the intensity and frequency of the recent attacks was unprecedented.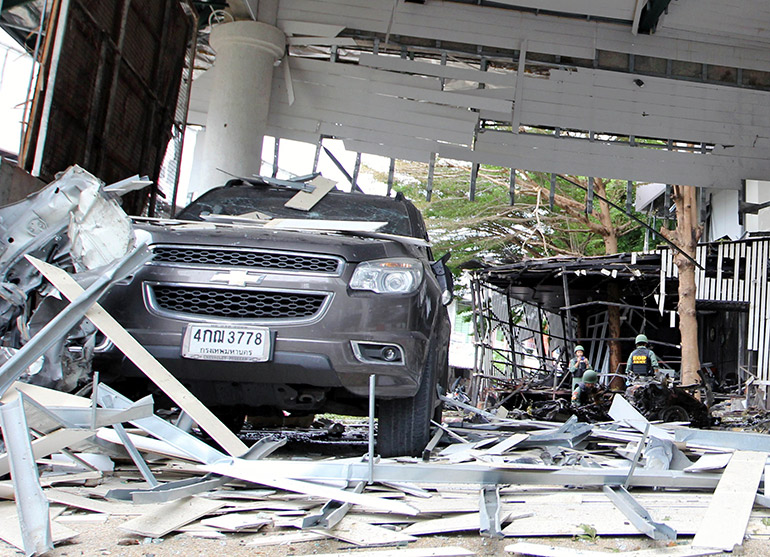 Rajakumar drew a link between the bombings and Thailand's constitutional referendum, which earlier this month approved a military-drafted constitution that is expected to consolidate the ruling junta's power. A majority of people in the three southern provinces voted against the proposal.
"With the military government in power and continuing to be in power for the next two years, the Thai insurgents are finding it harder to voice their opinions, voice their views," said Rajakumar.
The Thai government plans to station 60,000 troops in the south this year, down from 70,000 in 2011, Yutthanam Petchmuang, deputy spokesman for the military's Internal Security Operations Command, told Reuters.
"When we see the situation constantly improving… we gradually remove soldiers," Yutthanam said.
While Rajakumar said insurgents are unlikely to launch an attack in Bangkok, as it would jeopardise their chances for an independent southern region, he added that the south would likely see more bombings.
"The southern climate is going to be very intense," he said. "Simply because it is the hotbed, or the centre of gravity, for the entire conflict, you are going to see an increase in violence."