British filmmakers shine a light on Yangon's struggling skateboard culture
By Katie DeRosa Photos by James Holman
A group of skateboarders pull tricks behind a mall in central Yangon, Myanmar, as the afternoon sun turns the sky pink and casts long shadows down the cracked concrete. The skate park consists of a splintered, wooden half pipe, a few rust-covered rails and a stack of three tires which one skater ollies over.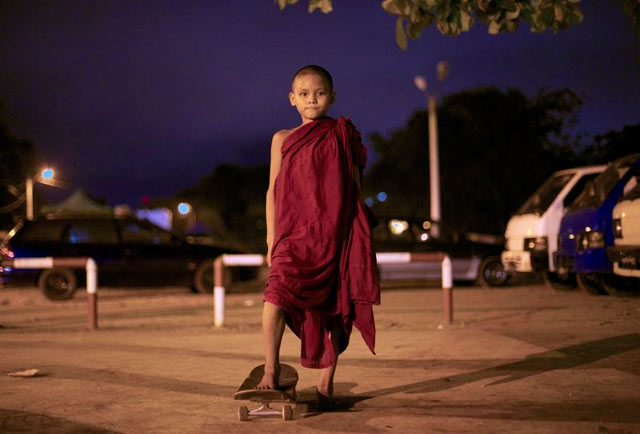 A pudgy security guard from the City Centre Mall watches the group suspiciously, his narrowed eyes glancing
at his watch as he awaits mall closure at 9pm when he'll shoo the youngsters away.
This ramshackle skate park has almost become the youths' second home. They have few other options for their leisure time – the crumbling, potholed local streets are virtually impossible to skate on.
The young skateboarders in Yangon, Myanmar's cultural hub, are locked in a constant battle with a city that doesn't seem to want them. They've been pushed out of skate parks and shooed away from public spaces.
It is not only a fight for space to ply their hobby. These young skaters are also struggling for a sense of identity, one that wants to break free from some of Myanmar's traditions.
A new documentary, Youth of Yangon, details the skateboarders' dogged efforts to bring skateboarding up from the underground and into the mainstream. The film was shot and produced by three British filmmakers – James Holman, Ali Drummond and Toby Mills.
"Myanmar is changing quickly and we represent that change," says Ak Bo, one of the skaters, at the start of the documentary, which was screened every night for a week at a gallery in downtown Yangon in February. "We are able to do what those before us could not. This is our passion. We are the youth of Yangon."
The film's opening scene depicts a group of skaters, lit by street lamps, weaving across the deserted road that leads to Shwedagon Pagoda, Yangon's tourism mecca. The group of twentysomethings wear brand name t-shirts and skinny jeans, rather than the traditional longyis worn by many men in Myanmar.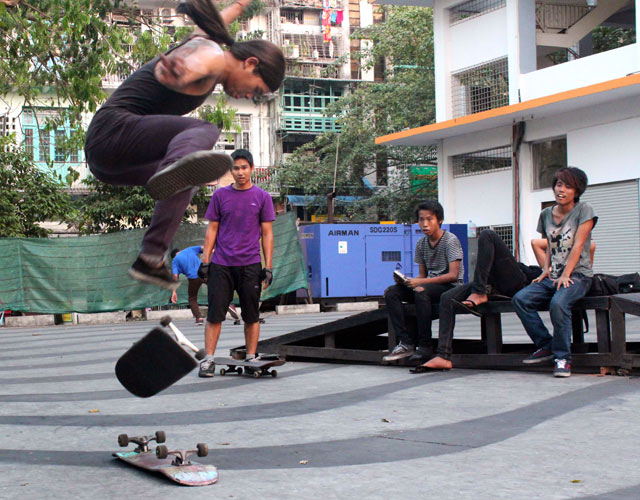 The skaters used to hang out at Thuwunna Skate Park, next to a banquet hall just outside the city. It was originally built in 1994 as a roller skating venue but young skateboarders claimed the concrete ramps for themselves and brought in other equipment such as rails. In May 2012, without warning, the property owners bulldozed the park.
The skaters are now limited to the ailing equipment behind City Centre Mall. However, in what they see as another snub, property owners put up a blue metal fence that closes off the skate park from the adjoining alleyway, meaning they can only skate when the mall is open. It has also largely closed them off from the public, who used to stop and watch the skateboarders with curiosity.
"They don't have the support they need, the infrastructure they need, to grow skateboarding in the country and enjoy it on a level that it is enjoyed elsewhere," said filmmaker James Holman.
On the documentary's opening night, the Pansodan gallery – a second storey room with peeling teal paint, weathered doors and not a stitch of furniture – was buzzing with excitement.
Dotting the walls of the gallery space were black and white portraits of skateboarders, a photo exhibition called Skateboarders of Yangon, shot by British photographer Henry Kingsford. In the photos, and especially in person during the film premiere, the young skaters hold an air of confidence and pride, emboldened by the attention from reporters and NGO workers from around the world.
The team is trying to convince Myanmar's Minister of Sport to donate a piece of land, on which an anonymous builder from the UK has pledged to build a skate park for free. They've already had an audience with former sports ministry director General Aung Din, who is supporting their efforts, and they also want to see an official skateboard federation in Myanmar so they can compete internationally.
"From this exhibition we hope that Myanmar locals will support us," said Ye Wint Ko, the articulate 26-year-old Yangon native leading the campaign. "Our country is developing in every other field internationally. I want to include skateboarding in that."
Ko started skateboarding in high school and became hooked. In 2008 Ko joined the Speed Ring Skate Club, an informal association that collects nominal dues – about $10 a year – in order to buy better quality skateboards and accessories. There are currently about 40 people in the club, and it is growing.
The documentary was partially funded by a donation from the British Council Burma, a UK-based international organisation that promotes education and cultural programmes.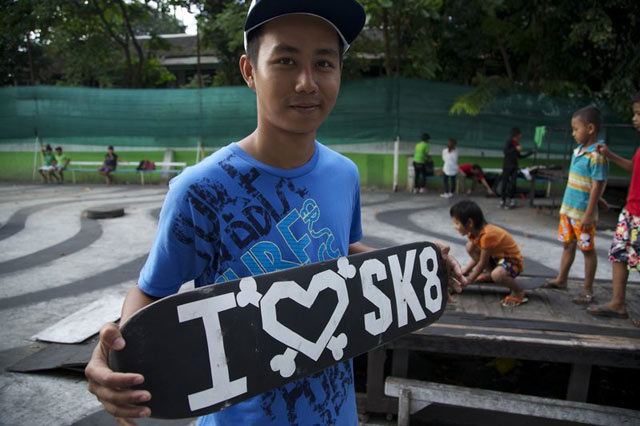 "It sounded like a good thing to be supporting because we work with young people and… people taking control of their lives, expressing themselves and being more creative. Skateboarding just fits into that," said Kevin McKenzie, director of British Council Burma. "Politically, socially, economically, things [in Myanmar] are changing, things are opening up. There are fewer restrictions on people, so people are free to do what they want to do without fear of running into trouble."
Holman and Drummond, avid skateboarders themselves, first shot a documentary in Yangon and Mandalay in 2009, which explored people's reaction to the little-known sport while touching on the tense political situation in the country. The 19-minute film, Altered Focus: Burma, won the award for best independent and emerging filmmaker at the International Skateboard Film Festival in Los Angeles.
Holman and Drummond are currently trying to get the documentary and photo exhibition included in festivals around the world, with Youth of Yangon released publicly on May 11.
While many of the Myanmar youth at the film premiere were hesitant to talk about the political situation in the country, Nyi Nyi Naing, a soft-spoken 23-year-old skater from Yangon, said the quasi-civilian government needs to support young people.
"In other countries you can see many skateboarders because the support [from] the government is very good," said Nyi Nyi, who went to university in Singapore where the sport is thriving.  "I hope my country will build a new skate park for a new generation."



Related Articles
"The last day of pleasant music" – Yangon's death metal underground searches for acceptance in an ocean of pop and hip-hop
"Watching the pennies" – Visitors to Myanmar must remember that scams can work both ways
"Exhibiting constraint: Art and Myanmar censorship" – In a changing censorship climate, Myanmar's artists face uncertainty
"A spirited way of life: the Taungbyone festival" – Myanmar's most raucous festival, where gay spirit mediums rule the roost
"On the ball?" – With athletes unsure whether they will compete, and no apparent financial strategy, Myanmar's SEA Games preparations are running far from smoothly
"Riding high" – Theme parks are multiplying in the region. Will Southeast Asia become the new happiest place on earth?
"A new string" – Violinist Vanessa-Mae is swapping her violin and bow for skis and ski poles as she bids to compete at the Olympics