Not long after Thein Sein was sworn in as president of Myanmar in early 2011, there were signs that censors were loosening their decades-old chokehold on creative expression in the country. Long-suppressed portrait paintings of Aung San Suu Kyi quickly became ubiquitous at art exhibitions throughout Myanmar, and in September 2011 one gallery in Yangon held a group show highlighting the beauty of the Irrawaddy River, for the stated purpose of expressing opposition to government-backed dam-building projects in upper Myanmar.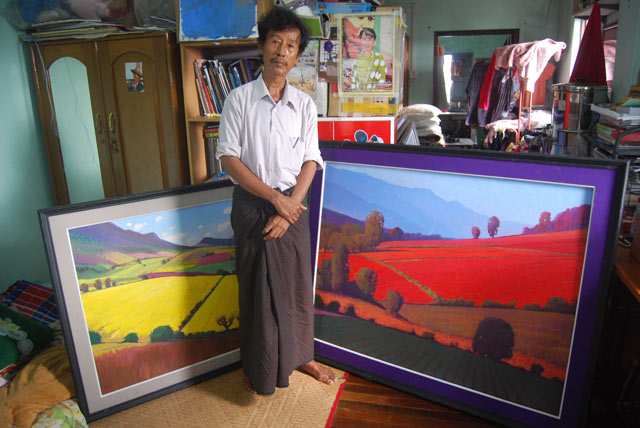 In January of this year, the Art of Freedom Film Festival in Yangon screened more than 50 locally produced short films and documentaries that, incredibly, censors agreed not to view beforehand.
These events would have been unimaginable two years ago, and have raised hopes that censorship will soon become a relic of the bad old days of military rule. But the situation remains far from ideal for Myanmar's artistic community, as evidenced by a three-day exhibition of drawings by local cartoonists held at Lokanat Art Gallery in downtown Yangon in late July.
Before the show opened, government censors visited the gallery to "scrutinise" the artwork, in the end rejecting two of the 166 pieces intended for display: one by cartoonist Aryu satirising Myanmar's judicial system, the other by Shwe Bo lampooning the limitations of media freedom in the country. All attempts to cover the incident in local news journals were likewise rejected by censors.
Barely a month later, on August 20, Myanmar announced the end of pre-press censorship. This was good news for book and newspaper publishers, but with the changes limited to print media, artwork remains subject to "scrutiny" before public exhibition. And while film festivals seem to be getting a pass, feature-length movies still require approval before they hit cinema screens.
Yangon-based painter Nyein Chan Su has had his share of run-ins with government censors. In 2003, he and four other artists opened Studio Square art gallery, and for the first couple of years they tried their best to function outside the influence of the government.
"At first we never informed the censors before we held exhibitions," he said. "But in 2006 the [government-affiliated] Myanmar Artists and Artisans Organisation sent a warning letter not to show the paintings without permission. Since then we have submitted our paintings to the censorship board before our exhibitions."
He said that while there is now freedom of the press for print media, there has been no meaningful change in the censorship of art.
"We are not really affected by the government change. We are still living in what looks like a military government," Nyein Chan Su said. "We are still afraid of censorship, of who might be an investigator or spy. I have never been told that I no longer have to show my paintings to the censors before they are exhibited."
Nyein Chan Su detailed the sensitive nature of his own artwork, self-described as "contemporary paintings with social and political commentary".
"I'm interested in people's belief in powerful spirits called nats. Most people who worship nats are poor people, so I'm interested in exploring why they are poor and why they trust in spirits, why they rely on them for their prosperity. This is sensitive because these people are not getting help from their government, so they look to supernatural forces for help," he said.
He added that the censors were "serious" about nude paintings as well as any art that used too much red, which the government assumed harboured messages about revolution. It never helped that the flag of Aung San Suu Kyi's National League for Democracy features a yellow peacock on a crimson background.
But another painter, 64-year-old Win Pe Myint, said the general easing of censorship means that red is no longer taboo in artwork.
"When the government inspectors came as a group of eight or ten members, and they saw a painting dominated by red colours, they would ask the artist, 'Why do you use red?' They were afraid of red. It was very funny. But now they allow red, after they accepted Aung San Suu Kyi into the government," he said. "It's a little bit different now. Three years ago the censors would reject paintings of Aung San Suu Kyi. Now these are okay, but some other subjects, including nude paintings, are not allowed."
Win Pe Myint, famous in Myanmar for his realist landscapes and use of vivid colour, said he has never had problems with censors because he has always focused on nature and people.
However, his love of the natural environment prompted him to participate in the Irrawaddy River exhibition, originally scheduled for September 22 to 24, 2011, at Gallery 65 in downtown Yangon. The show attracted thousands of visitors, including Aung San Suu Kyi, convincing organisers to add a fourth day.
"I think all artists disagreed with the projects to build dams on the river. We all rejected it," Win Pe Myint said. "I have a duty to help protect the river against damage, but my paintings do not include my anger or my dislike of dam-building. I only painted with my love of the [Irrawaddy]."
Another artist who has focused on environmental issues is Saw Wai, who was imprisoned from January 2008 to May 2011 for his involvement in the pro-democracy movement.
In 2001 he submitted five paintings to an art competition run by the Association of Southeast Asian Nations (Asean). All five paintings were awarded prizes, but when the exhibition of prize-winning work was shown in Yangon, two of Saw Wai's were taken down by censors: one criticising the government's complicity in deforestation, and one commenting on the lack of radio access in prison.
"I've always created artwork that portrays scarcity of natural resources under the military government. Even when there was heavy censorship, artists produced what they wanted, what they saw, what they felt, but the audience never saw this artwork because of the censors," he said.
But he added that the loosening of censorship under President Thein Sein has had some positive results.
"First, there were many artworks with social and political messages created long ago that the public has now been able to see. Second, many artists who in the past never showed interest in social and political issues are now creating this kind of artwork," he said.
"I hope younger artists will soon be able to produce this kind of art in an atmosphere where they have no fear of censorship, no restrictions or limitations on their creativity."
For Nyein Chan Su, such a development would be a great boost to Myanmar's art scene.
"I welcome many artists to make changes because most people in Myanmar respect and believe the artists, so any artists who take part in the movement will auger well for the future," he said. "Even if we believe the political changes, the important thing is to change our minds. Independence of mind is very important so that I can create quality artwork. We need to be free from real fear. We hope we will get our chance soon."