Monks at the temple believed the accusations against the abbot to be politically motivated and so blocked the police's efforts to find him by using their bodies as human shields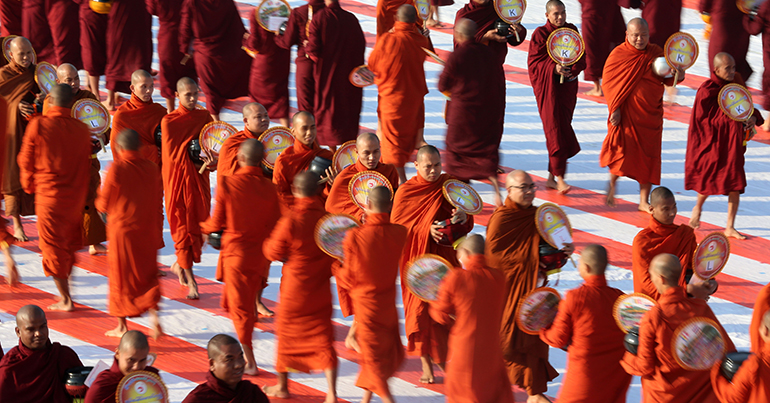 Thousands of Buddhist monks gathered in Myanmar's second largest city for a Buddhist event put on by a Thai temple whose abbot is caught in the middle of a controversy over his possible involvement in a money laundering scam.
A sea of orange and burgundy saffron robes descended barefoot onto an abandoned airstrip on Sunday morning in Mandalay for the alms-giving ceremony, an event that the Dhammakaya temple has promoted as an opportunity to "tighten the relationship between both Myanmar and Thailand (and) unite the Theravada monkhood".
Dhammakaya, a movement within the Theravada school of Buddhism, claims millions of followers in Thailand and around the world, and in recent years has forged closer ties with Myanmar's Buddhists.
Being Thailand's largest and wealthiest temple, Dhammakaya has also come to be well known for staging many of these attention-seeking ceremonies at its main complex, located just north of the country's capital.
Last year, however, Dhammakaya was pushed into the limelight for separate reasons.
In March, a group of policemen surrounded the enormous complex – ten times the area of Vatican City – and began a siege to find the temple's fugitive abbot to bring him in for questioning on his alleged involvement in a money-laundering scheme.
The police were then forced to give up their search for abbot Phra Dhammachayo after 23 days, as their invasion of the complex had prompted mass protests from monks and other meditating devotees.
The followers, the Straits Times reported at the time, believed the accusations against the abbot to be politically motivated and so begun blocking the police's efforts by using their bodies as human shields.
Phra Dhammachayo's whereabouts are still unknown, said Reuters news agency.
In response to the allegations brought against them, the wealthy Buddhist organisation posted a statement on their website last year, saying:
"Wat Phra Dhammakaya would like to state that all reports by the media that 1 billion baht [$31,380,000] of the money donated to Wat Phra Dhammakaya have been invested in company stocks or given to various individuals to invest in the stock market are completely false."
Within Thailand, traditionalist Buddhists have often criticised Dhammakaya, considering the sect to be too embracing of commercialism. The temple, however, denies this and claims that all their money goes toward good acts.
Despite the ongoing controversy though, yesterday's event proved to be a well attended spectacle, counting thousands of monks and lay people from Myanmar and about 100 monks and other Buddhists from across Thailand and Sri Lanka, Reuters reported.
Speaking at the event, local man Ven Ya Ma had only positive words for the temple and their work: "It's such a wonderful ceremony. I live in Mandalay, and it's never happened like this before," the 40-year-old said to Reuters in an interview.
Ven Ya Ma also opposed the actions of the Thai police against the Dhammakaya temple, which he said was only promoting Buddhism worldwide.
"People are worried that Buddhism is in danger," he told the news agency.
Myanmar, Thailand and Sri Lanka are predominantly Buddhist countries, with most of their practitioners following the religion's Theravada school.
Religious tensions within Myanmar remain fraught since two recent outbreaks of violence in Rakhine State forced approximately 650,000 minority Rohingya Muslims from their homes and into neighbouring Bangladesh.
Related reading: