As anti-Muslim nationalist groups lash out at the stateless Rohingya, Myanmar's next generation of interfaith activists is struggling to promote compassion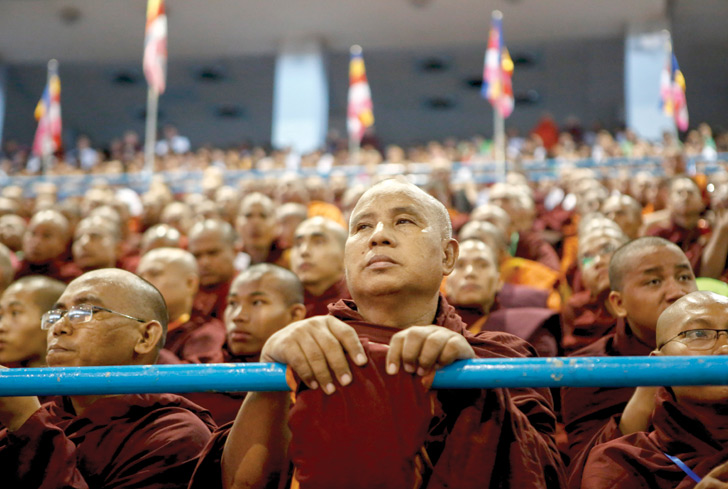 Jue Jue Than, Htet Aung Lin and Phone Htet Naung face an uncertain future. The three students at Yangon School of Political Science received a phone call from police in mid-May, warning that they could soon face up to three months in prison. Their crime: steering a few dozen college students on an unauthorised march in downtown Yangon to pay their respects at religious monuments and promote diversity. The group defied an order to walk on a route that would have prevented them from passing mosques, Hindu temples, Buddhist pagodas and churches.
While the self-described "interfaith activists" wait for a dreaded knock on the door, other, arguably less peaceful, demonstrators rest at ease. Thar Htet is a supporter of the Myanmar National Network, an ultra-nationalist group that has staged large demonstrations outside the US Embassy and in towns throughout the country. Htet said the group has felt "no pressure from the authorities". The movement has claimed a number of causes, but its primary agenda has been to deny Myanmar's Rohingya, a stateless Muslim minority, the rights of citizenship and political agency in the predominantly Buddhist country.
"I feel worried, but I am not afraid," Jue Than told Southeast Asia Globe, days after she was notified of the potential charges. She and her classmates, a group of twentysomethings from various parts of Myanmar, said they saw an urgent need to counter discriminatory rhetoric as the country slowly begins to shed its authoritarian legacy.
"We don't want to be famous, we just want to spread our democratic values as much as possible," said Htet Naung. "Respect and diversity – that's what we want."
The interfaith movement is new and small, branded less as a reaction to the rise in Buddhist nationalism than a promotion of metta, a Pali term for compassion. These activists – who are mostly young students, bright and well versed in English – joined by friends and supporters, said they simply want to provide an alternative to intolerance. Jue Than, a 29-year-old Muslim from central Myanmar, said she has endured discrimination since early childhood, often being called derogatory names and facing difficulty finding employment and obtaining government documents.
"It is really difficult to get a job, in companies and in the government, if you are wearing the hijab and you are being Muslim," she said candidly in her school's Yangon classroom surrounded by her peers: a mix of Buddhist, Christian, Hindu and Muslim youths. "I don't want to be discriminated [against]; I would like to be equal in human dignity."
The rise of the Ma Ba Tha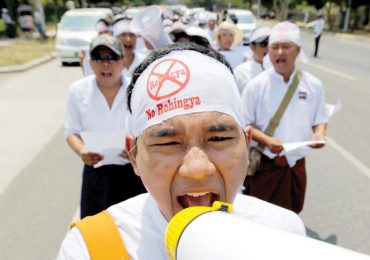 Not everyone in Myanmar embraces multiculturalism. In 2011, the country began a transition to civilian rule after decades of military dictatorship, but new freedoms of expression have made space for more negative elements, leaving authorities struggling to balance the right of free speech against a growing tide of divisive and inflammatory language. Several permutations of ultra-nationalist Buddhist groups have grown in both public support and political influence, appealing to a Buddhist majority that feels under threat by other demographics.
First was a group called 969, led by firebrand monk Ashin Wirathu, which came to prominence in the wake of 2012 violence between Buddhists and Muslims. On the premise of protecting Myanmar's Theravada tradition against a perceived threat of Islamic expansion, 969 advocated for boycotts of Muslim businesses, its leadership regularly travelling to the countryside to deliver riling and often anti-Muslim sermons. The group slipped into the shadows after much public controversy, giving way to another monk-led movement called the Association for the Protection of Race and Religion, known by its Burmese acronym, Ma Ba Tha.
With support from the previous military-backed government, Ma Ba Tha became a powerful social and political force, even successfully lobbying for passage of discriminatory laws restricting interfaith marriage, birth rates and religious conversion. While it claims to be apolitical, the group has been accused of interference in last year's election, urging its supporters to vote for the incumbent party, which would "protect Buddhism". Smaller, grassroots organisations, such as the Myanmar National Network, later sprung up as proxies. Though they claim to be independent, monks associated with Ma Ba Tha have been seen giving speeches at Myanmar National Network rallies.
"The aim is to protect race and religion in our country, and to take part in national politics," said Win Ko Ko Latt, director of the Myanmar National Network. The group supports a list of 135 "national races" that were recognised by the former government as indigenous, and firmly believes that those not on the list do not deserve equal rights. Ko Latt proudly said the network was at the forefront of a movement to "make sure" that hundreds of thousands of Rohingya Muslims were disenfranchised during last year's election.
"The impact from these [Buddhist] groups has been significant," said Matthew Walton, a senior research fellow at Oxford University who specialises in Myanmar's religious dynamics. "While it can be difficult to directly connect them to anti-Muslim violence that's occurred since 2012, their actions and rhetoric have certainly created an enabling environment and especially given anti-Muslim sentiment a sense of religious legitimacy."
Walton said that while not everyone connected to these groups is anti-Muslim or even 'nationalist', they are united by a fear, often perpetrated by monks, that Buddhism faces an existential threat.
"We're going to see the impact of that down the line if there aren't alternative voices and narratives there, as a whole generation of young Buddhists are growing up with this message," Walton said. "We have to admit that it's much easier to rally people around fear and hatred rather than a shared sense of identity or peaceful coexistence. And this is the challenge that the counter-narrative movements continue to face."
The Rohingya issue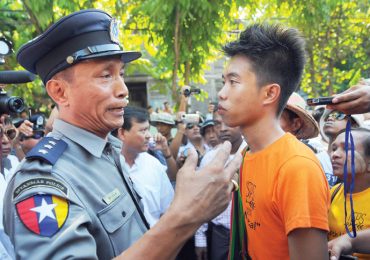 The Myanmar National Network has taken particular aim at the Rohingya, who bore the brunt of ethno-religious riots in Myanmar's Rakhine State beginning in 2012. More than 100,000 people still live in squalid displacement camps after losing their homes in the deadly conflict. They are also denied freedom of movement, education and access to healthcare.
"When communal violence broke out between Muslims and Buddhists in Rakhine in May 2012, I realised that there was a gap between Muslim and Buddhist societies in general," said Htoo Lou Rae Den, the founder of an interfaith group called Coexist. "It was an elephant in the room. Nobody was visibly doing anything about it."
Speaking out against extremism has already landed a number of activists in prison, he said, mostly under the previous government. The new administration, led by Nobel laureate Aung San Suu Kyi, is undertaking a massive overhaul of laws that have long been used to suppress dissent, but Rae Den said that the legal system "remains a significant barrier for advocates".
Jue Than and her peers, for instance, were threatened with charges under Myanmar's Peaceful Assembly Law, a controversial, military-backed provision that is under review by the new legislature. The law carries criminal penalties for assembly on unauthorised routes, or for demonstrators whose messaging was not approved by local authorities. Authors of the new amendments, many of whom are former political prisoners themselves, say that while they hope to prevent the mistakes of the past, they still believe in principle that criminal measures may be necessary to guard against potential "troublemakers".
But while retaining these punitive tools could help curb hate speech and rein in provocateurs, the law does not meet international standards, according to Vani Sathisan, an international legal advisor with the International Commission of Jurists, which consults with the new government on how to bring antiquated laws in line with international norms and protect human rights.
"Overly vague or broad laws open themselves up to selective interpretation by the state and prosecutors," Sathisan said, expressing concern that authorities at the local level could misuse the provision, however well intended it may be. Prosecutors at the attorney general's office, she urged, "must exercise their discretion and not push for wrongful charges under this law".
Aung San Suu Kyi under fire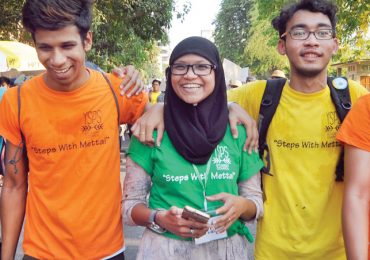 Rae Den pointed out that while the interfaith activists may face prison, authorities have done little to temper the nationalist movement. An anti-Rohingya rally in Mandalay in mid-April was given the green light, while a rogue monk in southeastern Myanmar has faced no consequences after erecting Buddhist stupas at a number of Christian and Muslim sites, angering religious communities.
Police threatened to take action against members of the Myanmar National Network who led a rally outside the US embassy in late April, but Ko Latt said that no one has yet been charged. Donning headbands reading "No Rohingya" and carrying banners denouncing the group as foreign, hundreds of protesters withstood blazing Yangon heat, chastising the embassy's use of the word "Rohingya" in a statement of condolence for the deaths of more than 20 people in a recent boat accident. Suu Kyi later advised US ambassador Scot Marciel against using the word Rohingya to describe the group, fearing that it would "just add fuel to the fire".
"We are not trying to say that any particular stance with regard to nomenclature is better than another," Suu Kyi said in her defence, standing beside US Secretary of State John Kerry in Naypyidaw in late May. "What we are saying is that there are more important things for us to cope with than just the issue of nomenclature."
Suu Kyi urged the international community to give her "enough space" to address the crisis at hand, which has spread in scope from the dire conditions for displaced persons in Rakhine to broader resentment toward the country's Muslims. Her government appears reluctant to tackle head-on what has come to be viewed as a tinderbox of distrust; rumours spread by nationalists portray Muslims as dangerous and invasive, and even insinuate that Islamic communities could become a breeding ground for violent extremists.
The test for Suu Kyi will be whether alternative narratives, such as the peaceful agenda of Jue Than and her classmates, will become casualties of a legal system that is designed to contain the very problem the students are attempting to counter.
"At the time, we were thinking that we needed to create a new culture," Htet Naung said. "Yeah, we broke the law, but we hope that both society and the government understand what we are doing."