Paul Harris, Asia-Pacific regional manager for Rolls-Royce, hopes to race ahead in feeding the Southeast Asian elite's hunger for luxury
By Christian Vits   Photography by Sam Jam
In a five-star hotel's ballroom, ladies in long, black evening gowns pose in front of a hand-made, $600,000 car. Flurries of camera flashes pop and reel. It's a scene many people would not expect to be playing out in Cambodia, but it did, just last month, when British luxury carmaker Rolls-Royce signed a five-year contract with its local partner, HGB Group, to launch a showroom and a maintenance centre in the heart of Phnom Penh. The opening signalled Rolls-Royce's latest step towards achieving its expansion strategy for the region.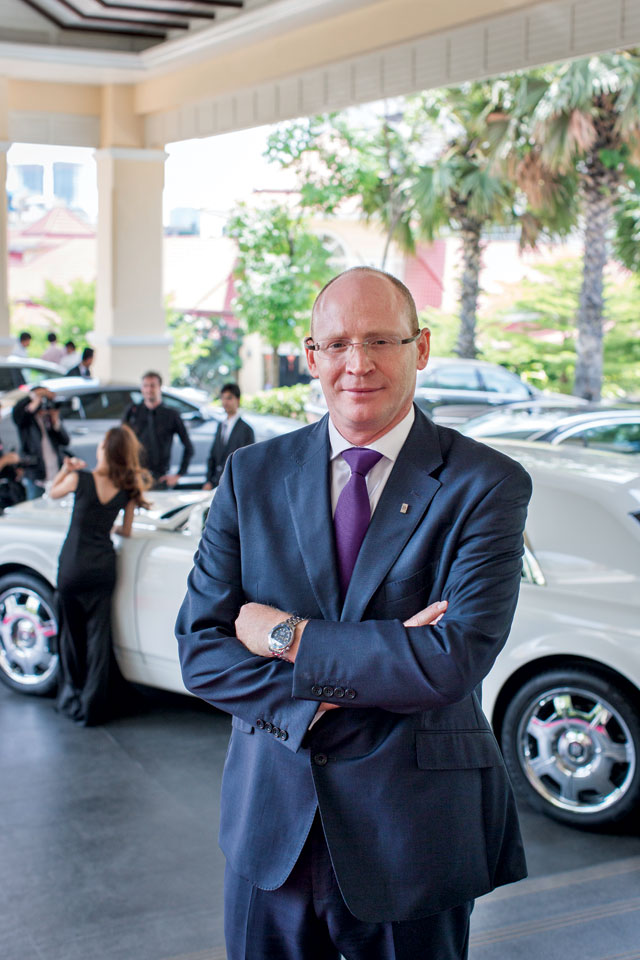 Southeast Asia's rapid economic development has generated a wealthy elite with an appetite for high-end luxury products. These hungry consumers exist even in Cambodia – one of the world's poorest countries. "Why Cambodia? We had this inherent demand that already existed here for Rolls-Royce and it got to a scale where it was so big that we had to act," said Paul Harris, Asia-Pacific regional manager for Rolls-Royce Motor Cars. "Otherwise, we would have dissatisfied our clients," he added.
The new Phnom Penh showroom – to be completed in the fourth quarter of this year – adds to the existing six branches across Southeast Asia, the Filipino and Vietnamese offices also opening recently. "I am very happy to see our brand blossom in yet another Southeast Asian market," Harris said. "What happens at the moment in a place such as Cambodia is that we have a compounded gross domestic product (GDP) growth of about 7%.
Meanwhile, the ultra-high net worth [consumer class] is growing by 11-13%."
There is a market for Rolls-Royce in Southeast Asia, no doubt. Last year, Singapore, Indonesia, Malaysia, Thailand, the Philippines and Vietnam combined were home to 4,245 individuals with assets worth $30 million or more, according to a study by Wealth-X, a Singapore-based consultancy.
Rolls-Royce sold a record 3,630 cars worldwide in 2013, with between 5-7% of them being delivered to Asean member states. Singapore is the largest market, followed by Indonesia. "Southeast Asia is one of the key markets for the brand to grow," Harris said. While the region's markets do not yet enjoy high sales, the Briton remains cautiously optimistic. "Dynamic and exciting would be the words I would describe [Southeast Asian markets] with. And I don't see that changing for a very long period of time because they are still in an evolution phase."
Harris expects sales to increase in line with the region's economic growth, hence yielding "continuing and steady growth at quite a high rate". "Here in Southeast Asia, there is a big understanding of heritage," he said, adding that it works well with the carmaker's business because it holds an "ideal position with a long and noble heritage".
Rolls-Royce's base model to be offered in Cambodia starts at $450,000, including taxes. The price for personalised models can run into the millions, depending on the client's chosen extras, the variety of which is one of the brand's main selling points.
But money, apparently, is not what really matters to the luxury brand's consumers, according to Harris. "It was Sir Henry Royce who said the famous words: 'The quality is remembered long after the price is forgotten.'"
Keep reading:
"All geared up" – Synonymous with speed and style, Porsche is eager to grab a slice of the Cambodian luxury car market. Graeme Hunter is the man behind the wheel in the Kingdom