Andre Chiang became a chef because he wanted to take over his mum's business. But when he got to France and learned from the masters of nouvelle cuisine, things got a little out of hand. This year his restaurant came fifth on the Asia's 50 Best Restaurants list, meaning it was also named Best Restaurant in Singapore. Chiang took a rare break between lunch and dinner services to discuss his philosophy, treating customers like guinea pigs and why he doesn't use "funny meats"
"Please, don't eat all of the dirt," says the waiter in a thick French accent. "It's very moreish, but it will overpower the rest of the meal." He is correct. This is the best dirt I've ever tasted.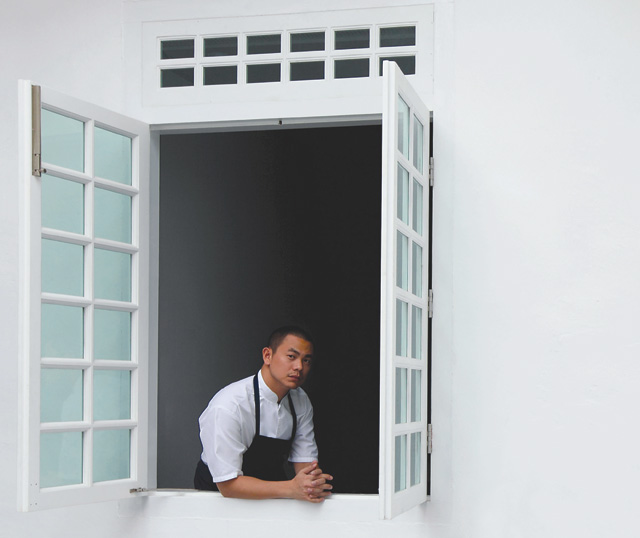 At Restaurant Andre, an impeccably white three-storey townhouse in Singapore's Bukit Pasoh district, shock and awe come as standard. The groans of delight are audible, not least from Southeast Asia Globe's table, and one heavily lipsticked patron shrieks with delight upon discovering that the aforementioned dirt is, in fact, made from chocolate and garlic. A strange combination, perhaps, but unsurprisingly for a chef who learned his trade at a slew of Michelin-starred restaurants, it works.
Born in Taiwan, Chiang spent time at his mother's Chinese restaurant in Tokyo before moving to France at the age of just 15. There he started out as a kitchen hand under the Pourcel brothers at Le Jardin des Sens, where he says he "wiped down the fridge, washed the windows, cleaned the toilet" before rising to chef de cuisine. Stints under the likes of Joël Robuchon, Michel Troisgros and many others followed, each of them imparting something new to the determined young chef before them.
"For me, food has always been something very important; very serious. My mum wouldn't let us eat food that wasn't good," Chiang says later.
His mother would be proud, for he proves a serious interviewee, speaking in slow, deliberate English, with a distinct intensity when he discusses food. He is also exceedingly friendly, generously giving up two hours of his time to chat and show me around his restaurant. He points out the relatively small kitchen and the stairwell that houses jars of fermenting kombucha tea, as well as his collection of Michelin guides – the small, red books sitting beside an array of awards that he doesn't even mention.
"In my mum's kitchen it was about technique and it was about organisation," he remembers. "You do this like this, and you do that like that. You don't have funny ideas. There's not much room for creativity. In France it was the total opposite. I fell in love with that way of working, of adding personality."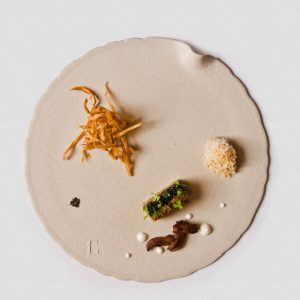 In that case, how would you describe your own food?
Well, when we decided I was going to open a restaurant called Restaurant Andre, I realised I was going to have to serve Andre's food. So what is that? I found it very hard, because I don't have a signature dish, I don't have a certain thing that I do. I feel it's a bit like fashion. In the different periods [in your life] you dress differently, have a different hairstyle and then you move onto other things. I couldn't find anything that was relevant all the way through to say: that's me. Because in every period that was me. It's all me.
But I realised there were these eight elements that were constantly repeating through my dishes. It's like we change the way we dress along the way, but maybe our favourite colour's always the same. So that's the essence. That's me.
You're talking about the eight elements that make up your philosophy, what you call your 'octaphilosophy', namely: Unique, Texture, Memory, Pure, Terroir, Salt, South and Artisan. How does that manifest itself in your food and work?
The eight elements are always there in my process. When I receive a product, the first thing I relate to is not the cooking method. Most chefs who receive a piece of fish would think: 'Should I steam it? Fry it? Cure it?' For me, the first thing that comes into my mind is whether it's artisan, or it's texture or it's pure. If I see an avocado, I'd think texture. There's that contrast of soft on the inside but with a hard shell. That's how we build up a dish. So we start with the avocado – how do we show the texture of avocado? And then we build up other components around it.
And how often do you come up with new ideas for dishes?
With the lunch menu like you just had, we call it the menu-in-progress. All the produce arrived fresh at 8am or 9am today. That gives us about two-and-a-half hours to whip up a menu for lunch.
So you made that up today? How many of those five dishes are new?
They're all new.
That's astonishing…
We don't have a big test kitchen, or a lab, or anything like that. We just have a small kitchen and we try things out for lunch. Then if we think a dish is really cool, we'll spend some time fine-tuning it and kick one dish off the dinner menu. So all you lunch guys are like guinea pigs in a way.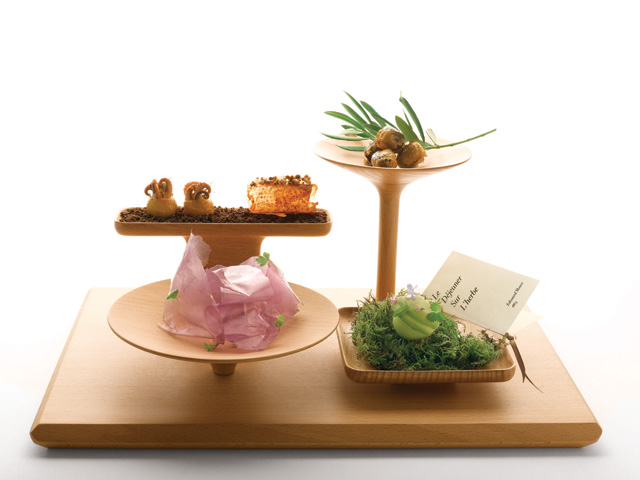 With dinner we change one or two courses every week, so it's constantly changing, bit by bit. We do have a number of guests who like to come for the lunch menu because you could say that all the dishes are one-offs. You have it today and then you're never going to see it again.
It's obviously serving you well, with Restaurant Andre recently coming fifth on the Asia's 50 Best Restaurants list. That also made it the number one restaurant in Singapore. How do you feel about that accolade?
It's great recognition. Yeah, I'm happy that people are recognising our work but we try to keep an open mind. There have been a lot of things we haven't changed since day one. For example, I want to be in the kitchen every day, for every single service, and every time I travel we close the restaurant.
That's another thing that you and your restaurant are renowned for…
Well, it's quite interesting because a different journalist asked me recently why I insist on that – is it because I don't trust my team, or what? I said that maybe they should ask the other chefs why they're not in the kitchen. It seems like I'm the freak – but I'm a cook, I'm supposed to be in a kitchen. To me it's weird that those guys aren't in the kitchen.
So what do you make of these celebrity chain restaurants, where it's highly unlikely the chef has ever been in the kitchen?
The world has changed and it seems to be normal for a chef to be everywhere except in his kitchen. I think that to have a restaurant chain, or a restaurant formula like that, it needs another brain. How to manage it, the systems required, how to make it consistent, quality control – it's a different skill; one that I don't have.
For me, there are two reasons I stay in the kitchen. The first is that it's the thing I do best. You know, I'm not good at accounting, I'm not good at lots of things. Second of all, I really believe in team spirit, because every day I'm plating up on the end of the line, I'm one of the team.
You're also well known for the intricacy of your presentation…
Well, every dish is a calculation of psychology. I've never told anyone this, but every time we construct a dish, we guide the guests in how to eat it – but without letting them know that we're doing it. For example, the average person will eat right-handed, meaning they will likely approach a plate of food in a certain way. We know which part of the plate your first bite is going to come from, so I can decide which part of the meal we want you to eat first and put it in that corner.
It's now possible to get ingredients from the other side of the world the same day. How do you think globalisation has affected food?
Before, we separated cuisine into East and West, by countries, by regions. So we'd have Japanese, French, Italian. Then we'd go even finer with Szechuan cuisine, Sicilian cuisine, etc. I don't think we say that any more. Even in, say, San Sebastián [a city in the Basque region of Spain famed for its food], you have all these great chefs from the same place, but their cuisines are completely different. So how do you categorise what is San Sebastián cuisine? Is it what you get at Restaurante Arzak or is it what you get at Mugaritz? What happens is that it becomes more personal. You look at a dish and say that it's very René Redzepi [chef-owner of Copenhagen's famed Noma restaurant], you don't say it's very Copenhagen. Conversely, globalisation has made things even finer, even more personal. It's no longer cuisine by country or by region – it's cuisine by person.
So is there a certain type of food or cooking that you would love to master?
You know, I don't use capsicum. It's not that I dislike it, but I don't know how to use it nicely. Also, I don't use funny meats. You know, like crocodile or ostrich. That's because I don't really know them. I tend to stay away from ingredients where I'm not sure of the best way to prepare them. I feel like things shouldn't become gimmicky, just for the sake of having something 'wow'.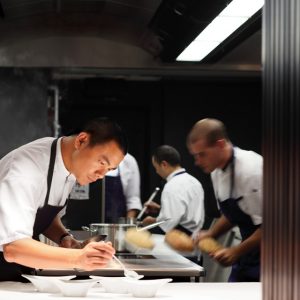 You also did a bit of modelling once upon a time. So, just to recap, you're one of the best chefs in Asia, you used to be a model, I'd assume you've got a bit of money in the bank… Your wife must be very happy.
[Laughs] I think my wife would tell you that I work too much. I spend 16 hours a day here at work; I average about five hours of sleep a night. And I used to be a model because it was really tough being a cook at the bottom of the food chain. You work 16 to 18 hours a day and you make a miserable salary, sometimes not even enough to cover rent. So that was a side job that helped support my dream.
Do you see any similarities between being a model and being a chef?
I did catwalk, so you need to study every designer, find out the message of the collection. It's like every time you create a dish, it must have a message, and all together they're a collection. On the runway the designer has decided what will be the first walk, what will be the last one. With a meal, I decide what will be the first course, what will be second. It's how you build up the hype, and then you smash it with the last course. That's the similarity. You're constructing a show." 
Keep reading:
"Interview: Rahung Nasution" – Self-made chef Rahung Nasution was born in Sumatra, Indonesia, but left home at 14 in search of adventure. He is now considered one of Indonesia's most outspoken chefs and is renowned for his passion for traditional dishes untouched by outside influences. Next month he will be appearing at the first Ubud Food Festival, which takes place from June 5–7