Self-made chef Rahung Nasution was born in Sumatra, Indonesia, but left home at 14 in search of adventure. He is now considered one of Indonesia's most outspoken chefs and is renowned for his passion for traditional dishes untouched by outside influences. Next month he will be appearing at the first Ubud Food Festival, which takes place from June 5–7
How do you feel about taking part in the Ubud Food Festival?
Excited. I'm really looking forward to taking part in a culinary event that links Indonesia with the international food community.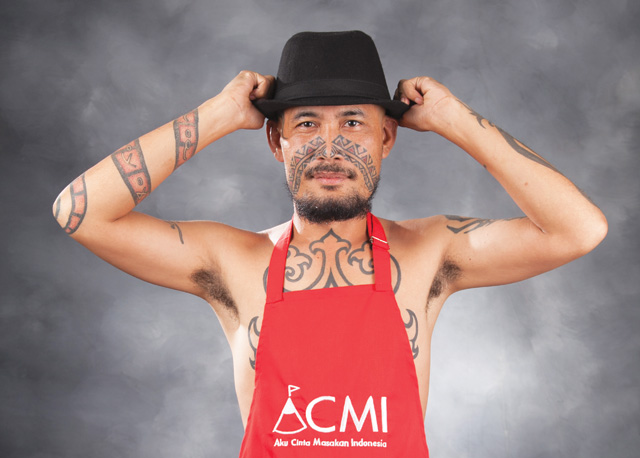 What do you expect from the festival? 
To meet like-minded and inspirational people. I also hope that festivals like this help to introduce Indonesian food to the world and increase demand for our local products.
You've mentioned that Indonesian cuisine needs to be more "democratic". How can Indonesia democratise its food?
Indonesian cuisine is extremely diverse, yet we're still struggling to understand what Indonesian cuisine really is. In France, for example, people can easily associate food with different regions, north to south. Yet in Indonesia there's very little knowledge about the local cuisines of regional areas.
For example, Aceh's Pliek U dish (curry served with rice and fried fish) is unfamiliar to people in Ternate. Solo Gudeg (young jackfruit stewed in coconut milk) is foreign to Batak people's tastes. So how, then, can we develop an understanding of Indonesian food? The answer lies in the democratisation of taste; in bringing together people from different cultural backgrounds to merge what the concept of Indonesian food really is. That's why platforms such as the Ubud Food Festival are so great – they let chefs from many different regions come together and start taking on the national flavours of Indonesia.
You have a bit of a subversive side. How has the rebel in you influenced the way you cook?
For me, tattoos are a form of political expressionism and a mark of respect for rich Indonesian tradition. Indigenous people in Indonesia have been marginalised by the state through land deprivation and the destruction of traditions that shape their lives. So my tattoos are a form of activism against this.
If my tattoos are a political attitude, then cooking is a political action. What we cook has a long history. It is rich in the stories of colonisation, of import and export trades, of the destruction of natural resources. Every single plate of food tells a rich story about who we are as a people and as a country. I cook because I want people to know that story.
You also left home at 14 and lived on the streets for a while.
Electricity and television entered my town in the '80s. As a hometown boy, TV programmes made me want to see the world, ride a train, a ship, a plane. It also made me curious about Jakarta, but there are so many children living there without a clear future. I was one of them. Life on the street merges with crime, prostitution and even sexual abuse. I decided I didn't want that kind of life, so I moved on.
What can you learn about a society from its culinary traditions?
The most valuable lesson I have learnt from life is this: across all of the traditions and tribes in Indonesia, food is one of the most universal uniters of communities. Food is shared, something to be enjoyed together, it's not just for individual consumption.
What is your favorite Indonesian dish?
I like sambal (hot relish). Like most Indonesians, I cannot live without it. There are hundreds of types of sambal in Indonesia, each made to fit with a particular dish. For example, we make matah chilli (Balinese hot relish) to pair with shredded chicken, or tombur chilli to eat with grilled fish.
As you grow in popularity, do you worry about 'celebrity chef' status?
Being popular is just a consequence of people respecting what I do, and that's nothing to worry about. However, I do worry about being called "chef". Cooking is not my craft, it's my dream.
For more information on the culinary extravaganza, visit ubudfoodfestival.com
Keep reading:
"The rites of our ancestors"  – The animist beliefs of Marapu are a basis for guidance, cultural identity and social values on the Indonesian isle of Sumba