There are two reasons why Chern Ein Oon has travelled six hours by bus from George Town to Kuala Lumpur: she has been extremely accommodating for an interview with Southeast Asia Globe, and she wants to go shopping.
"I love fashion and cosmetics," says the senior lecturer from the Institute for Research in Molecular Medicine, University of Science Malaysia, as we sit in an al fresco restaurant at the opulent Suria KLCC shopping mall. Indeed, when she returned to Malaysia three years ago after earning her PhD in oncology at the University of Oxford, and completing a postdoctoral fellowship at the Karolinska Institutet in Sweden, she says she worried about how people would respond to her.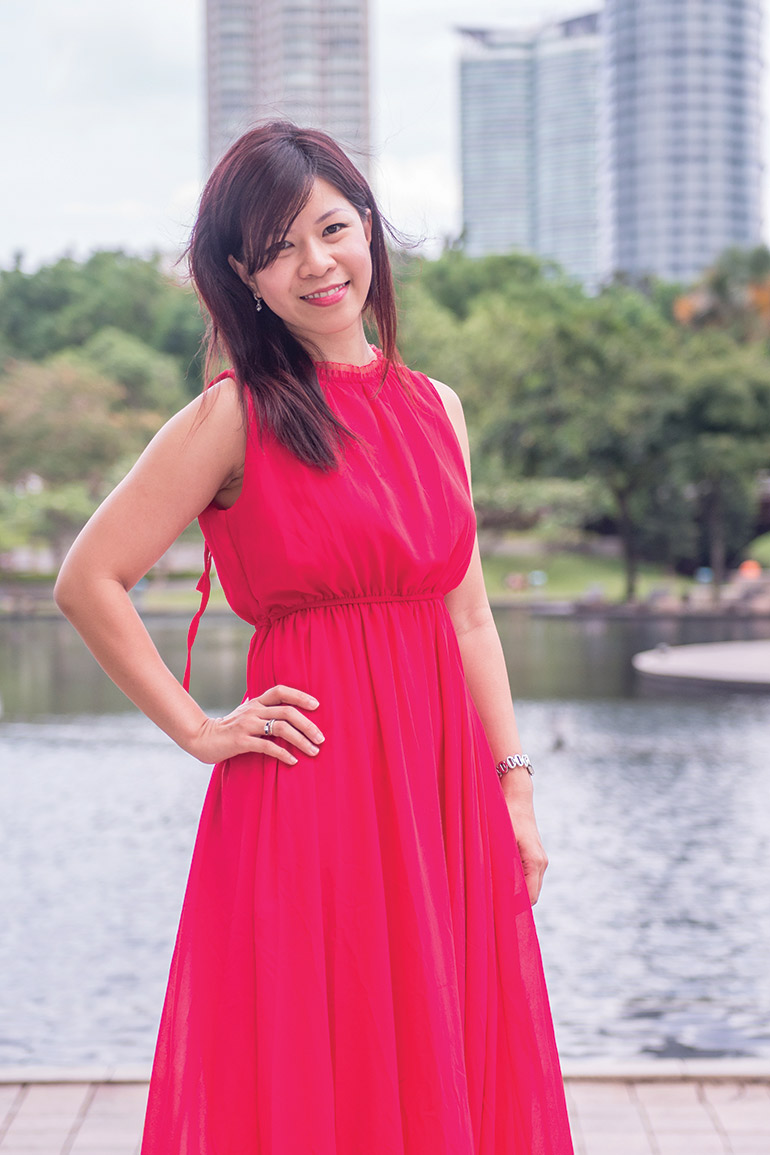 "Would my students respect me? And how would my colleagues and bosses think of me? In Malaysia, it's still an expectation for a female scientist to be a certain type – my Mum tells me to wear glasses, but what has that got to do with anything? I said I would get respect through my work," says Oon.
Today, the hard work is paying off for the amiable and loquacious 33-year-old. In 2014, she was the Southeast Asian winner of the Exiqon Young Scientist Award. Last year, she was selected to participate in the Lindau Nobel Laureate Meeting in Germany, and received the L'Oréal-Unesco For Women in Science National Fellowship research grant – worth more than $7,500 – for her work in the field of cancer research.
Here, she speaks to Southeast Asia Globe about scientific research in Malaysia, the struggles of being a woman in this industry, and why a meritorious society means an educated society.
****
Can you explain a little about the work you are doing?
As everyone knows, cancer is the growth of cells, and any cells growing by more than two millimetres needs to have vessels to bring nutrients. My research is to find something that will block the formation of these vessels or cease the distribution of blood, so that they do not feed the tumours.
To starve the tumours?
Exactly. It's by targeting a particular molecule called sirtuin. It's a different form of treatment than conventional chemotherapy, which kills the healthy cells as well. And a lot of patients are resistant to chemotherapy and other drugs, so the more options you have, the better.
Why did you decide to get involved in cancer research?
It all started because I've been very interested in anatomy. So, when I did my undergrad research, I majored in molecular biology and, after that, I did attachments at hospitals and got to experience how patients feel when they go through the disease. I feel for them, and I knew I had to try to do something about it.
What is the future of your research?
Usually, drug development takes 15 to 20 years. We've just started testing on mice and, so far, the results are good. The next step is to go for a clinical trial but, at the moment, we've only had five years of research. It will probably take ten years to actually see some real progress.
Why did you want to be a scientist?
After I finished my A-levels, I was contemplating between science and medicine, and my mum said that, as a woman, I would have a family at some point and I'll want to take care of my kids and my husband, so it's best to be an educator. She said: 'If you do medicine, you'll end up getting married to the hospital.' At that time, I was a very different person. I thought I would give up my job for my husband – family was first, and I thought I'd get married and have kids by 28. So I decided to go into science. Now, I'm a totally different person. [Going to] the UK changed me a lot.
How so?
One thing I loved about the UK is there is so much freedom. I could do whatever I wanted, wear whatever I wanted, and everyone accepts you for who you are. Here, you can't. And freedom encourages creativity and individuality. In Malaysia, you're not taught to think; you're taught to believe in what you were told.
How have you found working in the field of scientific research in Malaysia?
It's usually focusing on how research can generate money for the economy. When you go to university, most of the science research is focused on natural products, and few [professors] would understand the point of what I'm doing. And because they don't understand it, they don't value it.
And what are your thoughts about women in science in Malaysia?
It's really strange. In universities, when I lecture, I see that 80% of students are female. And when teaching post-grad, 60% to 80% are female. But after that, I don't know where they go to. In Malaysia, people say we are equal, but guys are expected to be the breadwinners. And when women say they want to do a master's or a PhD, a lot will say they also want to get married, and then pregnant, and then they just drop out. I said to my students: 'Are you doing your post-grad studies because you have nothing to do?' I wrote them an email and said there are two types of women: first, those who study because there's nothing else to do and just to pass the time, and second, those who are really interested in science and want to achieve something.
Is it about social expectations?
Yes, it's very unfortunate in Malaysia, because the family or parents will have a lot of say in what you should do.
Has anything changing?
I also do a lot of work on cancer education, and you'd be surprised to hear what I hear. Some people think cancer is superstition or some kind of black magic. Or, sometimes, the husband won't let the wife go see a doctor, especially for breast cancer, because he says the wife is not being loyal to him.
I'm also working with the Penang Education Council, and I should be getting funds from them to run workshops with under-privileged children in the area. They have parents or family that tell them to stop studying because they have to earn money for the family – and what do they want, children to give up their future? So we're trying to reach out and educate them that they can go to universities and can have dreams – you can't not have a dream just because you come from a poor family. But if merits were the strong point in Malaysia, it wouldn't be such a problem.
Are you concerned the pulls of a family will take you away from science?
When I think about getting pregnant it scares me. I don't know when I became a workaholic, but the thought of being three months away from work – no!